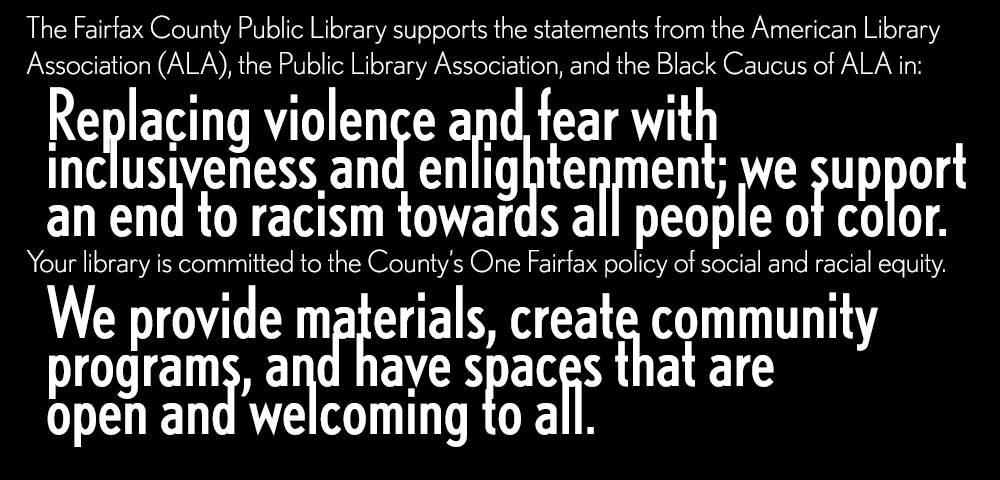 The Fairfax County Public Library supports the statements from the American Library Association (ALA), the Public Library Association, and the Black Caucus of ALA in replacing violence and fear with inclusiveness and enlightenment; we support an end to racism towards all people of color.
Your library is committed to the County's One Fairfax policy of social and racial equity. We provide materials, create community programs, and have spaces that are open and welcoming to all.
Resources
Events
Tuesday, July 7, 2020
Navigating the Complexities of Race: Racial Healing and Reconciliation
When it comes to cross-racial relationships, sometimes "just getting along" seems far easier than making an authentic connection. Dr. Maureen Walker will discuss three core skills—empathy, authenticity and mutuality—required for creating meaningful connections that will increase your confidence so you can do more than "just get along." Please register online for this virtual event.
Reimagining America: Discussions on Race, Justice and Social Protest
This virtual 3-part series seeks to strengthen viewers' ability to better understand the Black experience and encourage thinking critically about the national and international events and struggles for social justice. Click on program titles to watch each recorded event. 
June 15, Part 1 (watch the video): History Taught Us: Exploring Yesterday's Impact on Today
June 17, Part 2 (watch the video): "Why All the Protests?" Having 'The Talk' about Race and Racism
June 19, Part 3 (watch the video): "If You Protest You May Die, If You Don't Protest You May Die" A Generation-Z Perspective on Political Engagement
Recommended Reading and Viewing
The following curated lists can also be viewed on the online catalog home page.