Call your branch to confirm availability before traveling to pick up a kit. Please see the alert bar at the top of this page and all FCPL web pages for the most up-to-date information about availability.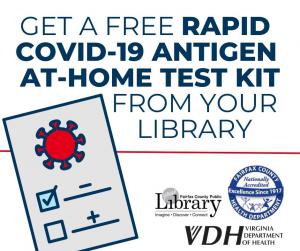 Fairfax County residents can pick up rapid COVID-19 antigen at-home test kits for free at their local libraries beginning Dec. 3, 2021. The Virginia Department of Health is partnering with libraries as part of a pilot program to provide these tests to the public so community members can know their status and get early care. Early action can help break transmission.
"Libraries are trusted community hubs, and we are pleased to support public health initiatives like this partnership with the Virginia Department of Health," said FCPL Director Jessica Hudson.
The BinaxNOW COVID-19 Antigen Card Home Test kits are virtually guided by a trained telehealth proctor; proctors are available who speak English and Spanish. The tests require an internet connection, an internet-enabled device (computer, mobile phone or tablet) with a webcam or front-facing camera, microphone, speaker and supported web browser, and a valid photo ID to show the proctor. Information on supported browsers is available at this webpage.
Once completed, rapid antigen tests provide results in 15 minutes.
Neither proof of residency nor a library card is required to pick up the test kits. Tests should not be completed in the library; however, most FCPL branches provide a strong Wi-Fi signal in their parking lots.
For those exhibiting COVID-19 symptoms, FCPL asks they request kits via the library's contactless curbside pickup service.
FCPL's community branches are open Monday through Saturday, and its eight regional branches are open seven days a week. Details about branch hours and locations are available on the library's website. Tests will be available at all FCPL branches.
Information about who should be tested is available at the Virginia Department of Health's website.
Individuals who test positive should isolate and follow up with their health care provider or the Fairfax County Health Department. The VDH After Testing webpage provides guidance on next steps following COVID-19 test results.
More information on this program is available here or by calling 1-877-829-4682.
If you need a test, more information is available here.