When the renovated John Marshall Library opens it will house 44,000 items in its 14,700-square-foot space. Consider how far we've come since John Marshall first opened in 1963 in a 2,450-square-foot storefront with only 6,000 books. The current building, located at 6209 Rose Hill Drive, Alexandria, opened in 1975.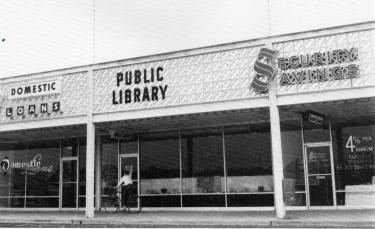 "We've missed our library," said Lee District Supervisor Jeff McKay, who will officially open the branch with a ribbon-cutting at 10 a.m. on Oct. 27. "I'm so excited for the community to see the major renovations that have taken place and be able to experience this wonderful new space firsthand. Between the new meeting spaces and all the natural light, this is truly an environmentally-friendly building of which we can all be proud."
Visitors to the newly renovated branch will have access to 12 public computers, a group study room for six, and multiple meeting spaces for up to 56 participants. With two additional conference rooms, the space has been renovated for community meetings and usage specifically in mind. The meeting rooms and conference rooms are available for use after hours. Younger customers can enjoy the teen gaming center, an early literacy station and a bright and cheerful children's alcove.
The building's infrastructure has been updated to meet the needs of today's technology. The renovated branch offers charging stations, a Wi-Fi bar and additional electrical sockets and USB ports.
All are invited to enjoy the day-long festivities on the 27th.
10 a.m.
Ribbon-Cutting Ceremony
11 a.m.
123 Andrés Show (music and dance for kids)
11 a.m.–3 p.m.
Face Painting and Glitter Tattoos
Technology Open House—Learn about 3D printing, Spheros, Google Cardboard and Button Making
12:30 p.m.
Music by Ritorno a Musica with light refreshments
1 p.m.
Storytime "We've got Monsters!" Costumes encouraged!
The $6.3 million renovation was funded through a bond referendum approved by Fairfax County voters in 2012. The Capital Facilities Division of Fairfax County's Department of Public Works and Environmental Services oversaw the project from design to completion. Bowie Gridley Architects completed the design with Sorensen Gross Company overseeing construction. The building is the newest green building in Fairfax County designed to meet LEED Silver certification. Green features include LED lighting with photo sensors and occupancy sensors to reduce energy consumption and efficient HVAC and plumbing.
For directions and hours of operation visit the John Marshall Library webpage.