Miriam Smolen has been elected chairman of the Fairfax County Public Library Board of Trustees. A resident of Fairfax, Smolen has served as the Providence District representative to the board since 2015.
Fran Millhouser has been elected as the vice chairman. Millhouser, a resident of Falls Church, has served as the Mason District representative to the Board since 2015.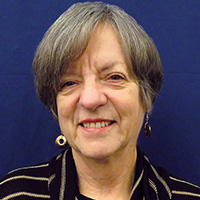 Their terms begin July 1, 2018, and last one year.
The Library Board of Trustees is responsible for library policies and for making budget recommendations to the Fairfax County Board of Supervisors. The 12-member volunteer Board comprises one member from each of the nine supervisory districts in Fairfax County, each appointed by the district supervisor; one member-at-large, approved by the Chairman of the Board; one member appointed by the City of Fairfax Council; and one member nominated by the School Board.
Library board meetings are usually held the second Wednesday of each month (except August) at the George Mason Regional Library, located at 7001 Little River Turnpike in Annandale. Please visit the Fairfax County public meetings calendar to confirm dates and locations.
For more information visit the library's Board of Trustees page.