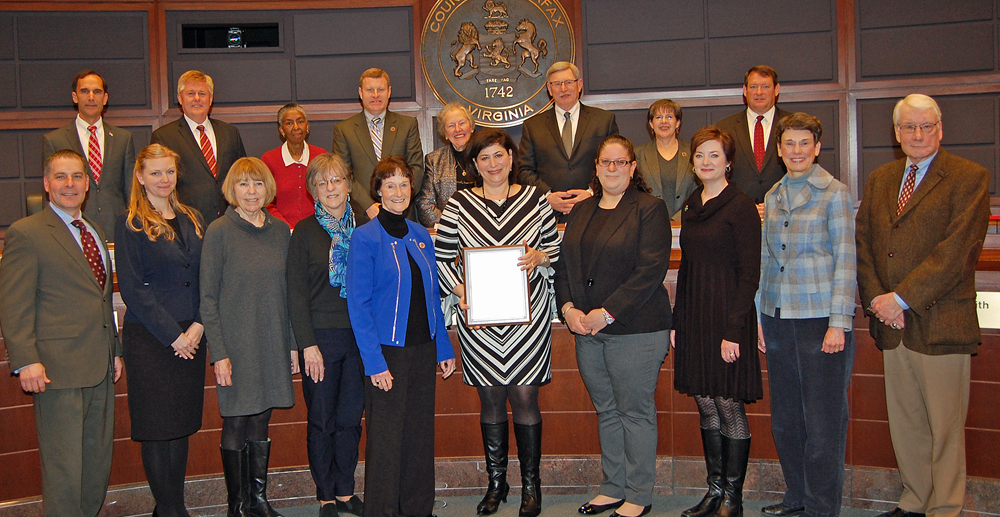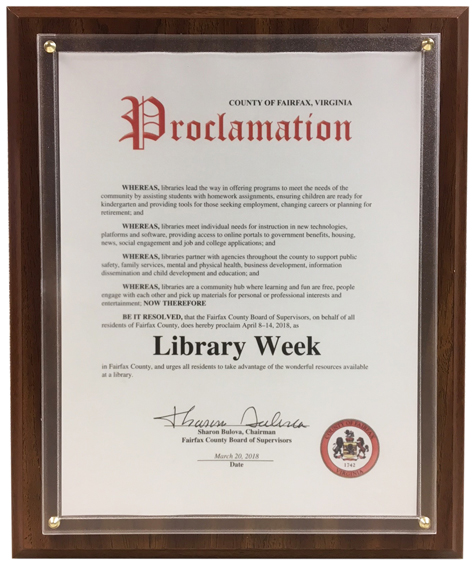 The Fairfax County Board of Supervisors recognized April 8-14 as Library Week in Fairfax County with a special proclamation during its March 20 meeting. Among other notable services, the proclamation lauded the public library for "supporting public safety, family services, mental and physical health, business development, information dissemination and child development and education."
In thanking the Board of Supervisors, Miriam Smolen, Vice Chairman of the Library Board of Trustees, also recognized the "high-quality staff of the library's 23 branches, and the 1,581 volunteers who donated 115,486 hours to the library last year." She also applauded the financial contributions from the different Friends' of the library groups and from the Fairfax Library Foundation for helping to enhance the library's services.
The library is pleased to join libraries nationwide in celebrating the many ways libraries lead their communities through the transformative services, programs and expertise they offer. First sponsored in 1958, National Library Week is a national observance sponsored by the American Library Association (ALA) and libraries across the country each April. This year's theme is "Libraries Lead." It is a time to celebrate the contributions of our nation's libraries and librarians and to promote library use and support. All types of libraries—school, public, academic and special—participate.
Contact Name
Nancy Gravatt
Contact Information
nancy.gravatt@fairfaxcounty.gov
703.324.8302