Call your branch to confirm availability before traveling to pick up a kit. Please see the alert bar at the top of this page and all FCPL web pages for the most up-to-date information about availability.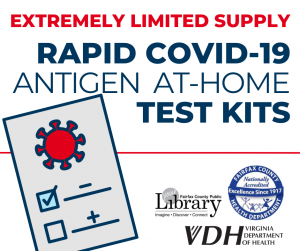 A limited supply of COVID-19 rapid antigen tests will be available at four Fairfax County Public Library regional branches Wednesday morning when they open at 10 a.m. The tests, provided by the Virginia Department of Health, will be available at the Reston, George Mason, Chantilly and Sherwood regional libraries. Only 300 tests will be available at each branch. Because of the limited supply, tests are restricted to four per household while supplies last.
Know Before You Go
Quantities are limited. Neither proof of residency nor a library card is required, and the kits are free of charge.
The test should be taken at home, not in a library branch. (However, most branches provide a strong Wi-Fi signal in parking lots).
If someone is exhibiting COVID-19 symptoms, they must request kits via the library's contactless curbside pickup service.
Information about who should be tested is available at the Virginia Department of Health's website.
The BinaxNOW COVID-19 Antigen Card Home Test kits are virtually guided by a trained telehealth proctor; proctors are available who speak English and Spanish. The tests require an internet connection, an internet-enabled device (computer, mobile phone or tablet) with a webcam or front-facing camera, microphone, speaker and supported web browser, and a valid photo ID to show the proctor. Information on supported browsers is available at this webpage.
Individuals who test positive should isolate and follow up with their health care provider or the Fairfax County Health Department. The VDH After Testing webpage provides guidance on next steps following COVID-19 test results.
More information on this program is available here or by calling 1-877-829-4682.
If you need to be tested and can't locate a rapid test, more information is available here.
These rapid tests are made available through FCPL's participation in the Virginia Department of Health's Supporting Testing Access through Community Collaboration program.