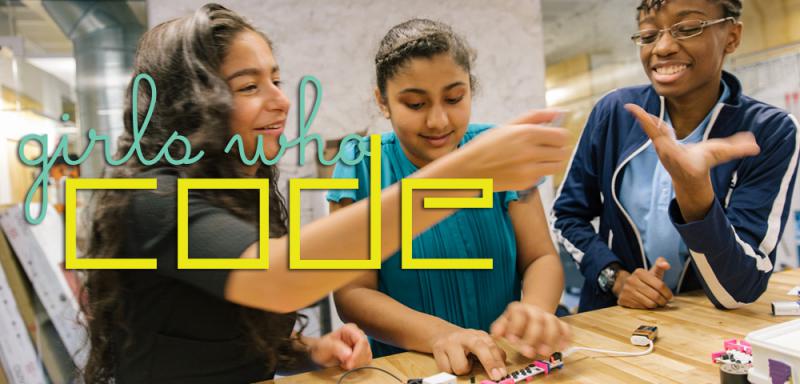 Learning a new language can open up new doors, and when that language is computer coding, the benefits to students can impact their career choice and future income. According to Beyond Point and Click: The Expanding Demand for Coding Skills by Burning Glass, "The ability not only to use but also to program software is often required of business people who work with data, of designers and marketers who create websites, of engineers who build products and technologies, and of scientists who conduct research."
The next Girls Who Code clubs are set to start at four different library branches. For hands on instruction in coding, in small group settings, girls in grades 6-12 are encouraged to sign up for one of the following a series of weekly classes:
February 5 at Centreville Regional Library
February 20 at Chantilly Regional Library
February 26 Martha Washington Library
March 3 at George Mason Regional Library
The first session of Girls Who Code at Kingstowne Library in 2017 graduated sixteen girls. The clubs meet for two hours each week for up to ten weeks. Classes are taught by volunteers who work in the tech sector. In addition to learning how to build a website by coding, the girls in the Kingstowne club reported learning how to "take chances, speak in front of others and that it's okay to make mistakes." They also learned collaboration, commitment and teamwork and were rewarded with new skills, new friends and the feeling of accomplishment when you set a goal for yourself and are able to follow through to attain it.
Girls Who Code is a national non-profit organization working to close the gender gap in technology. FastCompany published a recent article about the continuing gender gap "The Tech Gender Gap Visualized." Girls Who Code is a leader in the movement to inspire, educate, and equip young women with the computing skills to pursue 21st century opportunities by sponsoring 500 after-school clubs for teenage girls all over the country.
For more information, please call the library branch.