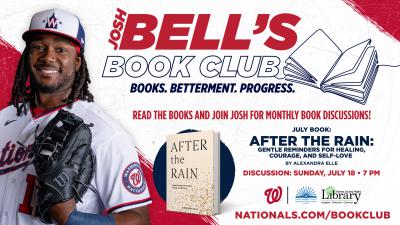 Fairfax County Public Library is excited to announce registration is open for the third meeting of Josh Bell's Book Club, a partnership between FCPL and the Washington Nationals. Library cardholders can now register for the second book discussion with Josh Bell to be held virtually July 18 at 7 p.m. Check out July's book After the Rain: Gentle Reminders for Healing, Courage, and Self-Love by Alexandra Elle,
Make sure to register with the email address that is associated with your Zoom account. Register now!
Nationals fans, book lovers and anyone exploring self-improvement, seeking out good, or pursuing progress: Josh Bell's Book Club is for you. Bell has has purposefully chosen books for his club that offer concepts, mindsets and inspiration for being and becoming better. Books – Betterment – Progress is a continuum: we can learn through books, we can become better and we can achieve progress.
Each month Bell will announce another book in this season-long series. Read the book and join Bell and librarians from FCPL and Prince George's County Memorial Library in engaging discussions about what resonated. Check back often to register for the virtual book discussions and to see which books are next in this series.
We and Josh Bell look forward to seeing you on July 18!