The following individuals were recognized at the 2018 Champions of Character Awards Ceremony, held on Monday, October 15, 2018.
Braddock District Champions of Character
Ethan Rothstein, Male Athlete, Robinson Baseball/Basketball
Ethan represents a well-rounded student-athlete, and demonstrates a strong work ethic. Ethan's work ethic is not limited to the playing field, but is also carried over to the classroom and his community; it is truly who he is. As an athlete, Ethan demonstrates leadership and a sincere desire to learn and help. Competing in three sports (football, basketball and baseball) at the high school level for three years is difficult at best, but Ethan has played all three and remained an honor student at the same time.  Ethan's hard work will pay off, as he continues to play a large role in sports this year and maintains an outstanding GPA! Ethan is indeed a special person!
 
Faith Lowery, Female Athlete, Robinson Volleyball
Faith's dedication in the classroom is equal to her dedication to athletics. Faith has a full International Baccalaureate schedule for the 2018-19 and carried a 4.771 Grade Point Average (GPA) last spring. As an athlete, Faith demonstrates leadership and a sincere desire to help others enjoy the sport they have chosen.  Faith had a knee injury prior to her freshman year.  Upon her return, she was limited, but worked tremendously hard to get back into the starting lineup.  Faith's hard work will pay off, as she continues to play a large role in Volleyball this year. Faith is indeed a special individual.
 
Bryan Hazard, Coach, Robinson Wrestling
As the wrestling Coach at Robinson Secondary School, Bryan has been instrumental in facilitating Robinson's transition from the Northern Region to Region 6C. As a teacher/department chair, Bryan is on the cutting edge of new technology and innovative changes within Robinson's Middle School PE department; and our students benefit daily from his preparation. I am always amazed by his commitment and work ethic in completing tasks for our student-athletes.  He has been a big part in helping to maintain Robinson Secondary School's reputation as the "Home of Champions." He embodies selflessness, sacrifice, and a "do what is right" mentality. That is what makes Bryan Hazard a Champion of Character.
 
Rob Jones, Parent, Robinson Booster Club
Rob Jones is an athletic booster club that is second to none.  Rob has done a tremendous job of advocating for Robinson sports programs within the community. As the booster chairman, Rob has been instrumental in overseeing committees that help raise funds for our student-athletes. It takes a special person to direct a board while monitoring unpaid helpers to raise funds for Robinson athletic endeavors. Rob's commitment to the students, parents, and well-wishers of the Robinson community make him a shining example of a Champion of Character!
Dranesville District Champions of Character
Aaron Hale, Male Athlete, Mclean High School Football/Basketball
Aaron has been a leader in the classroom, athletic fields and music departments. He has every characteristic that you would want in a student leader. He shows respect to everyone around him including his peers and adults. Aaron also has an "old school" work ethic. You would only need to watch Aaron compete on the basketball court for a short time to see what an outstanding work ethic he has. Aaron would admit that he is not the most talented athlete on the court, but he makes up for it with his grit and determination. Because of his tireless work ethic, he has gained the respect of his teammates, opponents and coaches. The characteristic most admired about Aaron is his competitiveness. He is not only competitive on the basketball court, but in the classroom as well. Based on his grades and test scores, Aaron has the determination and drive to achieve his absolute best. He doesn't just want to be good, he wants to be great and he backs that up with his drive to succeed. Aaron is the type of person that you want on your team, no matter what that team is involved in.
 
Marianna Korchanak, Female Athlete, Great Falls Lacrosse
Marianna is a great teammate and an encouraging leader. She takes a leadership role with positive statements and clear directions on the field. She is well respected while embodying a positive, respectful attitude toward the opponent and officials. When the K-2 level team was in need of help from the older girls in the spring of 2018, Marianna was the first to volunteer as a "junior coach." She came to every practice and game when it did not conflict with her own team schedule. Everyone was amazed at how well she adapted her level of instruction to the players while showing off her ability to break down skills so the girls could easily apply them; her energy and laughter was infectious! Because of her commitment to others, Marianna is truly a Champion of Character.
 
Vickey Gilmer, Coach, McLean Youth Athletics Volleyball
Vicki Gilmer embodies all the good qualities of a youth sports volunteer. Over the past several years, she had been one of the most popular McLean Youth Athletics volleyball coaches while leading at least two girl's teams in separate leagues each season. Vicki routinely goes beyond teaching volleyball skills, gameplay, and sportsmanship by providing support and mentoring her players off the court. Vicki's passion for helping youth sports goes beyond coaching as she regularly volunteers as the age group coordinator for two leagues while working with coaches to ensure that all aspects of each league run smoothly. In fact, she was the force behind starting a new league for high school girls to continue enjoying the sport and playing with their friends. With her leadership, HS House has blossomed into the most popular MYA volleyball league with over 16 teams and 160 girls in the spring of 2018! For all her contributions as a coach, leader, and mentor, Vicki Gilmer is unquestionably a Champion of Character!
 
Roger West, Parent, Full Court Basketball Academy (FCBA)
Roger has a tremendous amount of leadership and organizational experience that his contributes to being on the board of our non-profit, Full Court Basketball Academy. Roger has a history of playing basketball and enjoys giving his time back to being a part of the business development of an academy that impacts over 200 families in our community.He believes in giving everyone an opportunity to build, grow, and support each other as a team; and having Roger being a part of our organization has been a wonderful experience. We are very excited to continue to have Roger on our side and are more than delighted that he is the epitome of a Champion of Character.
Hunter Mill District Champions of Character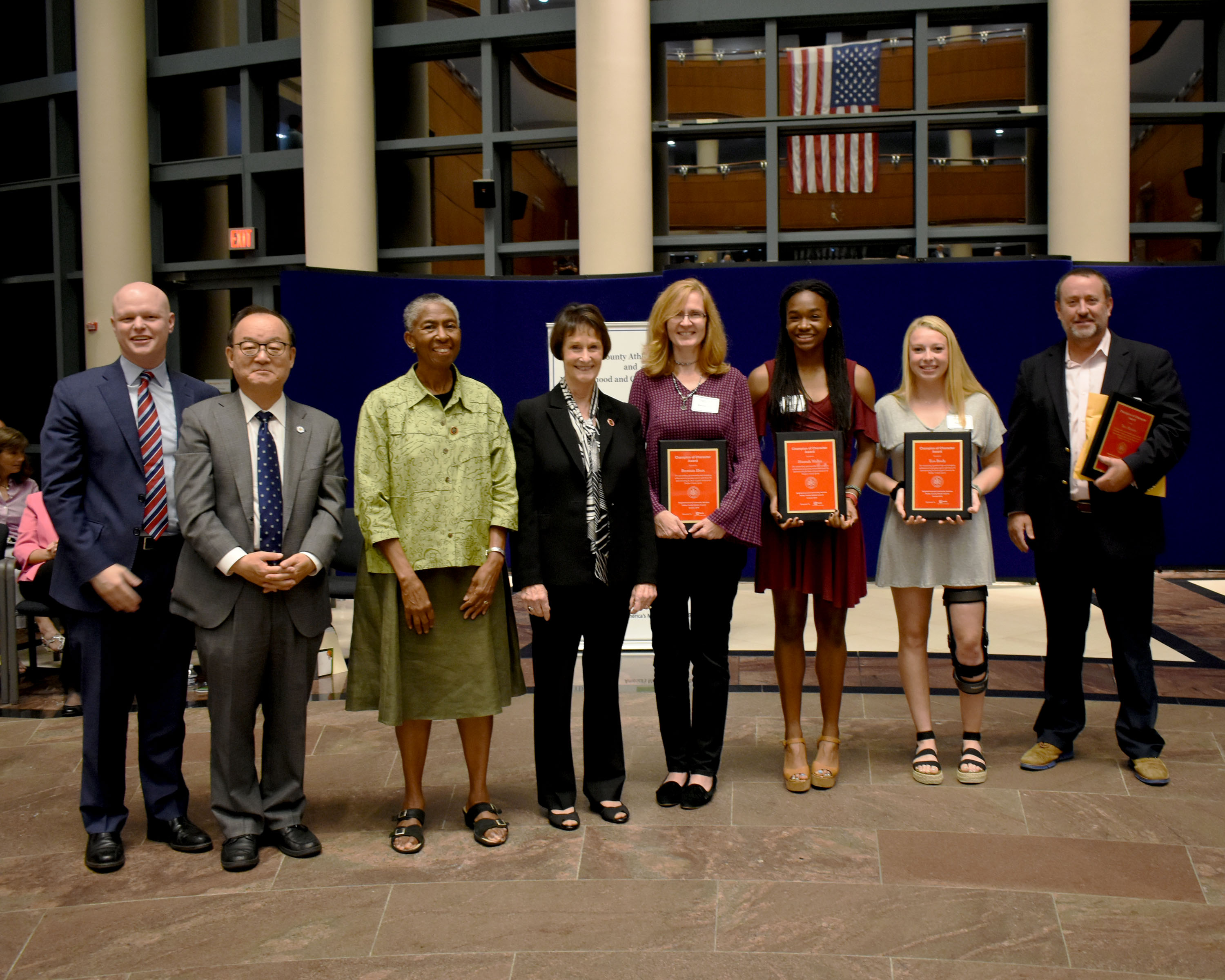 Kazim Khan, Male Athlete, Southgate Community Center
Kazim is one of 6 children in his household and has virtually "grown-up" at the Southgate Community Center. As an outstanding student, volunteer, participant and athlete, Kazim has grown into a respected leader. As a basketball and football player, Kazim comes to the center to study, work on his basketball skills, and take advantage of the athletic performance clinics. Further, Kazim has always gone above and beyond with his assigned task and is a responsible and trustworthy volunteer. He embodies the mentality of being a student first while understanding that athletics is just a part of the journey. Kazim's personal principles as a teen are strong and inspiring. He lives by these principles because of his mentor, Coach Lewis, and his own personal motivation to improve his community. Kazim Khan is a shining Champion of Character!
 
Jamie Caroline Wang, Female Athlete, 18u Reston Redbirds
Jamie Wang is a member of the Reston Redbirds Fast pitch travel softball team and Varsity player for National Cathedral School. She's one of the brightest, kindest and most selfless young women you'll ever meet. You couldn't ask for the better player or teammate. Jamie is a calm, quiet competitor who never gets rattled, never backs down, and never quits. She is quick to smile, and as good natured as they come. Jamie is a respectful student and always receptive to coaching and instruction. After practices, she is always one of the first players to grab a rake and help with field cleanup. Competitively, Jamie Wang is a tremendous athlete. She began her softball career playing in the McLean Youth Athletics and McLean Little League Softball teams. Her key awards include Player of the Year (softball, basketball), MVP (softball, squash), and a Washington Post All-Met First Team designation (softball). Further, Jamie gives back to her community by being a devoted volunteer Board Member of the McLean Youth Athletics, an assistant coach for the Challenger team, and a logo designer for various sports organizations. Next year, she will conclude her travel softball career and head off to college. Whatever school she chooses will be lucky to have this wonderful Champion of Character!
 
Quincy Lewis, Coach, Southgate Community Center
Coach Quincy Lewis has served the Southgate Community Center for 9 years and has worked tirelessly with teens, adults and seniors at the center. In many cases he has become a mentor to many of the youth that frequent the Southgate Community Center. As a coach in the intramural basketball league, he has motivated and inspired his players and staff while earning Southgate Community Center several basketball championships within the Neighborhood and Community Services league. But most importantly, he ensures all of our champions are responsible and hard working scholars too, not just athletes. Coach Lewis has incredible patience, caring and trustworthiness while identifying the hope and potential in everyone! Coach Lewis helps youth in our community center to develop a deeper understanding of the game of basketball but most importantly, the understanding of how to manage their lives holistically. As a testament to his impact, many of the youth Coach Lewis has coached and mentored are currently playing  football and basketball in college; and some have received their degrees have returned to serve the Hunter Mill community. Coach Lewis, you are an awesome Champion of Character!
 
Tiffany Brown, Parent, Full Court Basketball Academy
Tiffany has a tremendous amount of care for her friends, family, and 3 beautiful daughters that is amazing to see. She invests much of her time providing the same care and support towards Full Court Basketball Academy (FCBA). She has been a part of the non-profit organization since the day the organization opened its doors. Tiffany maintains the team and organizational operations for FCBA with great vision for business; and she is extravagant at keeping everyone organized. She truly enjoys seeing the kids playing basketball in a positive environment and she is a big reason why FCBA continues to grow and develop for the kids in our communities. Tiffany is a wonderful person and FCBA is more than thankful to be part of her support team! What an amazing Champion of Character she is.
Lee District Champions of Character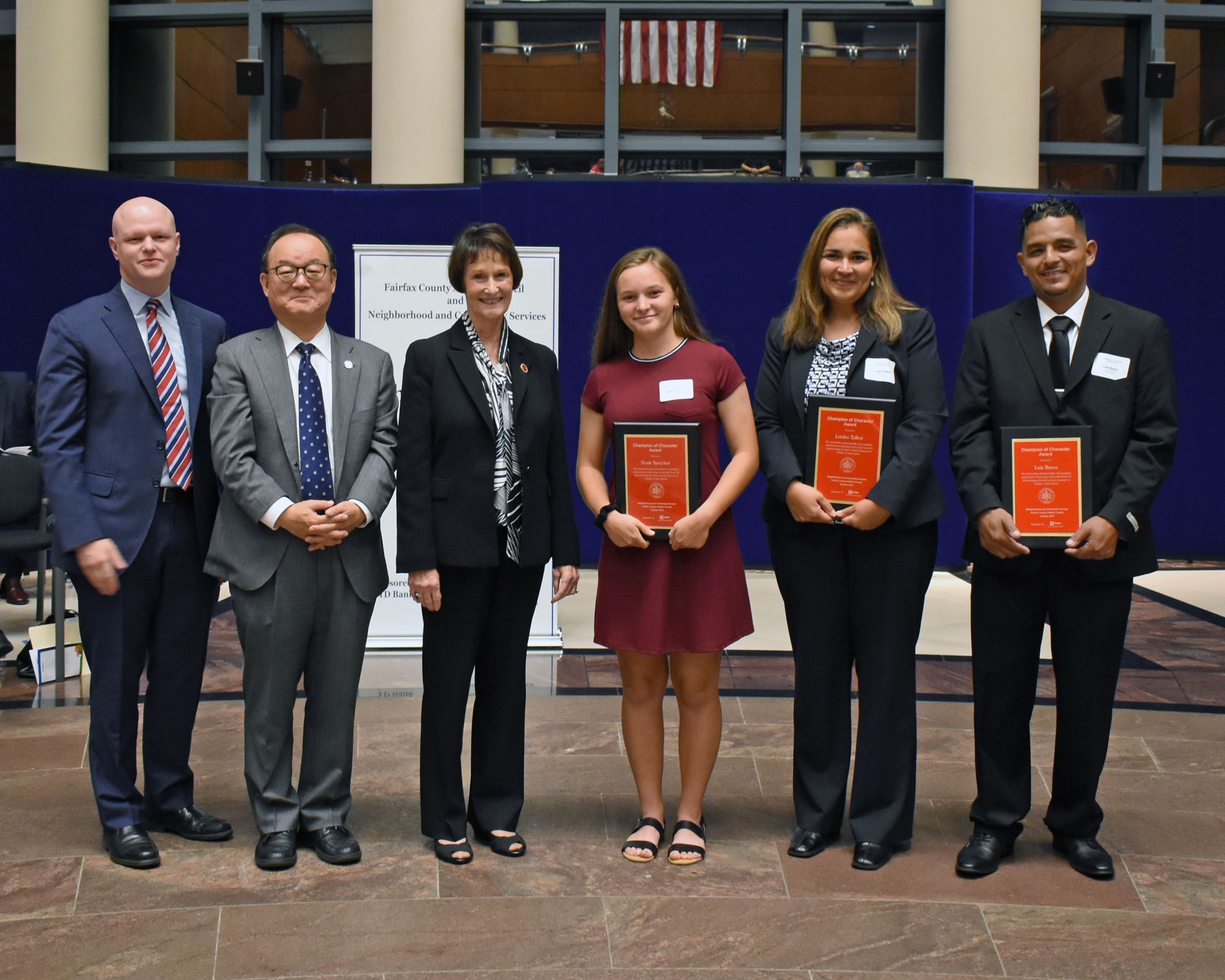 Joseph (JoJo) Walker, Male Athlete, Lee Franconia Football
Joseph (JoJo) Walker is the consummate professional whenever he steps onto the football field, whether it's for a game or practice.  Unassuming and often soft spoken, JoJo is always found leading by example. His drive to make himself a better player is infectious to any team that he plays on, as he constantly inspires those around him to be better players than they already are. Coaches' comments when speaking of Joseph include: "JoJo is the most coachable player I have ever had, I wish that I had eleven kids like him." As a player, JoJo is as selfless as they come. He is the type of "Can Do" personality that grows wherever he is planted, and he is willing to play whatever position his team needs him to play. Within a single season he's played everything from linebacker, to offensive line, to running back, to quarterback, all depending on where his coaches and teammates needed him the most. The attributes of responsibility, caring, citizenship, leadership and sportsmanship that Joseph Walker brings to the playing field is the embodiment of everything that our community athletic programs strive to achieve. For these reasons as well as many others, Joseph Walker as a true Champion of Character.
 
Kara Mueller, Female Athlete, Skating Club of Northern Virginia
Kara Mueller, has worked diligently for ten years to develop outstanding individual and team figure skating skills. As a member of the Washington Figure Skating Club at Mt. Vernon RECenter and the Bowie Figure Skating Team, she has skated at nine local, regional and national competitions this year; and qualified for the US Figure Skating National Showcase. The Bowie Team won Conference Championships the past two years with Kara contributing with the highest point total. Kara has volunteered as a Northern Virginia Special Olympics Coach at Mt. Vernon RECenter since age 11. She loves to see her students strengthen their skills while showing them how to support competitors and teammates. Most importantly, how to lose with grace. Following her example and encouragement, some of her teammates have volunteered with the Special Olympics as well. In addition to skating, Kara maintains a 4.14 GPA and plays viola in the Lake Braddock HS orchestra. She is also in the music honor society and tutors elementary strings students. Kara is an exceptional Champion of Character.
 
James Garster, Coach, Springfield/South County Youth Club Soccer
Jim Garster is a 10+ year veteran volunteer that has served the Springfield-South County Youth Club (SYC) recreational soccer community in various needed capacities such as an age-group league director, head coach, and assistant coach.  In each of these roles, Jim has always put his league, team, and player's needs before his own. When the league has to relocate games, you can find Jim marking off a field late on Friday night so his girls could play on Saturday morning. Jim probably owes his wife Julie dearly, as he convinced her to assist as well! Further, Jim's continuous dedication, commitment, and willingness to do whatever he can do for the SYC community, including his children (Kevin – 20, Claire – 17, and Mary Kate – 13), is a true testament to what the Champions of Character award truly means. As Jim steps away from SYC to share his other passions such as youth ministry with Youth Apostles Institute of Mclean and Assistant track coach at Saint John Paul the Great Catholic High School, we wish him the best and truly thank him for his Champion of Character Spirit!
 
William "Scott" Lohr, Parent, Central Springfield Little League
Scott has been an integral part of Central Springfield Little League (CSLL)-first as a parent, then as a board member in 2004, then serving a league president from 2005-2008, then as a coach, and finally as a league volunteer. His service has spanned more than 15 years, many without a child of his own in the league. Virtually every weekday, March through November, Scott can be found at Carey Fields or at Franconia Park maintaining the fields for CSLL. Additionally, for a number of years, Scott supervised the concession stand as well. Frankly, the value of his service is immeasurable. Scott Lohr's dedication to the community is unquestioned and unsurpassed. Scott's singular and tireless efforts ensure all youth in the Springfield community are afforded the opportunity to participate safely in games and practices. Scott Lohr embodies the measure of a true, Champion of Character.
Mason District Champions of Character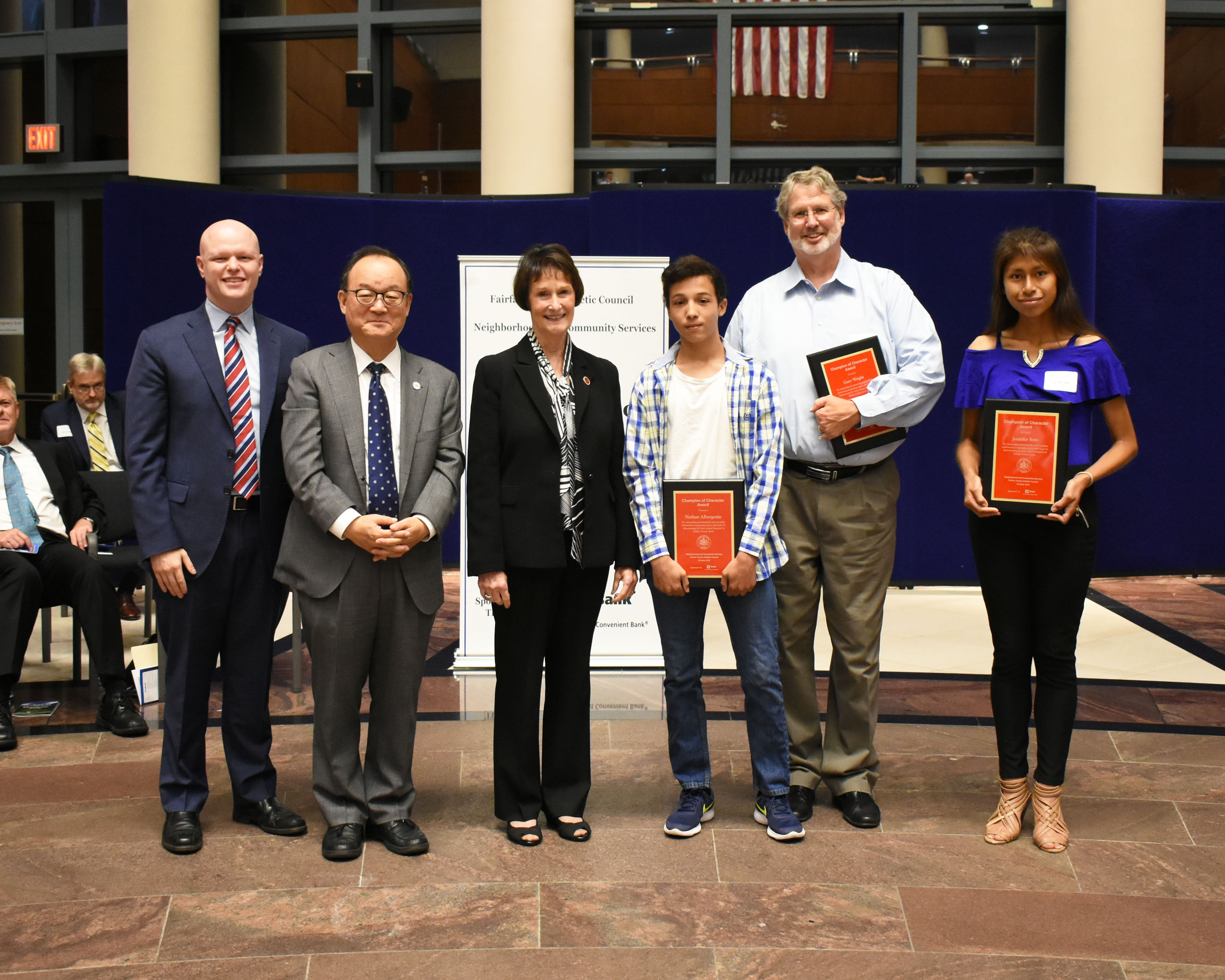 Israel Rivers, Male Athlete, Baileys Community Center Boys Basketball
Israel is a very intelligent, caring, trustworthy, and fair young man. Mr. Rivers is not only a talented basketball player, but is an accomplished Chess player and is often seen showcasing his talents with both staff and participants. Through Mr. Rivers' leadership, he has created interest from both peers and adults in the game of Chess. Further, Mr. Rivers has also been an outreach advocate for the Bailey's Community Center while displaying respect and responsibility over the past year. He assists with STEAM activities, Chess Club and helps with the set up and break down of activities and programs. He takes the initiative to assist in various areas and has a knack for identifying something that can be done within his abilities. His leadership is still growing and he is very deserving of this Champion of Character Award!
 
Taylor Rivers, Female Athlete, Baileys Community Center Girls Basketball
Ms. Rivers is an enthusiastic, high energy young lady that demonstrates caring, citizenship, fairness, and respect. Her basketball skills notwithstanding, Ms. Rivers has displayed her leadership skills by assisting with acclimating new participants to the center, distributing information, and lending a helping hand to staff and participants. Ms. Rivers' leadership, which seems to come naturally, has blossomed at the center without the prompting from staff. Additionally, Ms. Rivers assists staff with various projects from STEAM activities to outside play and special events. She assists with the set up and closing out of a program and does it with a smile. The Bailey's Community Center serves many populations, and Ms. Rivers has shown her ability to welcome new participants with a smiling face (which makes the transition for new participants much easier). Ms. Rivers is a wonderful young lady that continues to improve and grow. She is a positive addition to our community center and is truly a wonderful Champion of Character.
 
Jackson Ali Aleman Diaz, Coach, Culmore Soccer
Coach Jackson is a pillar in the Culmore Community. He is an annual fixture at the Culmore Soccer camp that draws close to 250+ registrants every summer for the last 15+ years. Coach Jackson designs, implements, and evaluates skills and techniques for the U16 group of participants while developing the athletes physically, socially, and psychologically. Coach Jackson's caring nature and understanding disposition enable him to relate to the campers on a variety of issues. Some of the many hats he wears include: surrogate parent, transportation specialist, nutrition expert, meal provider, disciplinarian, and confidant (among many others). Coach Jackson is a trusted coach and we are grateful for his servant leadership. Coach Jackson is a Champion of Character and it shines through and through!
 
Tammy Billak, Parent, Annandale Boys and Girls Club Soccer
Tammy has been a volunteer contributor to the recreational youth soccer program as a parent, coach, and league commissioner for Annandale Boys' and Girls' Club, Inc. She is extremely organized and reliable in carrying out her duties. She has turned in items such as schedules and reports very punctually and meticulously. Her high standards of sportsmanship for coaches and players in her division enable the league to function at an optimal level. Tammy gets along well with people of all ages and nationalities and is very well respected in the Annandale area. She is very dependable – "always there" to volunteer and cheerfully carry out tasks that benefit the ABGC youth sports program. Tammy is without a doubt an ABGC Champion of Character.
Mount Vernon District Champions of Character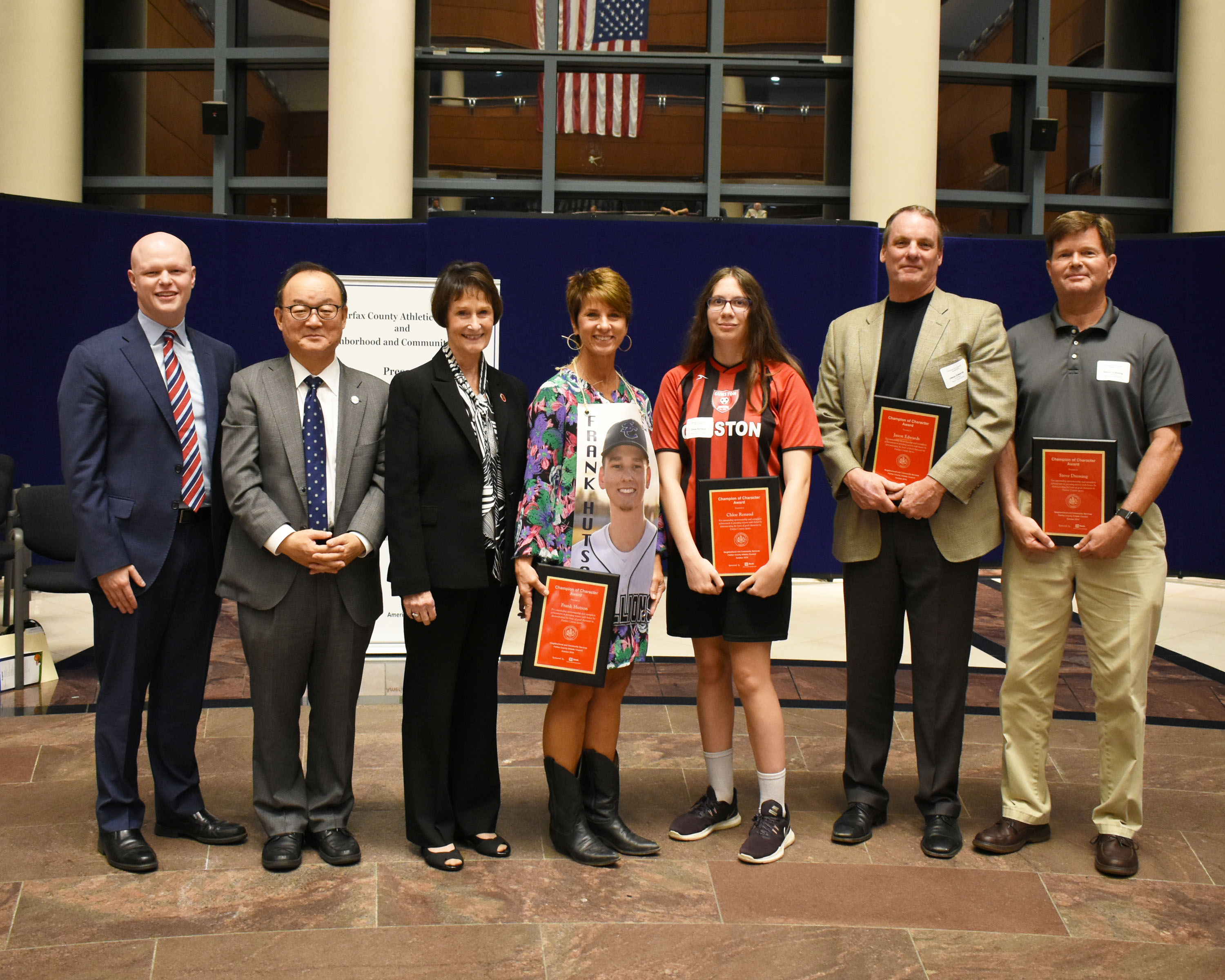 Elias Anwar, Male Athlete, Gum Springs Community Center
Elias has been a steady fixture at  the Gum Springs Community Center since he was in elementary school while participating in the basketball league, soccer league, and Man–up Programs. Elias has volunteered when needed and takes the initiative to find out what needs to be done and how he can help. From moving tables to helping with Safe Night Out, Elias is a student-athlete you can count on! Further, Elias's work in the classroom has prepared him to gaining work experience in the S.U.P Program and the E.Y.E. Summer Work Program (where he assisted with the After-School Program, Summer RECQuest, and Spring RECQuest). Additionally, Elias continues to maintain great friendships with his peers, great relationships with our staff, and is an integral member of the varsity basketball team at West Potomac High School!  Elias has a bright future and is OUR Champion of Character.
 
Meredyth Walker, Female Athlete, Gunston Soccer Club
When one thinks of a Champion of Character, Meredyth Walker immediately springs to mind. Over the past several years, she has continually exhibited integrity, respect, sportsmanship, and responsibility. She pushes herself to be the best on and off the soccer field. While playing top level competitive soccer, which requires her to be at practice three or more times a week, Meredyth has maintained all A's and B's at Hayfield Secondary School. She was recognized as an exemplary student in Language Arts for her 7th grade class. Her work ethic is second to none. Meredyth is involved in her community through her volunteer work with Gunston Soccer Club, refereeing both competitive and recreational soccer, and babysitting neighborhood children. She is caring and trustworthy. Gunston Soccer Club could not ask for a better person to represent our clubs. Meredyth Walker is an asset not just to the clubs, but to the community.
 
Dave Wilsey, Coach, Northern Virginia Girls Softball Association (NVGSA)
Dave Wilsey has been very instrumental in developing girls' fast pitch softball in Northern Virginia, specifically with NVGSA as a parent, volunteer, and coach since 2006. He has coached house softball since 2010 as well as NVGSA's Firebirds travel teams at 10U, 12U, 14U, 18U levels. Additionally, Coach Wilsey serves as the Hayfield Secondary School varsity softball assistant coach and in his spare time, coach Wilsey volunteers as a swim timer for the summer swim leagues in Northern Virginia. Dave has worked to promote sportsmanship, individual skills and team work through NVGSA Player Development Skills Clinics, South County/Hayfield Secondary skills clinics and Firebirds Travel Player Skills Clinics. Further, his success is well known as his teams have qualified for the USSA World Series, NSA World Series, and the ASWS tournament respectively. Under his guidance, the Firebirds win with humility and lose with dignity. His tireless dedication to athletics and the athletes who play is an inspiration worth emulating. He is indeed a Champion of Character.
 
Daryl and Leia Towe, Parent, Cross Training Athletes into Believers (CTAB)
Daryl and Leia Towe are two of the most outstanding individuals in Fairfax County. The husband and wife duo serve as coaches and mentors. The Towes are the founders of Cross Training Athletes into Believers, and have made the organization a well-known name within the community. One of their main premises, the "We-over-Me" concept, has been used to foster partnerships with other school teams and coaches in the area. Under the CTAB platform, the couple has instituted an AAU organization that has awarded college scholarships to student-athletes due to their participation with the CTAB organization. Moreover, the couple played a vital role in helping three at-risk young men graduate high school and all three received scholarships to college in either basketball or football. Daryl and Leia Towe are without a doubt, Champions of Character.
Providence District Champions of Character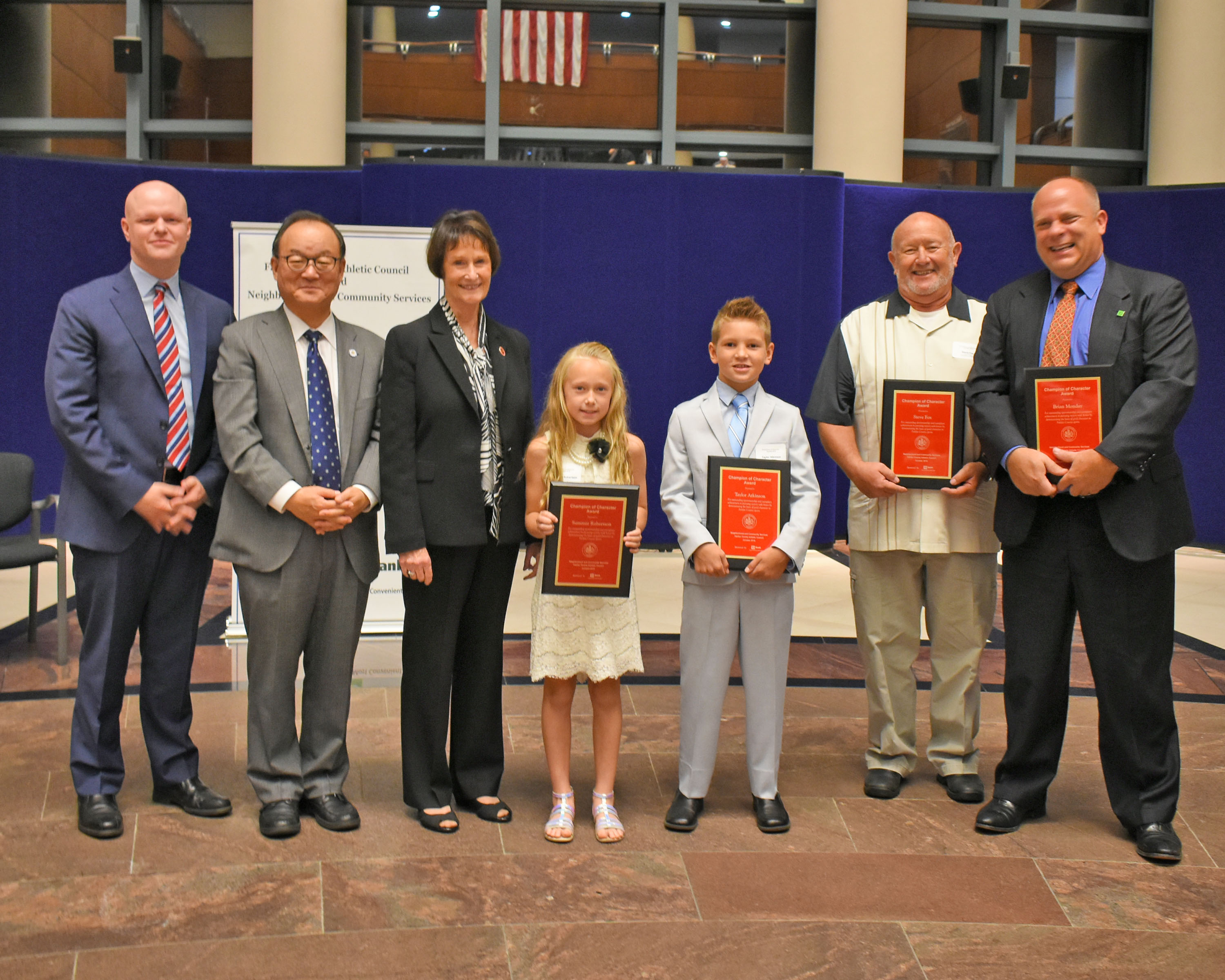 Haven Darius Smith, Male Athlete, Oakton and Virginia Academy
Haven shows Respect to all those he encounters and he is always willing and ready to provide community service and mentor others.  He demonstrates Responsibility while maintaining a high GPA in academics as well as his athletic ability on the court. Additionally, he cares for his disabled parent during his limited free time.  He is Caring by nature as shown by his soft-spoken demeanor. Haven is the epitome of a well-mannered, responsible and mature young adult. His Trustworthiness goes without question. He has been trusted to drive the church van, manage finances, and care for his younger sibling and three pets. Teachers, Mentors, Coaches and other parents often have positive comments about Haven praising his maturity.  His Citizenship expands beyond the borders of Virginia as Haven has been integral in feeding the homeless, packing meals for South Africa, donating school supplies and books to Jamaica, and a host of other charitable giving throughout the world.  Undoubtedly, Haven's Fairness is instantiated significantly as demonstrated by his behavior on the basketball court as well as in society in general.  His demeanor and team commitments are exemplary of ability to equate Fairness in any situation to all involved. Haven possesses the requisite attributes that would make any person proud. Haven is the person who comes to mind when one thinks of the attributes of a Champion of Character!
 
Taylor Smith, Female Athlete, Ultimate Frisbee
Taylor Smith is a junior at Madison High School and has played ultimate Frisbee since middle school. Taylor is notable for being the shortest player on the field with the biggest heart and leadership qualities any coach or organizer could ask for! The game of ultimate in itself is a demonstration of respect and fairness; and Taylor has a deep understanding of the game. She can always be relied on to make fair and equitable decisions on the field for herself, her team, and her opponents. Several years ago as a freshman entering high school, she demonstrated exemplary leadership and responsibility by forming her school's ultimate interest club and becoming captain of her mixed boys and girls after-school team, MadHouse. She has travelled to Blaine, MN, to USA Ultimate's invite-only club nationals with her Youth Club Championships team, Rogue; and she left her DC team, NorthWest Corridor, in an extraordinary display of character to start a new team, the Fairfax Flyers, to help teach younger girls in middle school how to play the game of Ultimate in a girls-only environment. The growing girls ultimate scene here in northern Virginia would not be where it is today without Taylor Smith.
 
Michael Tabassi, Coach, Shotokan Karate/Springhill RECenter
Michael Tabassi is not your average martial arts coach. He is built like an NFL football player with little need for self-defense skills. Yet this very fact is part of what makes him unique. Mr. Tabassi utilizes Shotokan Karate as a way to develop his mind, body, and spirit through consistent, life-long training. More importantly, he practices what he preaches to his students. Mr. Tabassi has been teaching at Springhill RECenter since its inception over 30 years ago. Over the past 25 years, several of his students have comprised the US Karate national team and have become US and international champions. Further, Mr. Tabassi serves on local, national and international karate boards where he oversees responsibilities that include the use of Shotokan as an educational tool for youth and adults across the globe.  He is indeed a Champion of Character!
 
Tim Schaad and Pat Campbell, Parent, Chantilly Youth Association Rec Soccer
Year after year Patrick Campbell and Tim Schaad have volunteered and worked very hard to make sure every single CYA Soccer player has a memorable experience. On any given weekend it may be getting up extra early to make sure the lines on the fields are visible, nets are secure, or checking the fields after a night of rain. Between organizing teams, creating rosters, and helping new and returning volunteer coaches, they do it all; even making sure that every kid walks away with very crucial post game snack! On top of that, Tim and Pat still find time to actually be on the field as coaches themselves. They create an environment on the field where every single player has a giant smile on their face and enjoys their soccer experience. Incredible volunteers like these fuel the success of youth sports across the county. It is oftentimes hard to find volunteers – especially those with the energy and passion needed to create a memorable and exciting experience, and CYA is lucky to have two of the very best. Pat and Tim best and exemplify the ideals of being Champions of Character through their outstanding support for and service to the players and families of CYA Soccer.
Springfield District Champions of Character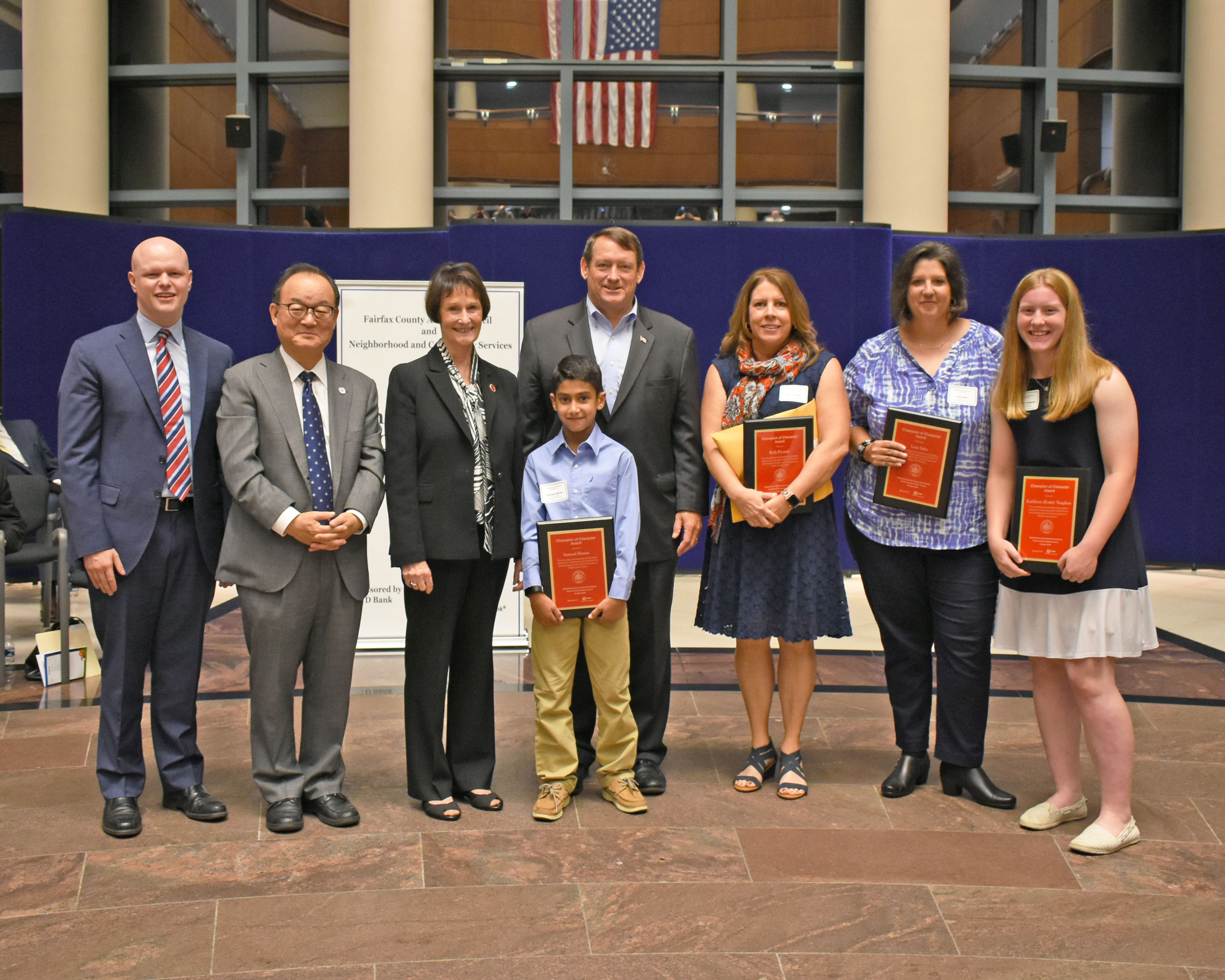 Presley Egbers, Male Athlete, Centreville High School Football/Basketball/Track
True men of character make the people around them better and Presley exudes the ideal. As a quarterback of the football program at Centreville, Presley distributes praise to his teammates while remaining humble about this own success. He is also quick to take the blame for his teammates when things don't go well. Presley is also a leader and student of character in the building. He maintains just under a 4.0 GPA and will most likely be playing college football at an Ivy League Institution. Presley embodies leadership and unyielding character. His future is bright because of his strength of character. Presley Egbers is an outstanding Champion of Character.
 
Victoria Centineo, Female Athlete, Northern Virginia Girls Softball Association (NVGSA)
Victoria is an excellent student-athlete on the Robinson Secondary School varsity softball team and an assistant coach to the Northern Virginia Girls Softball Association (NVGSA) Firebirds travel teams. She has lettered all 4 years at Robinson and served as team captain for the 2018 season. She respects the sport and the efforts that her team puts forth to improve their individual and team performances. Victoria has been a member of the Robinson Partners Club since 2015 which combines general education students with special education students in one classroom. Additionally, she's served as an officer of Partners Club during her senior year and elected to attend senior prom with 2 special education students to provide a typical high school experience for everyone. Beyond athletics, Victoria is in the math honor society, is a member of the National Honor Society, and is an International Baccalaureate diploma candidate. She is the consummate student-athlete who represents the type of player coaches in all sports want on their team. Victoria is a Champion of Character beyond measure.
 
Jeff Creskoff, Coach, Springfield/South County Youth Club Softball
Jeff has been involved with Springfield/South County Youth Club (SYC) softball since 2005 and stepped up last year to become SYC's softball commissioner. Jeff is dedicated to improving the overall quality and level of play in SYC's softball program. While handling the regular duties of organizing and managing the league, he also independently coordinated five hitting and pitching clinics. He brought in professional coaches to help the girls learn the mental and physical aspects of the game and is always there to help with creative ways to keep the momentum going. For example, some of the coaches expressed an interest in setting up a weekly practice in the winter, but were worried about the turnout and cost. Jeff did some research and was able to get involved with high school run clinics. He also coordinated with them to offer an SYC only clinic. Jeff is very organized and runs the league efficiently while always making sure that we have the gear and permits we need as well as securing indoor practice space and organizing all-stars. Through his one season as commissioner, he has made great strides for improvement. Jeff truly inspires our coaches and players to do their best while remaining humble.
 
Ron Wasserstein, Parent, Springfield/South County Youth Club
Ron is one of those parent volunteers that you wish you could clone. He is always there pitching in without being asked. When he is tasked with responsibility for projects large and small, he greets it with enthusiasm and seems genuinely happy to help! Ron recently took on the role of Virginia Youth Soccer Association (VYSA) registrar for Springfield/South County Youth Club (SYC) travel soccer which is almost like taking on another full-time job! Ron also volunteered to coordinate the entire spring travel soccer tryouts when asked at the last minute. Ron is very well organized and is a great communicator; and with Ron, no one has to guess what needs to be done. He spells it all out and makes himself available for anything that comes up including gracefully handling confused and enraged parents! Ron also serves as a mentor for other academy groups and has proved to be a valuable resource for them.  SYC couldn't be more proud to honor Ron as a Champion of Character.
 
Sully District Champions of Character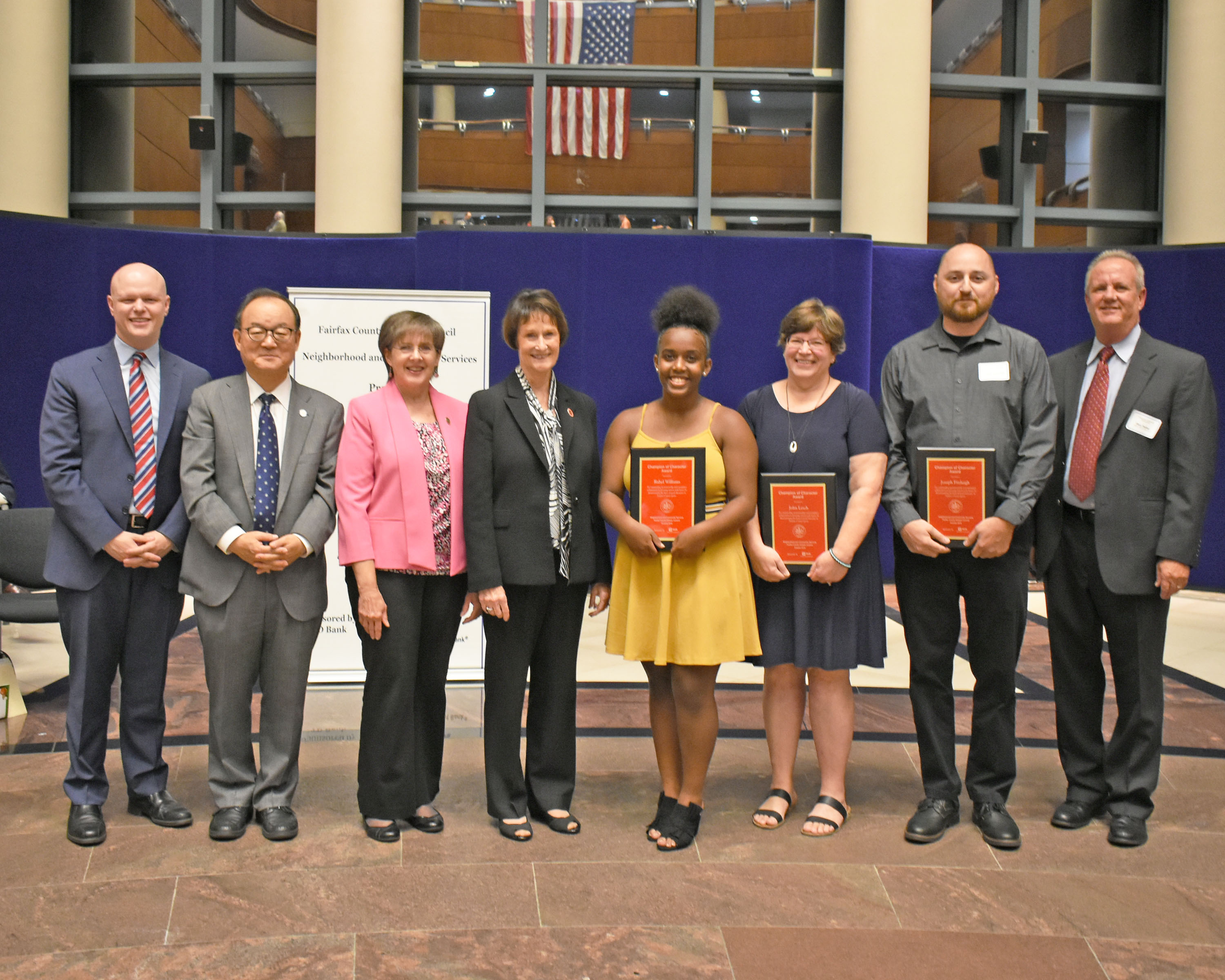 Marshall Rich, Male Athlete, Southwestern Youth Association (SYA) Football
Marshall is the type of kid that every parent would want as their child. He is an extremely talented athlete but an even better kid! He is nice, polite, funny, thoughtful, and selfless. He is a pure joy to coach; he is a leader amongst his teammates, he hustles, and leads by example at practices. He never complains about the number of carries he gets, instead he is just as happy when he makes a great block for his teammate and they get a long run or score a touchdown. Marshall is also a champion as he was an integral part of the SYA team that has won both an 80 lb. and 90 lb. American championship over the last two seasons. We could not have realized such success without Marshall's outstanding talent and character!
Allison Bergstedt, Female Athlete, Southwestern Youth Association (SYA) Extreme Competitive Cheer
Allie is a sophomore at Centerville High School (CVHS) in Clifton, Virginia, is a member of the Varsity Cheer Team, and is a second-year member of SYA Extreme Thunder. She is a hardworking, conscientious young woman who is respected by her friends, her teammates, and all of her coaches. Ally is also a member of the National Charity League for which she volunteers countless hours of community service work for various organizations in the Northern Virginia area. Allie is a respected member of her community, one that inspires cooperation and confidence in others. She maintains a positive attitude when facing difficult situations and she is not afraid to put in extra work to achieve her goals. Allie is without a doubt, a Champion of Character!
Jun Bang, Coach, Southwestern Youth Association (SYA) Football
Coach Jun Bang has done a remarkable job of molding young boys into great young men. For over 12 years he has coached kids in tackle football and those kids have matriculated from youth football to high school, and college. The boys under his tutelage are positive members of the community and a big part of this is owed to coach Bang as he instills hard work, sacrifice, value of teamwork, and integrity into his kids. Coach Bang does not have a child in the SYA program, yet he dedicates his time because he loves the kids, the community, and the sport, Whether it's a kid that needs a ride home or a new pair of cleats, Coach Bang ensures they have what they need to be successful. And for that, Coach Jun Bang is an awesome Champion of Character.
Margaret Carmichael, Parent, Southwestern Youth Association (SYA) Extreme Competitive Cheer
Maggie is one of the most generous and helpful individuals that I know. She has been a Board Member for SYA Cheer and SYA Competition Cheer for seven years as Fundraising Commissioner. Maggie is the first to volunteer her time to work at community events with SYA, to help raise money for the program, and to help anyone in the program that is in need. Maggie began coaching the youngest team last season and has excelled as a coach. Maggie is also a member of the National Charity League for which she volunteers countless hours of community service work for various organizations in the Northern Virginia area. Additionally, Maggie is a respected member of the community and of SYA. She is there for everyone, no matter what the situation. She is the perfect example of someone that exemplifies respect, caring, trustworthiness, citizenship, and fairness. An awesome Champion of Character!