The following individuals were recognized at the 2019 Champions of Character Awards Ceremony, held on Tuesday, October 1, 2019.
Braddock District Champions of Character
Michael Powell, Male Athlete, Robinson Secondary School
A rising senior at Robinson Secondary, Mikey Powell has been a key member of the basketball program for three years. He is also a member of the Robinson Golf team and volunteers as a youth basketball coach. Mikey leads by example with his hard work, dedication and teamwork.
 
Kristin Huempfner, Female Athlete, Braddock Road Youth Club Soccer
The Braddock Road Youth Club soccer team is committed to service work, and team co-captain Kristin Huempfner represents the team at every service event. Whether it is running a bingo game, supporting coaching education, or fundraising, Kristin does it all with enthusiasm and a smile. In the field, she stays focused and leads by example, always helping push the team to improve.
 
Robert (Bob) Heyer, Coach, Braddock Road Youth Club Soccer
Bob Heyer's love for soccer and positive attitude is infectious. For 40 years, he has coached young people in soccer, teaching both the game and all the life lessons that come from youth sports. Bob challenges the young men on his team to learn and grow together; encourages them as individuals to move into leadership roles; and serves as an example of a leader worth following.
 
Bob Gaylord, Parent, Braddock Road Youth Club Basketball
Bob Gaylord lives the good values we want to see in the world, and especially in our young people. As Braddock Road Youth Club basketball coach, president of the Virginia Happy Trails Running Club, and now Member-at-Large on the BRYC Big Board, Bob makes a positive difference in the lives of those around him.
Dranesville District Champions of Character
Jermaine "LJ" Culbreath, Male Athlete, Herndon Optimist Flag Football
LJ Culbreath exhibits impressive leadership skills both on and off the football field. He consistently looks to mentor his less experienced teammates, with the goal of building a team where everyone is included and has fun. LJ shows incredible empathy toward others, respects leadership, and sets a good example for everyone in the sports program.
 
Charlotte "Charlie" Quinn, Female Athlete, Glory Fastpitch Softball
Charlie Quinn is a home-schooled junior who loves to help others. As a softball teammate, she's kind, giving, and puts the team first. She always inspires others to "Go for it, you can do it!" and she embodies her team motto of "a warrior spirit with a servant's heart." Charlie always looks to better herself and helps others around her do the same.
 
Jody Patrick, Coach, Flint Hill Girls Varsity Basketball
Jody Patrick is a person of impeccable character and, without a doubt, one of the best basketball coaches in Northern Virginia. She has compiled an impressive 324 career wins, including several Independent School League championships and multiple state tournament runner-up finishes. As a coach, Jody embodies humility and is highly respected among her peers and players.
 
Michelle Claude, Parent, Great Falls Basketball
Michelle Claude's kids aged out the Great Falls Basketball program several years ago, but she still finds time to run the referee program and participate as a referee herself. She runs a training program for new referees and handles nearly 2,000 referee assignments with ease. Michelle's dedication continues throughout the season, as she is always coming up with ideas to improve the basketball and referee programs.
Hunter Mill District Champions of Character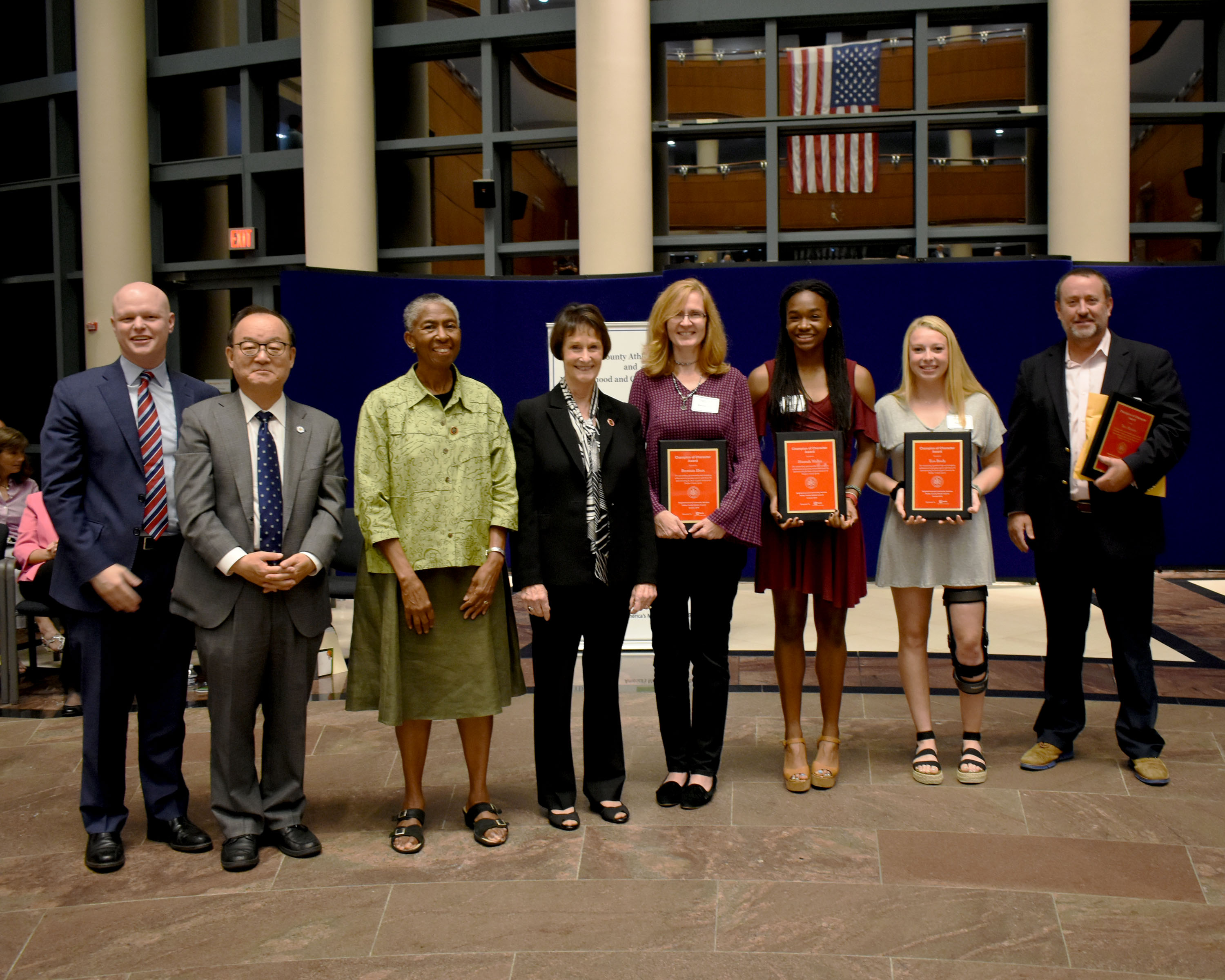 Brennen Ebert, Male Athlete, Vienna Youth Soccer
Brennen Ebert is active in recreational and travel soccer as well as the Vienna Youth Soccer TOPSoccer program. As part of this program, he dedicates an hour each Saturday to playing on the pitch with a special needs child. Brennen is always a calm professional, embodying respect, responsibility, caring, trustworthiness, citizenship and fairness.
 
Hannah Waller, Female Athlete, South Lakes High School Track
Hannah Waller is one of the most decorated student athletes in South Lakes High School history. Off the track, she shows her outstanding character by giving her time to the Fellowship of Christian Athletes, McLean Bible Church Clothing Ministry, and Reston's CORE Foundation. Hannah is well respected by her track teammates and coaches and represents her school positively in every respect.
 
Tess Brady, Coach, Vienna Girls Softball League
Tess Brady started out in Vienna Girls Softball League as a little tyke and quickly moved up the ranks. A starter on the softball team at Flint Hill High School, she also volunteers to coach younger athletes, hold free pitching clinics, and assist with tryouts. Outside of softball, she is a peer counselor and reads to kids at the public library. Through her dedication to her sport and community, Tess has improved the lives of dozens of young athletes and students.
 
Tom Hanton, Parent, Vienna Youth, Inc. Lacrosse/Football
Tom Hanton has been a volunteer for Vienna Youth, Inc. for over 10 years and continues to coach even though his kids have aged out of the program. In addition to coaching football and lacrosse, he has spent endless hours on the administrative side of the lacrosse program. Tom is that increasingly rare parent volunteer who always helps and only wants the best experiences for the athletes.
Lee District Champions of Character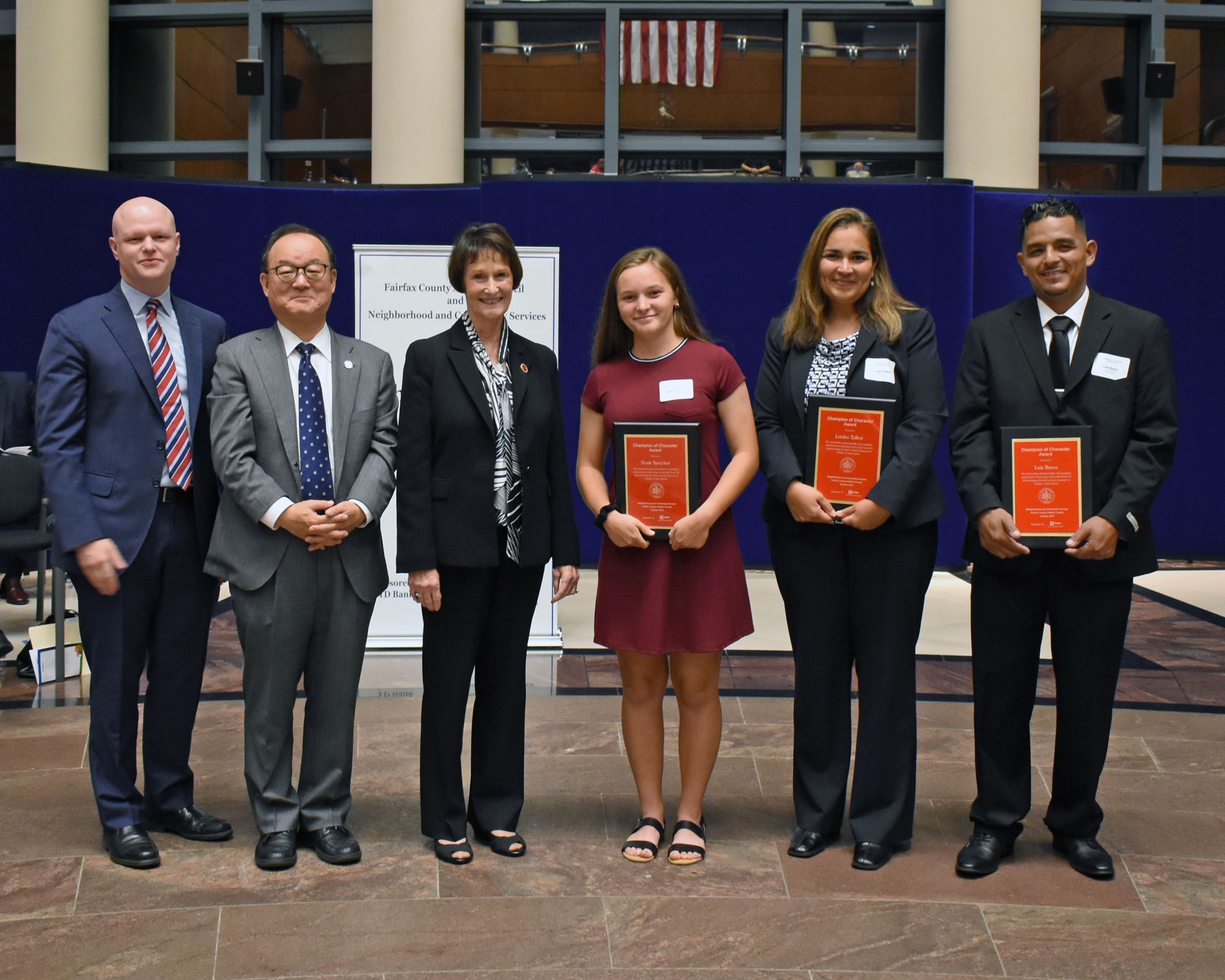 Michael Bosley, Male Athlete, Lee Mount Vernon Sports Club Soccer/Basketball
Michael Bosley is an outgoing, kind, thoughtful and charismatic player who excels at both Travel Soccer and Basketball. His supportive, encouraging disposition makes him an ideal teammate. Michael also has an incredible work ethic, encouraging his teammates to be the best they can be and bringing positive energy to any situation.
 
Nyah Speicher, Female Athlete, Lee Mount Vernon Sports Club Soccer
Nyah Speicher is a student athlete in every sense. She works hard at academics while running cross-country for her high school, swimming for her community team, and playing Travel Soccer. Her hard work earned her a place on the club's top travel team, ranked fifth in the state. Nyah has a strong desire to learn the game, always supports her teammates, and displays unshakable composure even during intense or emotional moments.
 
Luis Bravo, Coach, Lee Mount Vernon Sports Club Soccer
A girls' soccer coach for several seasons, Luis Bravo is an outstanding individual who cares about both education and athletics. He has inspired many of his players to pursue their dreams of playing at the collegiate level. Beyond the game, his players have learned unity, compassion and goal setting. Coach Luis works tirelessly to provide the absolute best for each young person he meets.
 
Lourdes Talbot, Parent, Lee Mount Vernon Sports Club Soccer
Lourdes Talbot is a volunteer extraordinaire with an unsurpassed commitment to her community. She has served as a team parent, program director, event registrar, and youth soccer head coach and does whatever it takes to make sure every child can participate in the sport, no matter their financial status. If the club is ever in a bind, Lourdes is always there to help – even earning the nickname "The LMVSC Saint."
Mason District Champions of Character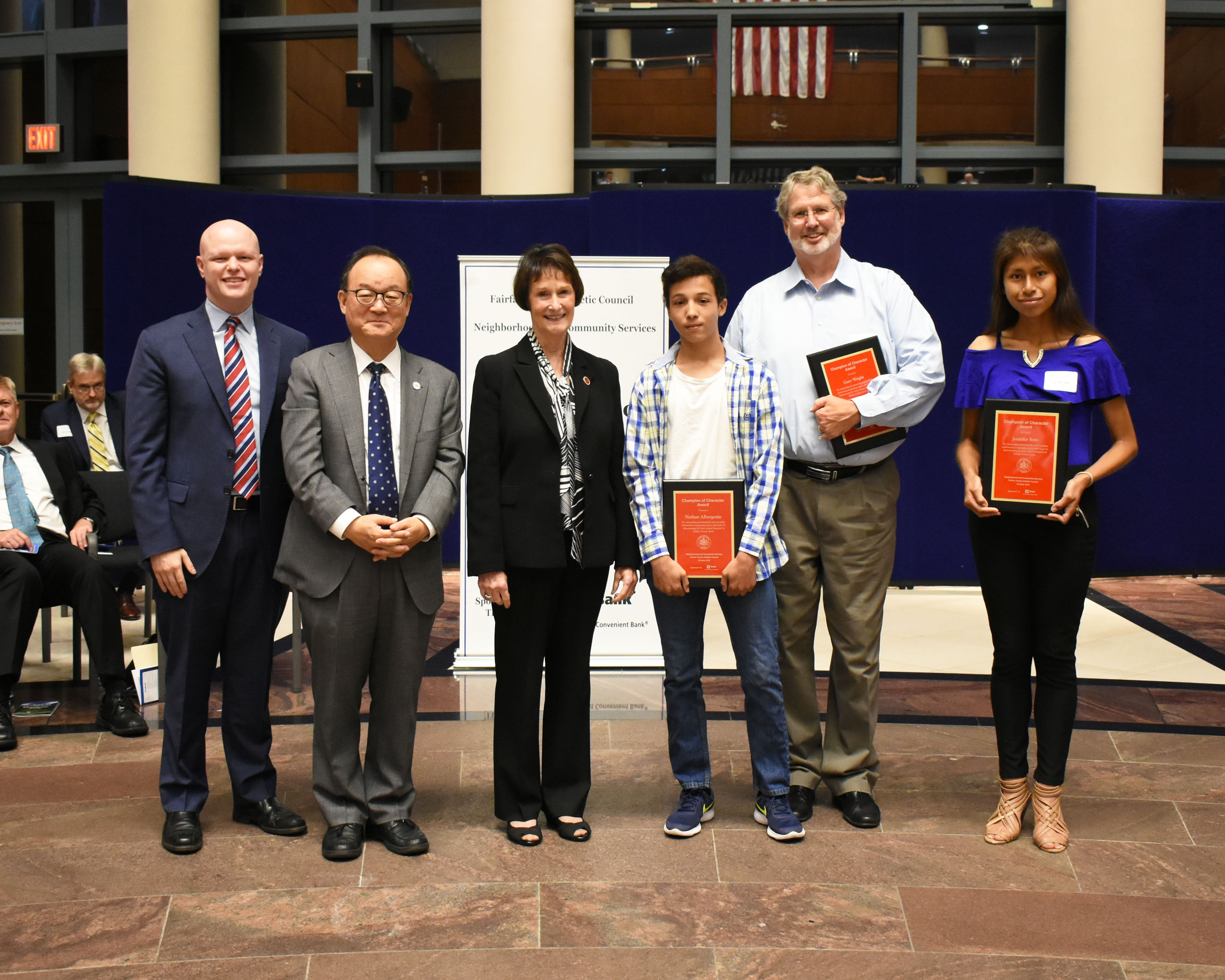 Nathan Albergottie, Male Athlete, Annandale Boys & Girls Club Soccer
Nathan Albergottie, a junior at Falls Church High School, has participated in the Annandale Boys & Girls Club Soccer Program for 12 years. He strives to help his teammates and classmates with group projects for school, volunteering in the community, or on the soccer pitch. Nathan consistently uses his experiences to enhance the lives of those around him, all while maintaining a 3.0 GPA.
 
Jennifer Soto, Female Athlete, Annandale Boys & Girls Club Soccer
In the third grade, Jennifer Soto fell in love with soccer though the Annandale Boys & Girls Club, and continued to play in various leagues throughout high school. Now a recent graduate of Justice High School, she credits her love for coaching and mentoring to her involvement in the club. Jennifer will undoubtedly demonstrate her excellent character as she continues her education at George Mason University.
 
Amadu Fullah, Coach, Olympiacos Soccer Club DC
Amadu Fullah is an exceptional coach who focuses on developing soccer skills and building character both on and off the field. He not only teaches but practices fairness in the game. He cares about his players and holds monthly evaluations to monitor their progress and make recommendations for improvement. Coach Fullah is someone we can always count on and the catalyst for team success.
 
Gary Wright, Parent, Annandale Boys & Girls Club Basketball
Since 1998, Gary Wright has served in nearly every capacity available as a parent. This includes soccer commissioner and coach, basketball commissioner and coach, softball coach, tee-ball commissioner, lacrosse commissioner and coach, and scheduler. He has also overseen the girls' and boys' basketball programs. Gary is a role model who consistently demonstrates proper conduct and good sportsmanship.
Mount Vernon District Champions of Character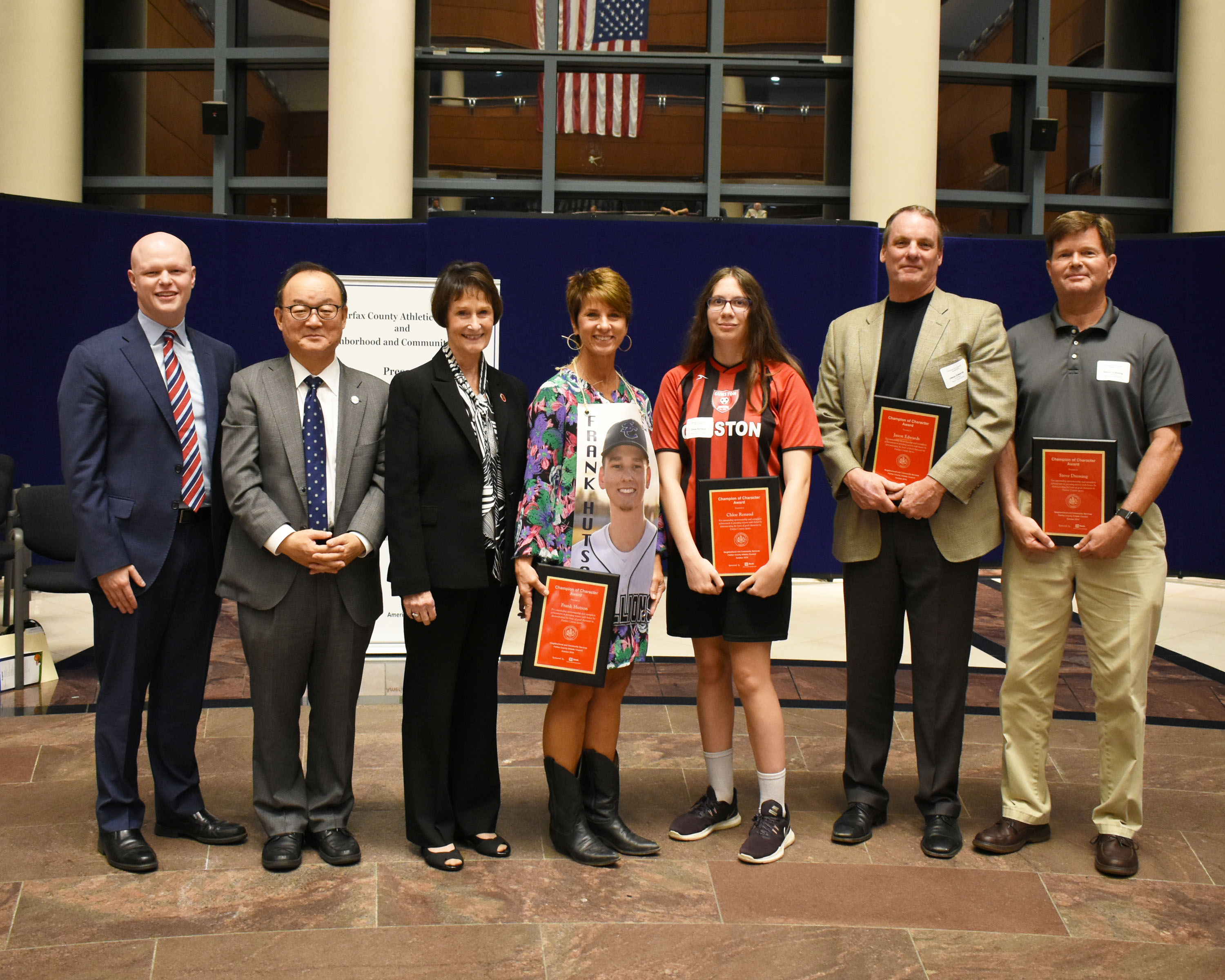 Frank Hutson, Male Athlete, South County High School Baseball
Frank Hutson, a senior at South County High School, exemplifies the best of his generation. Nominated by his peers as baseball team captain, he leads with character, confidence, composure and commitment. Frank shows respect for all his teammates, coaches, officials and opponents. He also displays the virtues of citizenship and fairness and volunteers his time to support worthy causes such as Wreaths Across America, military appreciation, and pediatric cancer research.
 
Chloe Renaud, Female Athlete, Gunston Soccer Club
Chloe Renaud has been a regular TOPSoccer and TOPBasket Buddy for eight years. While most children spend their Sundays unwinding, she can be found assisting the TOPSoccer or TOPBasket programs and helping her sister, a who is a TOPSoccer player. She is also a leader and role model on her recreational soccer team, Gunston Soccer Club. Chloe always puts others first and has helped to make the TOPSoccer and TOPBasket programs a place where all are welcome.
 
Jason Edwards, Coach, Fort Hunt Little League
For more than eight years, Jason Edwards has dedicated himself to serving the Fort Hunt community in various managerial, mentoring and coaching capacities and has coached as many as four youth baseball teams at a time. His easy, soft-spoken demeanor and dedication to the kids has made him a perennial favorite. Coach Jason is a model of decorum and dedication to the entire community, both on and off the field.
 
Steve Dressing, Parent, Fort Hunt Little League
Steve Dressing has been an enthusiastic volunteer coach and umpire with Fort Hunt Little League for over 20 years. An active coach for both AAA and minors teams, Steve demonstrates the leadership, character and positive attitude we all aspire to in life. We are proud to know him, work with him, and be guided by his strength of character.
Providence District Champions of Character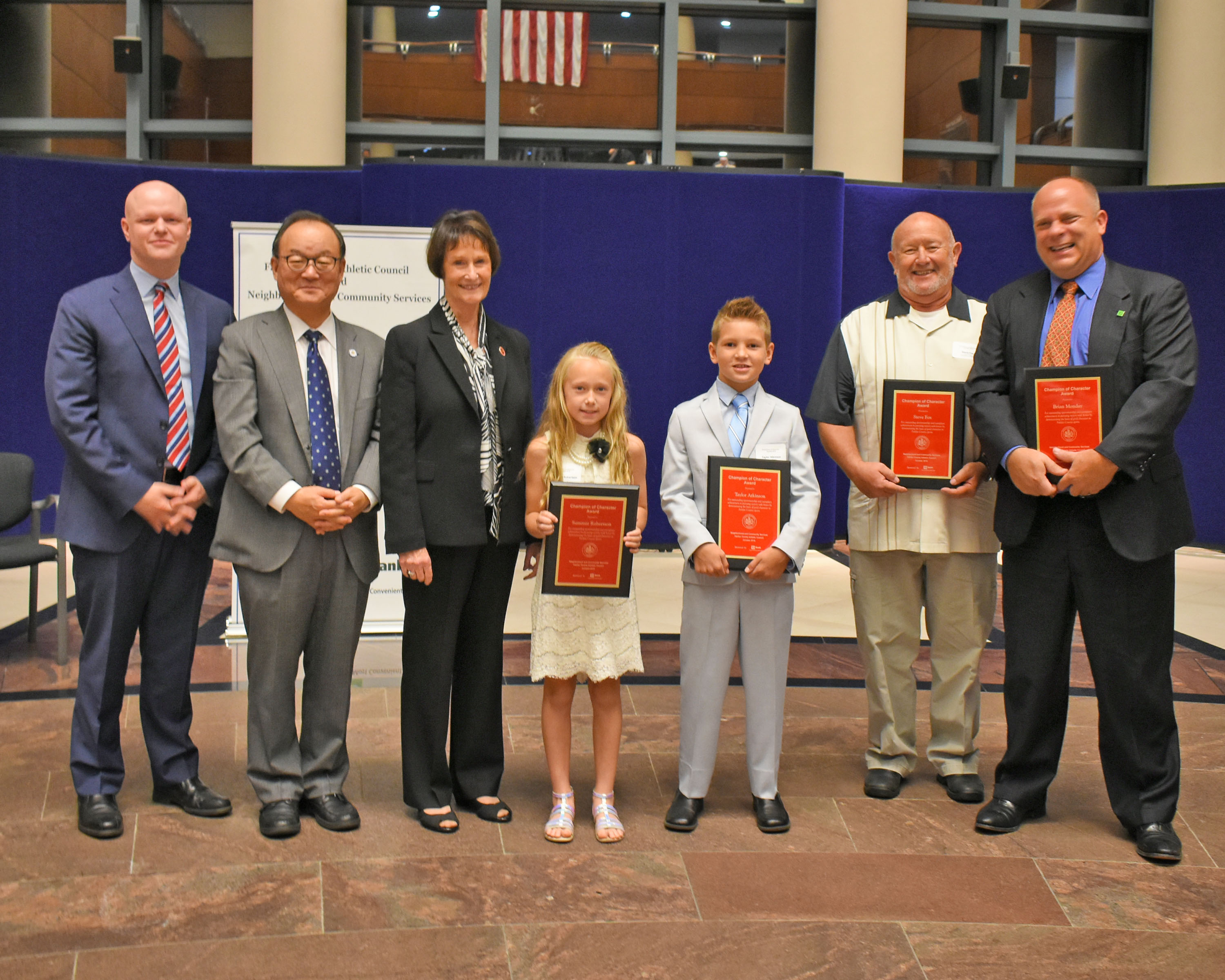 Taylor Atkinson, Male Athlete, Vienna Youth, Inc.
Taylor Atkinson not only plays but excels at several sports. Coaches often deal with attitude issues from their most talented players, but Taylor is humble and always willing to listen. A natural leader, he inspires his teammates and is quick to learn new things. He is a champion not for his exceptional stats, but because he is an outstanding person.
 
Summer Robertson, Female Athlete, Vienna GB2B4
Summer Robertson's maturity and dedication have been on display with Vienna since she was just eight years old. Whether it be for her athletic teams or at her school, Summer has inspired others to make positive changes in our community by becoming more involved and reaching out to those who are less privileged. It will be wonderful to watch her grow and become an ambassador to the sport of her choosing and her community.
 
Brian Monday, Coach, Vienna Youth, Inc. Football
Brian Monday is a force for good in our community, youth sports, and in the lives of our children. Through decades of coaching and organizing youth sports, he has taught a generation of youngsters responsibility, respect and resilience. Off the field, he started the Eric Monday Foundation, helping to combat mental illness and seeking to enlist coaches in the fight to protect our children. Brian's commitment to fairness and care for others runs through everything he does.
 
Steve Fox, Parent, Vienna Youth, Inc./Madison High School Football
Steve Fox is a long-time assistant and head youth football coach for Vienna Youth, Inc. Youth sports face the constant challenge of finding quality leaders, and Steve has always answered this call. A career volunteer, he consistently receives positive feedback for his calm demeanor and effective teaching style. With the support of his wife Donna, Steve continues to be a community servant who simply wants to provide kids with a positive and fun experience.
Springfield District Champions of Character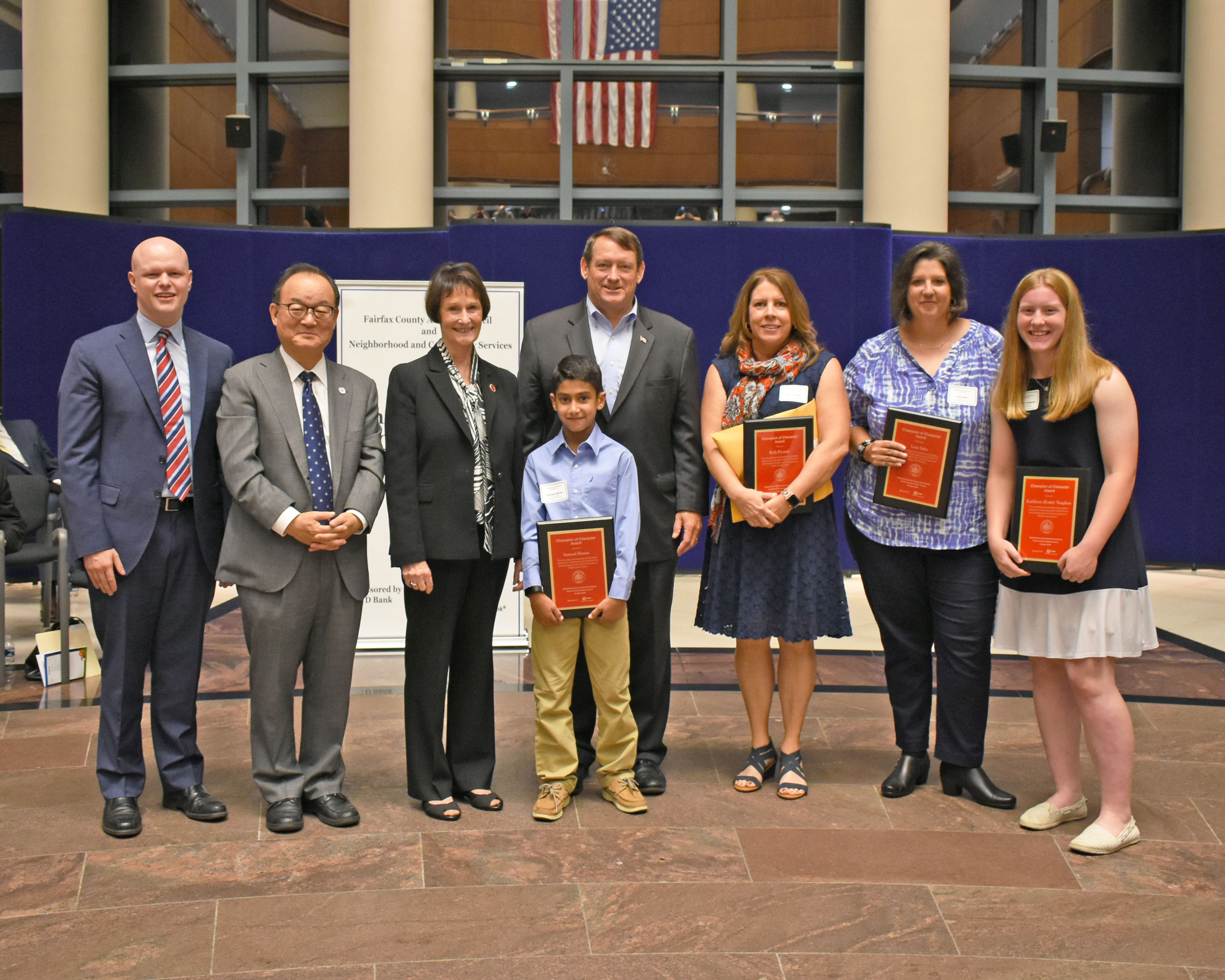 Samuel Hanna, Male Athlete, Southwestern Youth Association Little League
A fourth grader at St. Timothy and a devout player in Southwestern Youth Association Little League, Samuel Hanna displays all the attributes of a great sportsman and student. At school, his ability to manage multiple commitments is an inspiration to his peers. Samuel is also a diligent student on the field, listening attentively to his coach and encouraging his teammates to set goals for the season.
 
Kathleen (Katie) Vaughan, Female Athlete, Northern Virginia Girls Softball Association
Katie Vaughan is an ideal role model for youth athletics. She excels in sportsmanship, giving her all playing competitive fast-pitch softball. She is also a straight-A student and was selected to the 2018-2019 Arlington Honors Band. Katie's helpful and caring demeanor in athletics, at school, and at church are an inspiration to those who need it.
 
Lara Sabo, Coach, Northern Virginia Girls Softball Association
Since 2011, Lara Sabo has been instrumental in developing girls fast-pitch softball in Northern Virginia as a promoter and coach. An excellent role model and determined competitor herself, she inspires athletes to perform at their best and her teams are known for their sportsmanship and focus on the true spirit of the game. Lara's tireless dedication to athletics and young athletes is an inspiration worth emulating.
 
Beth Picardo, Parent, Springfield/South County Youth Club Soccer
Over the past eight years, Beth Picardo has served as soccer team manager, treasurer, scheduler, fundraiser, and in any role needed to keep players and parents functioning as an effective team unit. Her positive attitude, attention to detail, and strong sense of ethics are instrumental in making each soccer season a success. Beth is not only a wonderful person, but she really is the "glue" that holds the team together.
 
Sully District Champions of Character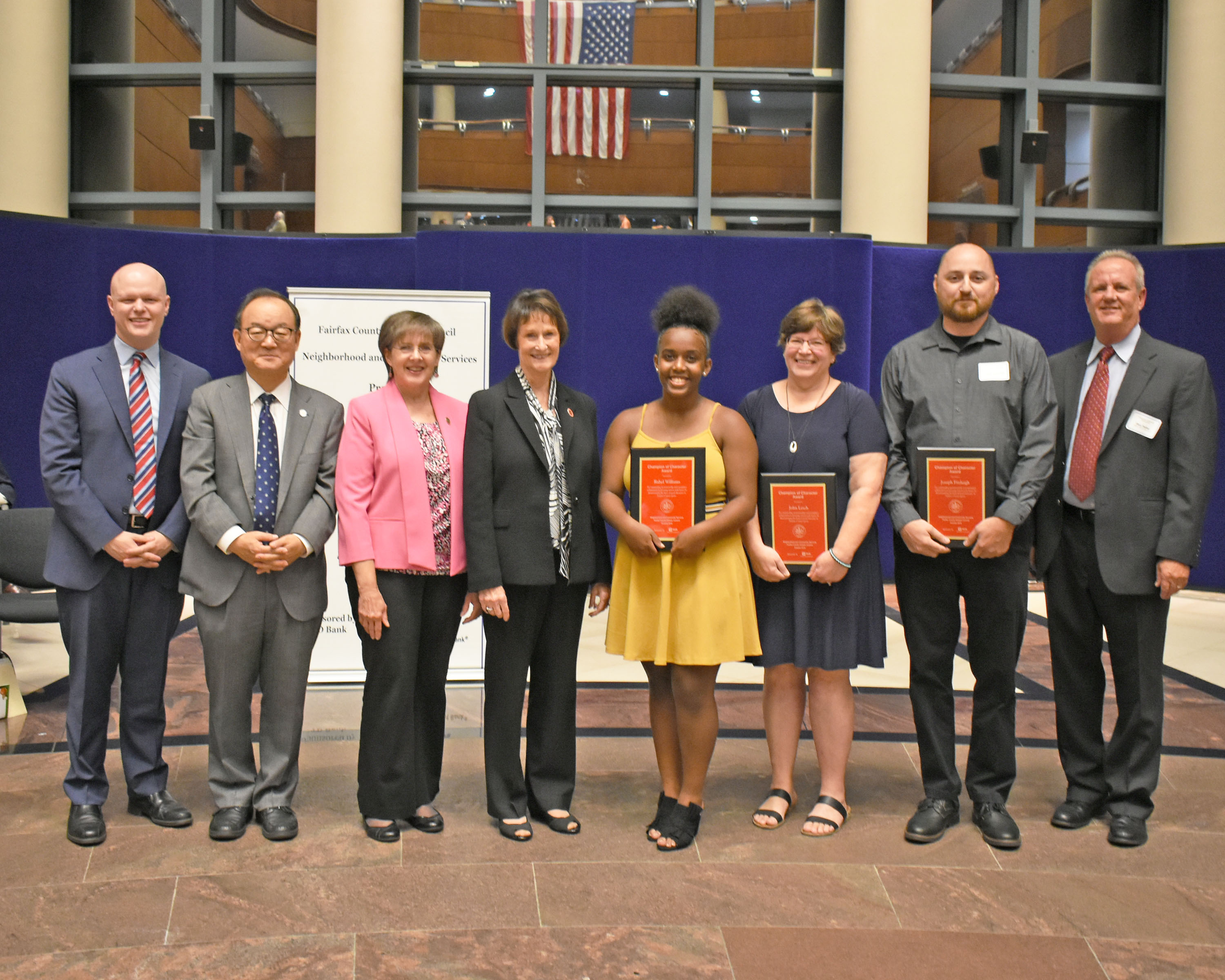 Ryan Hart, Male Athlete, Southwestern Youth Association Basketball
Ryan Hart is in the fourth grade and plays basketball, flag football, tackle football, and runs track. He demonstrates a fantastic attitude and leadership skills while maintaining an A/B average in school. From playing in the pouring rain to the blazing heat, he never complains and his passion is unmatched. Ryan gives his all to any sport he plays – and it shows.
Rahel Williams, Female Athlete, Southwestern Youth Association Extreme Competition Cheer
Rahel Williams is a junior and member of the Varsity Cheer Team at Centreville High School. For the past two years, she has helped her Senior Level 3 Team, Southwestern Youth Association Extreme Thunder, to win 15 straight competitions and take home numerous Grand Champion titles. Rahel is a hardworking, conscientious young woman who inspires others and is respected by her friends, teammates and coaches.
John Lesch, Coach, Chantilly Youth Club Baseball
John Lesch passed away on May 1, 2019. He was a beloved father, husband and coach who served as a volunteer with Chantilly Little League, Northern Fairfax Babe Ruth, and Chantilly Youth Club Basketball over the last 20 years. John loved baseball and shared this passion through coaching. He epitomized the expectations of Little League volunteers: To teach all children to play fair and do their best, and to positively support all managers, coaches and players. He was always the first to praise a good effort – on either side of the ball – despite the outcome of the game. John didn't just teach kids to be better players and coaches to be better coaches, he taught all of us to be better people.
Joseph Busicchia, Parent, Southwestern Youth Association Extreme Competition Cheer
Joe Busicchia is an outstanding coach and mentor for our level 2 and 3 Extreme Competition Cheer teams, as well as a member of the Cheer Board. He is patient, kind, and communicates well with athletes of all ages. He is also manager of our gym facility, the SYA Atmosphere, and is one of the first cheer parents to help anyone in need. Joe is a huge asset and a respected member of our community and organization.