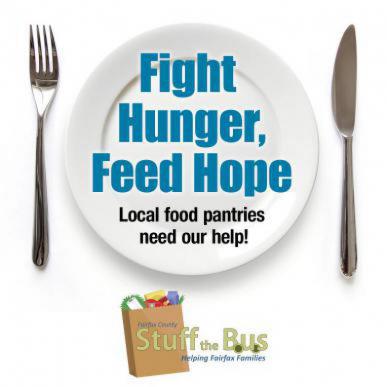 The buses are fueled and ready to roll as Stuff the Bus – the county's post-holiday food drive, now in its ninth year – hits the road in the fight against hunger in Fairfax County.
Beginning on January 18 and continuing weekly through February 15, 2020, Stuff the Bus will visit local grocery stores to collect donated food and household items. Since launching in 2011, the campaign has collected more than 281,500 pounds of food to benefit local nonprofit food pantries, resulting in 200,000 meals for those in need.
Statistics show the need for food is great, and demand only becomes more acute during the winter months. In Fairfax County, more than 75,000 residents live below the federal poverty level and 4.2 percent of residents access the federal SNAP program for food assistance.
New this year, nonprofit Helping Hungry Kids is hosting a second donation site at the Fresh World international supermarket in Herndon. This is part of a pilot program to expand access to foods that are more culturally reflective of the communities food provider organizations serve. The program aligns with the objectives of One Fairfax, a joint social and racial equity policy of the Fairfax County Board of Supervisors and School Board.
Fastran buses staffed by MV Transportation will visit Fresh World and several other local grocery stores during the donation period to collect cash and food donations to benefit 11 different nonprofits.
Donation hours vary by location. See the full list of dates and locations below, or check the NCS Events page.
Select a Date to Donate!
Visit the following Stuff the Bus locations to drop off your food or cash donations during the specified donation hours:
Saturday, January 18 - POSTPONED
Cardinal Forest Giant
8320 Old Keene Mill Rd.
Springfield VA, 22152
Donation hours 9:30 am-4 pm
Benefitting ECHO (Ecumenical Community Helping Others)
Fox Mill Giant
2551 John Milton Drive
Herndon, VA 20171
Donation hours 9:30 am-3:30 pm
Benefitting Helping Hungry Kids
Chantilly Walmart
4368 Chantilly Shopping Center Drive
Chantilly, VA 20151
Donation hours: 10:30 am-3 pm
Benefitting WFCM (Western Fairfax Christian Ministries)
Saturday, February 1
Vienna Giant
359 Maple Avenue East
Vienna, VA 22180
Donation hours 10 am-2:30 pm
Benefitting CHO (Committee for Helping Others)
McLean Giant
1454 Chain Bridge Road
Chain Bridge Corner
McLean, VA 22101
Donation hours 9 am-3 pm
Benefitting Share, Inc.
Monday, February 3
Herndon Fresh World
1070 Elden Street
Herndon, VA 20170
Donation hours 10 am-2 pm
Benefitting Helping Hungry Kids
Saturday, February 8
Annandale Giant
7137 Columbia Pike
Annandale, VA 22003
Donation hours 9:30 am-4 pm
Benefitting ACCA (Annandale Christian Community for Action)
Fairfax Walmart
11181 Lee Highway
Fairfax, VA 22031
Donation hours 11 am-4 pm
Benefitting Britepaths
Falls Church Giant
1230 W. Broad Street
Falls Plaza
Falls Church, VA, 22046
Donation hours 9 am-4 pm
Benefitting Falls Church Community Service Council
Saturday, February 15
Springfield Giant
6426 Springfield Plaza
Springfield, VA 22150
Donation hours 9:30 am-3:30 pm
Benefitting Koinonia Foundation
Herndon Giant
2425 Centreville Road
Village Center at Dulles
Herndon, VA 20171
Donation hours 9:30 am-3:30 pm
Benefitting LINK
Fort Hunt Safeway
7900 Fort Hunt Road
Alexandria, VA 22308
Donation hours: 9 am-1 pm
Benefitting United Community
Contact Name
Amanda Rogers
Contact Information
Amanda.rogers@fairfaxcounty.gov