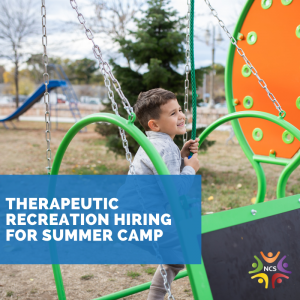 Fairfax County Department of Neighborhood and Community Services' Therapeutic Recreation Services is now hiring to fill more than 100 positions for its six-week summer camp program for school-aged youth with varying disabilities. Therapeutic Recreation (TR) Services is hosting a series of eight virtual open hire and information sessions for summer job seekers interested in working as a camp counselor or camp director.
These live, interactive open hires will take place virtually via Zoom. Each session will include the opportunity for attendees to engage with TR staff, learn more about available positions, and participate in a question-and-answer period. Job seekers will have an immediate opportunity to interview for the position they are interested in and potentially be offered positions on the spot! Therapeutic Recreation offers competitive hourly pay starting at $14.31 for camp counselors and $18.88 for camp directors.
HIRING EVENT DATES
In addition to discussing job duties, answering questions, and interviewing, the session will provide information about COVID-19 precautions and the onboarding process.
MINIMUM QUALIFICATIONS
Applicants must be at least 18 years old and must have or be willing to obtain CPR and first aid certifications. Applicants must have at least 250 hours of experience in a recreation or school setting serving individuals with disabilities (college course work can supplement experience).
CAMP DATES
Staff must be able to work all six weeks of camp, which is tentatively scheduled for June 28 – August 6, 2021.
TRAINING DATES
Additional trainings for these positions are provided and attendance is mandatory; tentative training dates are June 16 – June 25, 2021.
MORE INFORMATION
For more information, please see the Open Hire events flyer.