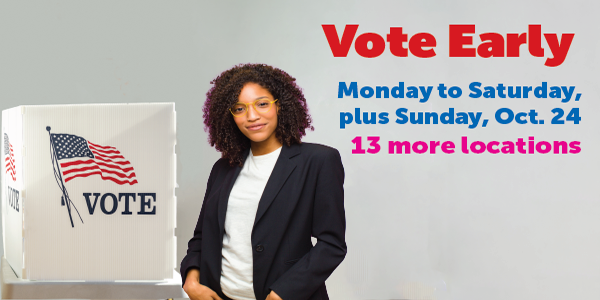 Fairfax County will open an additional 13 early voting sites starting Thursday, Oct. 21.
In total, there will be 16 voting locations available across the county until the last day to vote early on Oct. 30 at 5 p.m. Early voting began last month starting with three sites open.
Every early voting site will be open on weekdays from noon to 7 p.m.—except for the Fairfax County Government Center. Longer hours are offered at this location from 8 a.m. to 4:30 p.m.
Any voter may cast their ballot early without needing a reason or excuse.
WEEKEND VOTING HOURS
Early voting also will be offered at all locations on Saturdays from 9 a.m. to 5 p.m.
For the first time ever, voters will be able to cast their ballot on Sunday, as now allowed by a new state law. Every early voting site will be open on Sunday, Oct. 24 from 1 to 5 p.m.
EARLY VOTING LOCATIONS
Before you cast your ballot at any of these locations, please double-check the voting hours.
WHAT'S ON THE BALLOT?
The following offices are on the ballot for the Nov. 2 general election:
Governor
Lieutenant Governor
Attorney General
House of Delegates
There is also a $360 million public school bond on the ballot.
Every voter should have received an individualized sample ballot in the mail that shows you the contests that will appear on your ballot, along with a list of every early voting site and hours.
Ballot Drop Boxes Available
You may return your vote-by-mail ballot in a drop box at any early voting site during the hours they're open. There also is a secure, 24-hour drop-off box available outside the Fairfax County Government Center. Of course, your cast ballots also can be returned by mail.
However you choose to return your mail-in ballots, you still must sign the return envelope, and a witness signature is also required. (Earlier during the pandemic, state lawmakers exempted voters from providing a witness signature if they felt unsafe, but this legal requirement is now back in place for Nov. 2 and future elections.)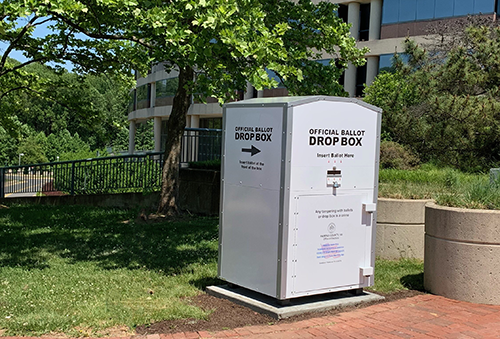 More Information
For questions or more information about voting and deadlines, contact the Fairfax County Office of Elections at 703-222-0776, TTY 711.