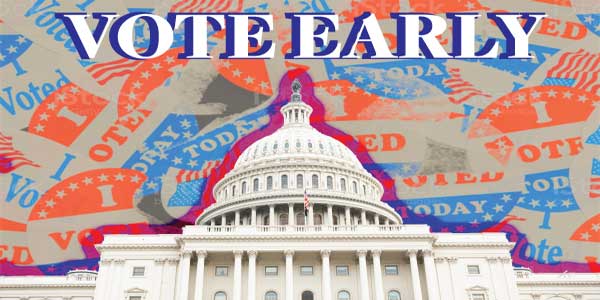 Fairfax County will open an additional 13 early voting sites starting Thursday, Oct. 27.
In total, there will be 16 voting locations available across the county until the last day to vote early on Nov. 5 at 5 p.m. Early voting began last month starting with three sites open.
Every early voting site will be open on weekdays from 1 to 7 p.m. — except for the Fairfax County Government Center. Longer hours are offered at this location from 8 a.m. to 4:30 p.m.
Any voter may cast their ballot early without needing a reason or excuse.
WEEKEND VOTING HOURS
Early voting also will be offered at all locations on two Saturdays, Oct. 29 and Nov. 5, from 9 a.m. to 5 p.m. For the second time ever, the county also will offer voting hours on a Sunday: Oct. 30, from 1 to 5 p.m.
EARLY VOTING LOCATIONS
In total, 16 early voting locations will be offered until early voting ends on Nov. 5:
Except for the Fairfax County Government Center, weekday voting hours at every site will be from 1 to 7 p.m. 
WHAT'S ON THE BALLOT?
The Nov. 8 election is for the U.S. House of Representatives:
8th Congressional District
10th Congressional District
11th Congressional District
For Town of Herndon residents, the mayor and council are also up for election.
DOUBLE CHECK YOUR CONGRESSIONAL DISTRICT
As a result of redistricting, which is a legally required process to adjust election districts every 10 years, voters may find that their congressional district has changed. Before going to vote, double check your district by looking up your voter information on the state's online portal or call the Office of Elections at 703-222-0776, TTY 711.
Voters in the towns of Clifton, Herndon and Vienna should be aware that the state recently sent a mailing that incorrectly identified their polling places. To correct the state's mistake, the Fairfax County Office of Elections is mailing a letter to these town voters with their correct polling place.
SAME DAY VOTER REGISTRATION
A new state law now allows same day voter registration for anyone who is eligible to vote. To register before Election Day, go to any early voting site during the hours they're open or the Fairfax County Office of Elections to fill out a voter registration application. Same day registration is also available on Election Day, Tuesday, Nov. 8. On Election Day, however, you must register at the polling place for the precinct where you live. Call the Office of Elections to determine your precinct and polling place if you aren't sure.
By state law, voters who register same day must vote a provisional ballot, and the Fairfax County Electoral Board will determine which provisional ballots are counted. (Provisional votes are not included in the election night results, and the board does not consider these ballots until after Election Day.)
MORE INFORMATION
For questions or more information, contact the Fairfax County Office of Elections at 703-222-0776, TTY 711, from 8 a.m. to 4:30 p.m. on weekdays.