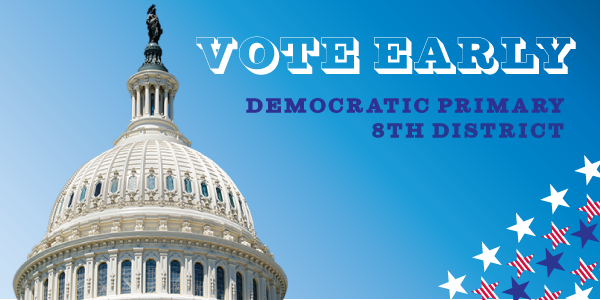 Early voting begins Friday, May 6, for the June 21 Democratic primary for the 8th Congressional District.
Voters can cast their ballot at the Fairfax County Government Center on weekdays from 8 a.m. to 4:30 p.m., and this location also will be open on two Saturdays: June 11 and June 18 from 9 a.m. to 5 p.m.
The Fairfax County Government Center will be the only location available for early voting until June 11 when additional voting sites will open.
Any registered Fairfax County voter in the 8th Congressional District can vote early, and can cast their ballot at any early voting site. The last day to vote early is Saturday, June 18, at 5 p.m.
MORE EARLY VOTING SITES OPEN JUNE 11
An additional five early voting locations will be offered beginning June 11:
Voting hours at these locations will be from 1 to 7 p.m., Monday to Friday. Saturday hours will only be offered at these locations on June 11 and June 18 from 9 a.m. to 5 p.m.
WHAT'S ON THE BALLOT?
The June 21 election is a Democratic Party primary only for the U.S. House of Representatives, 8th District.
There is no Republican primary election for the U.S. House of Representatives in Fairfax County. The party has chosen to nominate its congressional candidates through a convention. In Virginia, political parties decide how they nominate their candidates, including using caucuses, mass meetings, primary elections and other methods.
WHAT TO BRING WHEN VOTING EARLY
By law, voters must show identification when they vote — but a photo ID, like a driver's license, is no longer required. You may use as ID a copy of your:
Current utility bill.
Bank statement.
Government check.
Paycheck.
Other government document with the voter's name and address.
Of course, photo IDs remain an acceptable form of identification — and you can even use an expired Virginia driver's license no matter how long ago it expired.
IDENTIFY YOUR DISTRICT
If you aren't sure if you are in the 8th Congressional District, check your voter information on the state's online portal.
As a result of redistricting, which is a legally required process to adjust election districts every 10 years, voters may find that one or more of their districts have changed. However, 96% of voters will continue to vote at their same polling place.
Fairfax County will mail every registered voter personalized information about their precinct, polling place and district for U.S. Congress, Virginia State Senate and Virginia House of Delegates. This information is anticipated to go in the mail late this week.
VOTE BY MAIL
For voters who already requested them, their absentee ballots will begin to arrive in the mail after May 6.
To vote by mail in the primary, you must apply by June 10 at 5 p.m., and any registered voter can absentee vote by mail without needing a reason or excuse.
The fastest and most secure way to apply is online on the Virginia Department of Elections website. You'll also be able to track the status of your application, as well as when your ballot is mailed to you. Your Virginia driver's license number is needed to apply online, along with the last four digits of your Social Security number.
If you don't want to mail back your cast ballot, you can return it at a drop-off box at any early voting site during the hours they're open. There also is a 24-hour secure, drop-off box available outside the Fairfax County Government Center.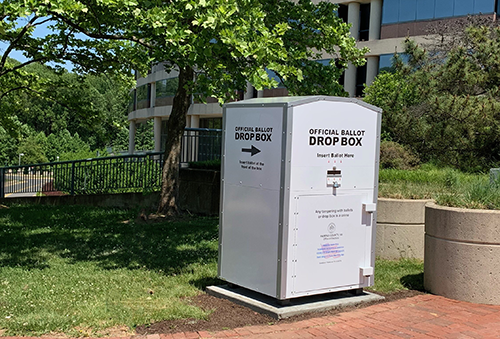 MORE INFORMATION
For questions or more information about voting and deadlines, contact the Fairfax County Office of Elections at 703-222-0776, TTY 711.