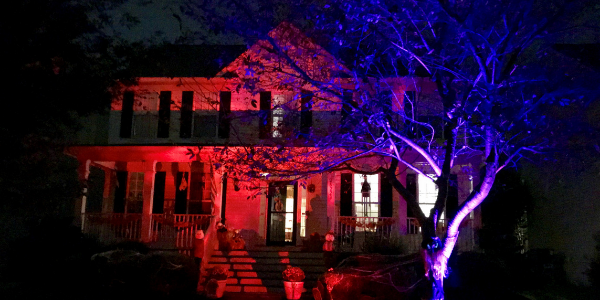 Learn COVID-19 recommendations for this Halloween.
Find and explore some of the best-decorated houses in the county.
Get the full list of trick-or-treating, costume, parent/guardian and pet tips.
It's time for scary, silly and all kinds of costumes in all corners of our community. Here are a few things to know about Halloween in Fairfax County.
🎃 When is Trick-or-Treating?
Some communities, cities and counties designate a day other than Oct. 31 for trick-or-treating. Fairfax County Government does NOT set a different date. Halloween is Sunday, Oct. 31. Your homeowner's association or apartment complex may set times for events, but neighborhood trick-or-treating is the evening of Oct. 31.
😷 COVID-19 Recommendations
While COVID-19 cases are slowly declining, many families are wondering if it's OK to celebrate Halloween this year. The short answer is yes, but with precautions.
The best way to protect you and your loved ones from COVID-19 and possibly spreading the virus to others is to get vaccinated as soon as you are eligible and wear a mask indoors when there is substantial or high levels of community transmission.
While trick-or-treaters under 12 aren't eligible for vaccine yet, this fun tradition can be done safely if families keep activities outdoors, wear a cloth or surgical mask (don't rely on a costume mask to protect you), avoid crowded doorsteps, and wash hands before eating candy.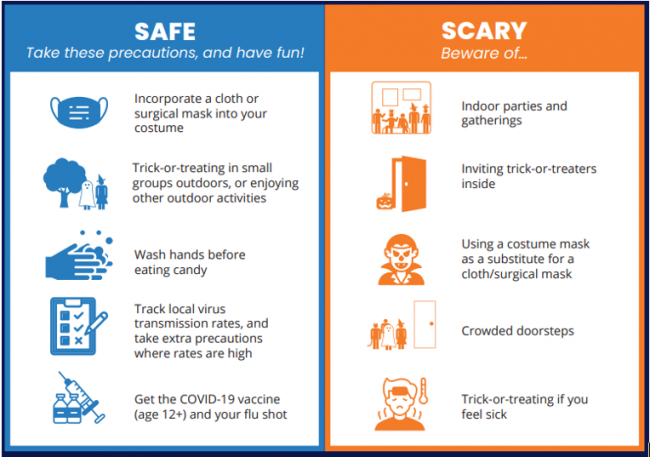 The Virginia Department of Health recommends the following guidance:
If you have COVID-19 symptoms, have tested positive for COVID-19 in the past 10 days, or have been in contact with someone with COVID in the past 14 days, stay home and away from others.
 
If you are self-isolating or self-quarantining, do not participate in trick-or-treating this year, rather, consider virtual options to celebrate.
 
Maintain at least six feet of distance between yourself and others who do not live in your household.
 
Wash your hands before going trick-or-treating or handing out candy. Hand sanitizer should be used while trick-or-treating or handing out candy when soap and water aren't available.
 
Wear a cloth mask. Halloween masks may not fit snugly against the face and may not cover the nose and mouth. Halloween masks with gaps and holes do not protect against inhaling respiratory droplets from other people. Wearing a cloth mask under a Halloween mask may make it hard to breathe and is not recommended.
 
If you hand out candy, consider setting up an area outside, like a folding table or chairs, to set out candy. Space out the placement of treats so that multiple people do not have to reach into the same bowl. Consider contactless ways to deliver treats, like a candy chute that is more than six feet long.
 
For trunk-or-treating, create distance between cars by parking in every other space.
The Best Halloween Houses
Looking for a safe and family-friendly way to celebrate the spooky season of Halloween? Buckle up and head on out to some of the best home haunts in Fairfax County, where local residents deck out their homes with ghosts, goblins, monsters and ghouls. Visit Fairfax has all the details and addresses.
🎃 Trick-or-Treating Tips
Keep an eye on the weather forecast that may impact your preparations.
Plan and discuss your child's route if you are not joining them.
Children should only visit homes that have their porch lights on or active Halloween decorations.
Remind children never to enter a stranger's house.
Make sure to cross at intersections or corners – not between parked cars.
Always send your child out with a flashlight!
Inspect your children's candy before they eat it — especially for any food allergies.
Make sure children know their phone number and address — and they should be able to provide this information in an emergency or if lost.
Watch for any power cords or other decorations that might cause kids to trip and fall.
🎃 Costume Tips
Make sure trick-or-treaters can be seen by wearing something reflective or carrying a flashlight or glow stick.
Make sure your child's Halloween costume is made with fire retardant materials.
The costume should be short enough so it doesn't interfere with walking.
Consider using makeup on children's faces instead of a Halloween mask that covers the eyes to allow the child to see clearly (face mask for COVID-19 reasons still recommended).
👻 Tips for Drivers, Parents, Neighbors and Older Ghosts
PLEASE: Don't speed or drive above the speed limit on Halloween (or any time!). Drive below the posted speed limit in residential areas. This will give you time to brake if you see a child dart in front of you.
Leave driveways and parking spaces slowly.
Put your phone down and avoid distractions.
When giving candy, consider treats WITHOUT nuts and other common food allergens. Some people use teal pumpkins to distribute allergy-free treats.
If you decorate outside your house, please ensure power cords and other tripping risks are not present.
👻 Tips for Pet Owners
Provide a safe, secure space during trick or treating time. Pets may not enjoy all of the noise, including ringing doorbells.
Keep chocolate away from your pet as it can be poisonous to them.
Not all trick-or-treaters like dogs – make sure to keep your pet on a leash or behind a gate away from the front door.
Make sure your pet has identification in case they accidentally get loose.