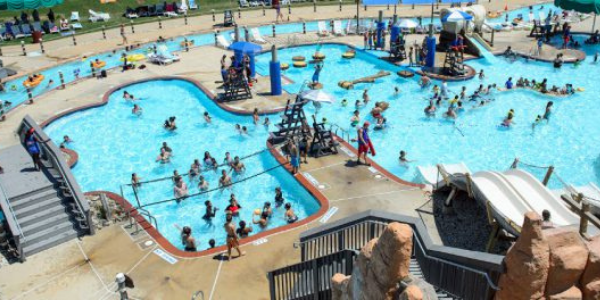 Explore water! Pools, splash parks, lakes and more (but note health advisory about local streams).
Get the new Family Adventure Pass for our parks.
Summer Entertainment Series features 180+ performances at 18 venues.
Make southern Fairfax County a staycation -- check out Potomac Banks.
Keep reading with the Summer Reading Adventure.
Hunger doesn't take a vacation - learn about summer meals for kids.
Learn about using FCPS school grounds this summer.
It's summertime (yay!!) and there are plenty of things to do here in the area. Here's our quick (but by no means comprehensive) guide to summer in Fairfax County.
A continued note about COVID-19: We all want COVID-19 to be over; but unfortunately, cases persist in our community. If you are ill with symptoms that might be COVID-19, stay away from others and get tested. If you test positive, follow quarantine and isolation guidelines . And be sure to stay up to date with vaccines and boosters .
Water and Pools
Many of us are drawn to water, be it a neighborhood pool, local lake, splash park or the Potomac River. Here are some places to explore water this summer:
NOTE: Fairfax County has more than 1,600 miles of streams and associated channels. Natural waters can be susceptible to pollution that can cause health risks to you and your pets. Read our Health Department's advisory on recreational use of county streams.
As always, safety is top of mind in pools and on boats:
Park Authority Family Adventure Pass
When you buy an annual or month-to-month membership at any of our Rec Centers, you'll be given a Family Adventure Pass, which is valid for up to eight people for a single visit and expires on Sept. 5. The pass includes complimentary admission to:
Camp sites
Carousel rides
Rec Center general admissions
Pedal boats
Train rides
Miniature golf courses
Bucket of golf range balls
Rec Center memberships can be purchased at the Rec Center Membership and Daily Admission webpage or at any Rec Center front desk.
Buy an annual or month-to-month Rec Center membership this June and get a Family Adventure Pass that lets you sample many of the experiences the Park Authority offers, such as carousel rides, pedal boats or mini golf. https://t.co/ftdT0vPBPz pic.twitter.com/HhGG2va6ig

— Fairfax County Parks (@fairfaxparks) June 1, 2022
Outdoor Performances
Our Park Authority's Summer Entertainment Series is always a favorite. This year, there are more than 180 free performances to choose from across the county at 18 venues:
In addition, check out Visit Fairfax's list of many outdoor performances, too. 
Staycation at Potomac Banks
The southern part of Fairfax County, newly designated as Potomac Banks: Explore Fairfax South due to its location along the banks of the Potomac and Occoquan Rivers, is especially blessed with historic homes , one-of-a-kind museums , expansive parks and other attractions . You could spend days in this section of the county alone and still not see all there is to see.
Make it a staycation!
The Potomac Banks Savings Pass covers your discounted admission to all must-see historic homes, plus gives you other substantial discounts on tours, gifts and admission at attractions such as:
Summer Reading Adventure
Our Library's Summer Reading Adventure isn't just about reading. Children, teens and adults can also participate in lots of fun activities to keep you busy and having fun all summer long. And for kids, the summer reading program helps combat summer learning loss, or the summer slide before school resumes.
Summer Meals for Kids
Hunger doesn't take a summer vacation.
Approximately 29 percent of Fairfax County students receive free and reduced price meals during the school year. When the school year ends, so does the opportunity for consistent, nutritious meals for many of these students. The Free Summer Meals for Kids Program fills that need by providing nutritious meals to children ages 5 to 18.
Enjoy FCPS School Grounds
Get outside this summer at a school near you. School blacktops, playgrounds, outdoor basketball and tennis courts, and tracks are available for use by individuals. Learn what items and activities are prohibited, such as alcohol, animals, drones and tobacco products.