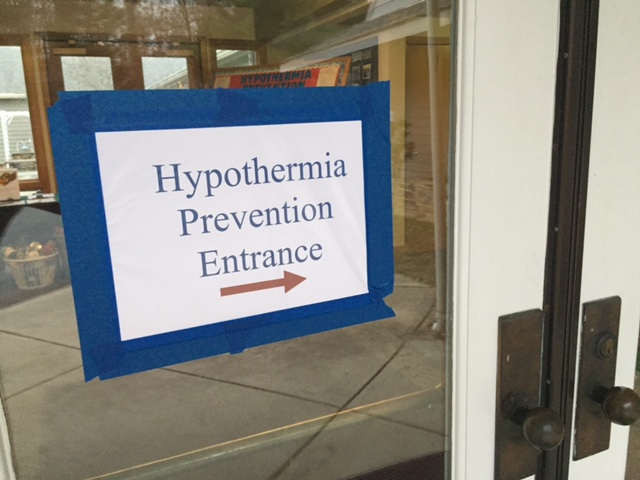 As overnight temperatures begin their descent into the winter months, it is anticipated that more than 1,000 unsheltered individuals experiencing homelessness will be turning to Fairfax County's Hypothermia Prevention Program for protection from the wintry cold. To safely provide accommodations for expected guests amid the COVID-19 pandemic, Fairfax County has identified shelter locations with appropriate space requirements to ensure a healthy environment for guests to obtain refuge from the elements.
While many individuals who are experiencing homelessness may have access to warm, safe accommodations through friends, family and other programs and services, nearly 1,200 residents rely on the program to avoid being exposed to the harsh and dangerously cold winter weather. Last year, an average of 215 guests per night were served. Guests are provided with a warm place to sleep, food and other supportive services for a variety of basic needs – including clothing, employment, housing and more.
"For 15 years, the life-saving mission of the Hypothermia Prevention Program has been fulfilled through the extraordinary assistance of numerous community nonprofits and houses of worship," said Tom Barnett, deputy director for the Department of Housing and Community Development's Office to Prevent and End Homelessness. "This year, we needed to get creative as many of our previous partners have insufficient space to safely accommodate guests in a COVID-19 environment. We are grateful for the support of our county leadership, staff and our community partners for their engagement in helping formulate a solution for using vacant and under-utilized public facilities to ensure that everyone can find warm shelter this winter."
Shelter Locations
The following shelter locations are now open for the 2020-2021 program season – which runs through April 1, 2021:
Eleanor Kennedy Shelter (9155 Richmond Highway, Fort Belvoir)
Bailey's Shelter and Supportive Housing (5914 Seminary Road, Falls Church)
Embry Rucker Community Shelter (11975 Bowman Towne Drive, Reston)
Gerry Hyland Government Center (8350 Richmond Highway, Alexandria)
North County Human Services Building (1850 Cameron Glen Drive, Reston)
The Former Container Store (8508 Leesburg Pike, Vienna)
Shelters will operate 24-hours a day, seven days a week and will be constantly monitored by program staff. Fairfax County has established a number of security and health protocols that will help provide a safe environment for staff and guests alike. For complete details about this year's program, visit https://www.fairfaxcounty.gov/homeless/hypothermia-prevention-program.
Have you seen someone who may be in need of shelter this winter? Call the county's non-emergency phone number, 703-691-2131, and police officers will respond and conduct a wellness check and refer people to available shelters.