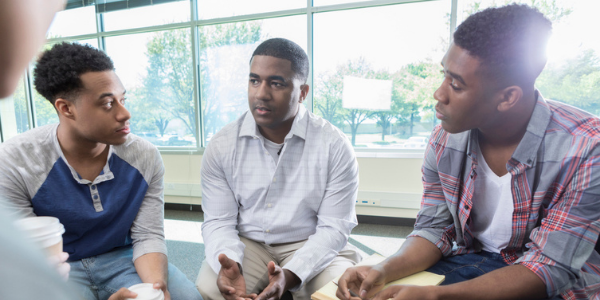 Barbershops are iconic gathering places in many African American communities.

That's no different in Fairfax County.

For the past two years, a community/public/private group has been working together to provide safe spaces for county residents to talk about mental, physical, social and financial wellness through virtual events. One of the successes of this partnership has been the Real Talk Barbershop conversations, in which local businesses have held discussions about mental health and suicide prevention – issues that are often overshadowed and underrepresented in the Black community.

The Black Mental Health Steering Committee has worked to increase knowledge of and access to mental health services for the African American community, including three examples outlined below.
Real Talk Barbershop Conversations
True Reflections Barbershop, Alexandria
Owner Juan Yates invited members of the steering committee to a candid conversation with the staff and patrons of True Reflections Barbershop. Facilitators led discussions on depression, stigma, trauma and relationship building as it relates to the mental health of Black men, women and children. The facilitators also identified coping mechanisms and provided local resources to a crowd of about 15 people. 
 
Unique Reflections Barbershop, Herndon
Owner Kevin Johnson provided a safe space for Black men to learn about local resources for mental wellness and discuss barriers that may prevent them from engaging with professional mental health professionals. The group, which consisted of 20 men in person and an additional 10 virtually, discussed risk factors associated with depression, the impact of trauma, suicide rates within the Black male community, tools for building safe spaces for peers and available professional support for mental health issues. 
 
Perfections Barbershop, Centreville
The final installment of the Barbershop Conversations included 25 men, women and children who were dedicated to combatting misinformation and stigma as it pertains to mental health in the Black community. This interactive conversation revealed triggers and warning signs for depression, outlined tangible steps that can be taken to create safe spaces for conversations about mental wellbeing, explored the benefits of seeking help, provided tips on expressing personal needs, addressed harmful aspects of masculinity and tools for redirection that can create sustainable relationships, and provided coping mechanisms and resources for mental health. 
Host a Conversation
If you are interested in hosting similar conversations at your place of business on promoting positive mental health, or have ideas for future conversations, contact the Black Mental Health Steering Committee at CSBPrevention@fairfaxcounty.gov.
A Safe Space to Dig Deep
The Black Mental Health Steering Committee also has a series of virtual community events dedicated to promoting and connecting resources that empower the Black community from cradle to grave. Each event provided an opportunity to dig deeper into conversations that address the conditions of COVID-19, inequity, racism, trauma, stigma and other factors that significantly impact the well-being African American residents.
Recordings of all of these events are available online. 
Mental Health Resources
If you or someone you know needs mental health assistance, help is available 24/7:
Call the Fairfax-Falls Church Community Services Board Emergency Services at 703-573-5679.
Text "CONNECT" to 855-11 to contact PRS CrisisLink.
Call PRS CrisisLink at 703-527-4077.
Call the National Suicide Prevention Lifeline: 1-800-273-TALK (8255)
Visit the Fairfax-Falls Church Community Services Board's Emergency Services Merrifield Center, 8221 Willow Oaks Corporate Drive Fairfax.
In an immediate, life-threatening situation, call 911.