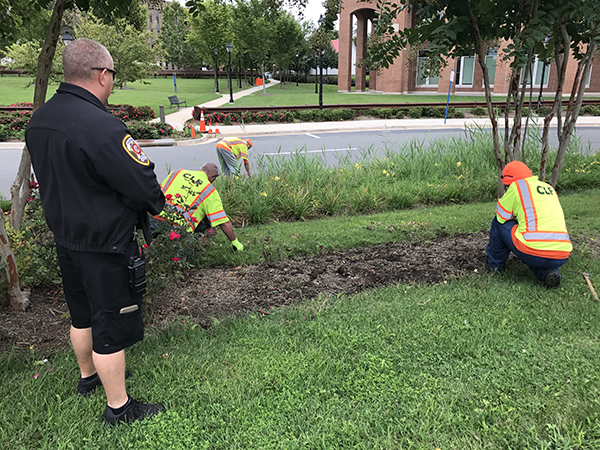 Did you know we have a win-win program that benefits both county taxpayers and inmates in our Adult Detention Center?
The Sheriff's Office Community Labor Force (CLF) provides an innovative approach to incarceration and work release . Labor crews, consisting of well-screened offenders, provide necessary services to the county that otherwise would have been done by county staff or contractors.
 
What the CLF Does
The Community Labor Force services county bus stops, shelters and park-and-rides by collecting the trash, doing light landscaping, removing graffiti and performing general maintenance when needed . The crews also assist at many of the county's stormwater management facilities, including dry ponds that temporarily hold and filter water in neighborhoods and at businesses. They also do landscaping, litter pick-up and emergency snow removal on public lands.
In addition, the Sheriff's Office has partnered with the Virginia Department of Transportation, the Board of Supervisors and the Department of Code Compliance to remove illegal signs from selected county roadways. The CLF partners with the City of Fairfax and the Towns of Herndon and Vienna, which fall under the jurisdiction of the Sheriff's Office.
The CLF operates with work crews of no more than five inmates each, with one deputy per crew. Inmates volunteer for this assignment, and the Sheriff 's Office always has a waiting list.
 
2017 CLF Accomplishments
Performed trash pickup, landscaping and graffiti removal at more than230 bus stops/shelters and park-and-rides and 1,303 dry ponds.
Removed 19,730 illegally placed signs on selected VDOT roads throughout the county.
Worked 40,977 hours, saving the county more than $1 million.
Completed 126 special projects.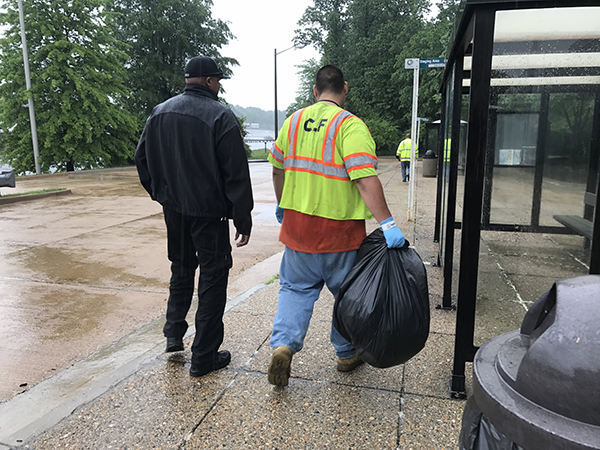 Benefits for Inmates
CLF inmates use the skills they already have, but they also acquire many more skills to increase their employability. These may include:
Painting
Construction
Light carpentry
Snow removal
Lawn and garden equipment
Bio-retention strategies to keep drainage areas free from obstructions
And most importantly, inmates also learn to start and finish a project, grow their self-esteem, and appreciate a hard day's work and a job well done.
Program participants may earn exemplary good time for their efforts, which can reduce the incarceration period and the county's cost for incarceration .
For more information about the Community Labor Force, call 703-246-4509, TTY 711, or send an email.