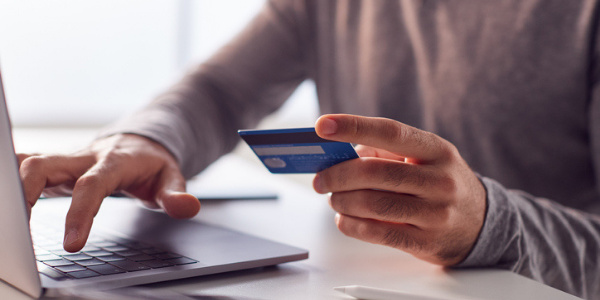 Studies are showing a nationwide increase in cases and complaints related to senior financial fraud and exploitation. The Federal Trade Commission recently reported that fraud losses increased more than 70 percent over 2020, totaling more than $5.8 billion in loss for 2021.
Criminal exploitation of our older residents is a problem – so much so that preventing scams and fraud is a key initiative in the Fairfax 50+ Community Action Plan. But while research reports that it's our most vulnerable neighbors who are at greater risk, even those who are mentally aware and well educated can fall victim to these scams. 
The Silver Shield Anti-Scam Campaign 
Criminals like to prey on those who appear vulnerable, and often times our older friends, neighbors and loved ones are tagged as easy targets. That's why the county has created the Silver Shield Anti-Scam Campaign. This initiative helps older adults avoid being scammed by sharing critical information about current scams via local educational events. Look online for a list of upcoming seminars and to find other tools to help everyone stay free from scams.
Since the Silver Shield initiative first launched in September 2017, the team has participated in more than 200 events, which has touched about 50,000 people across the county. These events have included home and remodeling shows, community events around National Consumer Protection Week, and various in-person and virtual events. The team is now working on the 2022 Scam Jam, to be held virtually on April 22.
Be Prepared by Recognizing Common Scams
It is impossible to list all of the known scams in one place, but recognition of certain "types" of scams can move you one step closer to keeping your information – and your money – safe. Some of the scams seen most often in Fairfax County include:
Impersonation scams (government, public safety, loved ones) – These scams take all kinds of forms. Letters in the mail that threaten penalty or jail time if you don't pay certain fees; emails that ask you to click a link and then change your username and/or password; even phone calls where criminals impersonate loved ones who are in trouble and may be asking for money. The best defense in any situation is to verify by going straight to the source.  
Online selling scams - People promise some sort of great deal if you only pay online first. Be wary of sales that look too good to be true. Do your research and try to make purchases from recognized stores and retailers online.
Work at home scams – These scams work by asking people to perform activities from home and then wait for the check to arrive in the mail. Too often the money doesn't come, and if it does the check won't clear. 
Romance scams – People can be anyone they want online and can often be charming. When someone you've met virtually begins to start asking for money and gifts, that's when you need to start being wary. These scammers often use their growing relationship to get pertinent information from you such as your mother's maiden name. Be careful with any information you share online.
Look for Red Flags and Verify Before You Act
These are not the only indicators, but experts say that any of these red flags suggest that the request you are dealing with is likely a scam. Pause and verify the situation if you encounter any of the following:
Anyone looking for payment in gift cards or money cards of any kind. 
Cashier's checks that you are to cash before or after sending payment elsewhere (the checks often don't clear).
Requests to pay for moving or shipping – you should not be responsible for paying or forwarding any "extra" money.
Sending money by wire transfer.
Sometimes just taking an extra five minutes to verify a situation can save you hundreds or more. When in doubt about anyone asking for money or personal information, consider doing the following:
If someone calls you asking for credit card numbers, login information or other personal details, hang up and call the requestor directly.
Don't use phone numbers listed in letters or email. Instead, call the number you know and ask to be routed to the appropriate collections person.
Be wary of direct links. Go to the host website and try to find a way to pay or submit information on your own.
When in doubt, follow up! You can always contact the police non-emergency number at 703-691-2131 if you suspect something may be a scam.
Report Suspected Scams
Even though the police deal with thousands of fraud cases annually, they suspect that many instances go unreported. You can help stop criminals and protect others by taking the time to report any suspected scam or fraud case, regardless of circumstances. 
The best way to do this is to use the county's online reporting system called FiCOR. You can also call the police non-emergency number at 703-691-2131.