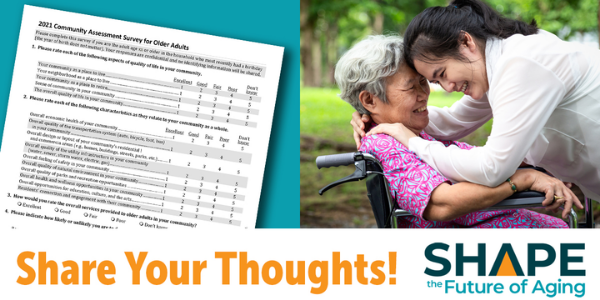 Fairfax County, together with the cities of Fairfax and Falls Church, wants to learn more about the aging experience in our area to plan for a more aging-friendly community. That's why we are asking select households to weigh in and tell us what could make our area a better place for older residents. 
Who Takes the Survey
The Community Assessment Survey for Older Adults (CASOA) is being sent now to a scientifically random sample of adults ages 50 and older. Selected recipients will receive an advance postcard to notify them about the survey. The survey will be available in Arabic, English, Korean, Spanish and Vietnamese.   
Those who receive the survey are encouraged to participate. While not everyone will receive a survey, we want everyone to have a chance to make their voice heard. You will have a chance to contribute additional insight and feedback in the coming months.
What's On the Survey
The survey will ask for information about the lifestyles of our older adults, including opportunities to work, socialize and volunteer, as well as issues they face, such as retirement, housing, caregiving, and their use of community services like public transportation and senior centers. 
Information collected will be used to inform the "SHAPE the Future of Aging Plan," a strategic plan for aging services.
Survey Timeline
Now: Randomly selected adults – age 50 and over – will receive a postcard in the mail indicating that they have been selected to participate in the survey and information on how to complete the survey.    
Spring/summer: Staff will review and analyze survey results.  
Fall: Staff will present the survey report to the Board of Supervisors Older Adults Committee.  
The previous CASOA was distributed in 2019 as part of the 50+ Community Action Plan. The final report of that survey was presented to the Board of Supervisors in 2019 and contributed to development of the Fairfax Countywide Strategic Plan.
Follow our Progress
You can follow the county's progress on this survey initiative and find additional ways to share comments and suggestions on aging online.
If you need assistance with the survey or have questions, call 703-324-7948, TTY 711.