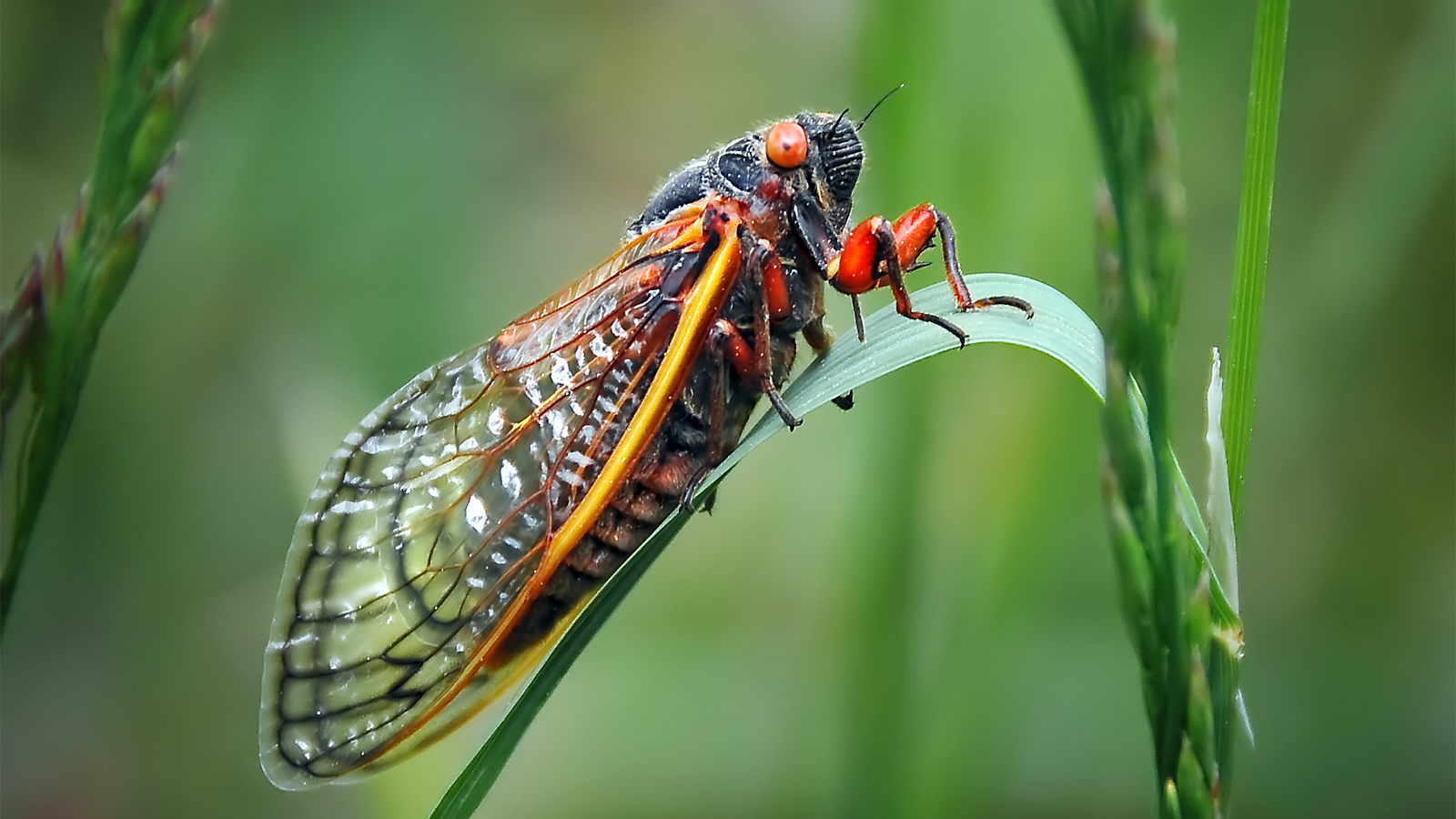 The 17-year periodical cicadas will arrive soon.
They start hatching in late April or early May, when the soil temperature reaches about 65 degrees.
Expect to see and hear lots of cicadas (in the billions) from May to June.
Enroll in Park Authority cicada programs and play Visit Fairfax's Cicada Bingo.
In 2004, Facebook and Gmail by Google were just launching, while "Shrek 2" was one of the most popular movies. In that same year, cicadas emerged from their 17-year slumber, and, like clockwork, they will emerge again this spring.
Yes, cicadas are back to fascinate us (and perhaps gross some of us out).

Despite their appearance and noisiness, cicadas provide environmental benefits. They aerate the soil when they emerge, they prune mature trees, and they provide nitrogen for growing trees when they die.
 
WHAT DO THEY LOOK LIKE?
They will be easy to spot. They have big red eyes, large orange wings and a dark blue body and they measure about 2" long. So, they are not small. Plus, they make a lot of noise.
 
WHY ARE CICADAS EMERGING NOW?
There are a variety of cicada broods that emerge at different time intervals. This particular brood, known as Brood X, comes every 17 years. It was last here in 2004. Since then, the insects have been underground, living off of plant roots until it is time to emerge. Their lifespan above ground is short. Once they come out, in a 4-to 6-week span, they find a mate, lay their eggs and hatch the next brood, which will go underground for 17 years. Once their work is done, they will die. We'll see the next brood in 2038.
Or, in other words:
WHERE WILL THEY BE FOUND?
Pretty much everywhere. In places where development and tree removal has occurred since 2004, the numbers may be down. In places like Fairfax County, where land development has been fairly stable, there may be little change in how many emerge.
CICADAS ARE NOT HARMFUL
Cicadas do not bite or sting. They are pretty harmless and, once they die, the protein rich insects become a food source for birds and other animals, such as fish, snakes and other mammals.
DO NOT USE PESTICIDES TO GET RID OF CICADAS
The periodical cicadas will only be around for a few weeks. Cicadas are an extremely important food source for birds, fish and wildlife. We encourage residents to not use pesticides for cicadas and coexist with this very short term, natural phenomenon.
CICADAS AND PETS
Dogs, in particular, enjoy eating cicadas as they are tasty and a great source of protein. This is perfectly OK in small quantities, but pets eating too many may cause stomach upset and vomiting. If your pet is sick from eating too many cicadas, observe it and contact your veterinarian if he or she is not recovering normally. Cicadas are not full of worms or parasites as some have falsely suggested.
CICADAS AND TREES
While there is minor concern for trees, adult cicadas lay their eggs in twigs. Generally, the trees tolerate it well. However, due to the large number of insects laying eggs, there may be some twig dieback, particularly on younger trees. You also may see some dead branches in your trees, which is known as flagging.
Newly planted or young trees can be protected from the cicadas by placing a fine netting around the crown. The netting should be 3/8 inch holes or smaller and secured around the trunk.
Also, if you are considering planting new trees, you may want to wait until fall, when the risk of any cicada damage has passed.
 
PARK AUTHORITY CICADA PROGRAMS
PLAY FAIRFAX COUNTY CICADA BINGO
Find more details on how to play Cicada Bingo and how you can be entered to win a prize pack, including a custom cicada facemask, at FXVA.com/cicadas.
FOR MORE INFORMATION
To learn more, or if you have questions, contact our Urban Forest Management Division Forest Pest Management Branch at 703-324-1770 or via email at treemail@fairfaxcounty.gov.