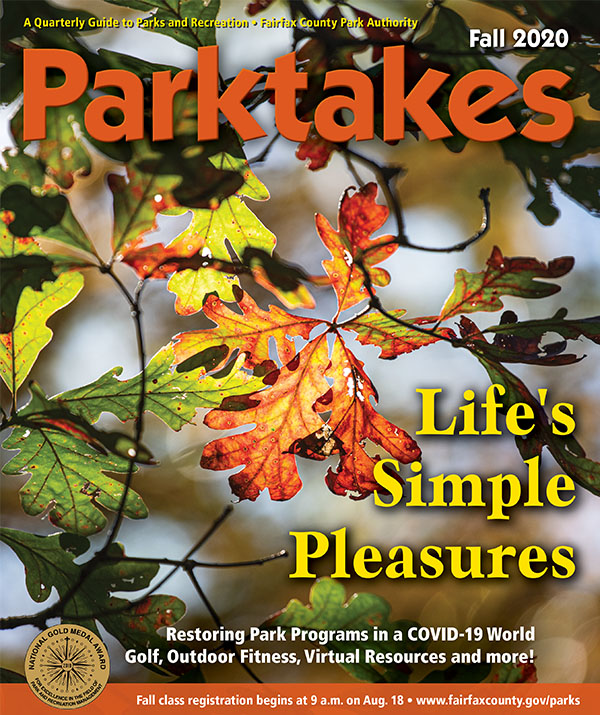 Enjoy park programs your way!
Site-based programs with social distancing, masks and other recommended COVID-19 safety protocols.
Online programs to enjoy from the comfort of your own home.
Online and phone registration is open now!
To register online: Visit Parktakes Online
To register by phone: (703) 222-4664
Walk-in registration begins Aug. 31, 2020.
Hours are limited: 9 a.m. - Noon, Monday - Friday.
Please have forms filled out prior to entering the Park Authority Headquarters building.
Masks or face coverings are required to enter the building.
12055 Government Center Parkway
Suite 105
Fairfax, VA 22035
The Fairfax County Park Authority is pleased to announce our parks and parking lots are now open. We have also begun a phased reopening of park facilities and amenities; please see the below list for more information. All visitors and program participants are asked to adhere to safety guidelines outlined in in Virginia Governor Ralph Northam's Forward Virginia Blueprint. Anyone visiting a Park Authority golf course clubhouse or other indoor space must wear a face covering as outlined Governor Northam's Executive Order 63.
Get key coronavirus updates from Fairfax County by texting FFXCOVID to 888777 or visit COVID-19.
Camps & Programs – The Park Authority is offering a mix of virtual and in-person programs and camps that comply with all current COVID-19 safety recommendations.  To find a program, please search in Parktakes. You will need an account to sign up. 
Parks – All parks and parking lots are open with all current COVI9-19 safety recommendations in place.
RECenters – RECenters and indoor pools will begin opening July 13. Outdoor fitness classes have begun at several locations.
Golf Courses – All golf courses and the footgolf course are now open with new COVID-19 Park and Play guidelines in place.  
Buildings – Nature centers, visitor centers, equestrian facilities, the observatory and other facilities will begin opening under Phase Three of Virginia Forward.
Park Amusements – Amusements including boating, carousels, mini golf and the Burke Lake Park train have reopened with pre-sale ticketing available. Jefferson District Mini Golf remains closed due to construction. The batting cages at Braddock Park are also open for on-site sales only.
Athletic Fields & Courts – All FCPA athletic fields and courts are available for use with current COVID-19 safety recommendations in place. Permits are available. 
Picnic Areas & Shelter Reservations – All FCPA picnic areas and shelters are available for use with current COVID-19 safety recommendations in place. Online reservations are encouraged.
Farmers Markets – All FCPA Farmers Markets have reopened with new COVID-19 restrictions in place. 
Summer Entertainment Series – All summer concerts and entertainment series events have been canceled through July 31.  A decision has not yet been made for late summer concerts. 
Outdoor Water Parks – Our Special Harbor sprayground, The Water Mine and MLK pool will all remain closed for summer 2020.
Virtual Resources – Visit the Park Authority's Virtual Exploration Center for ideas for at-home fun, fitness and exploration.
Thank you in advance for your cooperation in contributing to the health and wellbeing of our entire community. On behalf of the hundreds of FCPA employees working to reopen our parks and facilities in these uncertain times, we appreciate your continued support of your local park system.