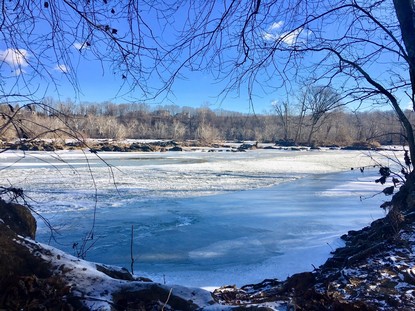 Patricia Strat's wintry photo of Riverbend Park was named the winner in the 2018 First Hike Fairfax Photo Contest. Despite the frigid weather on January 1, 2018, the Park Authority received more than 130 photo entries from people who hiked one of five designated Fairfax trails to celebrate the new year. After Park Authority staff narrowed the entries down to ten, Facebook users were asked to select favorites by "liking" photos. More than 1,134 likes were received with Ms. Strat's photo garnering 289 votes. As the winner, she received a four-month RECenter pass valued at up to $300.
A one-month RECenter family pass was also awarded to runner-up Jane Durrett for her photo of David Durrett and Harvey Durrett experiencing the joy of Cub Run Stream Valley Park.
Media Note: Click image to Download.
See more photos at: https://www.flickr.com/photos/ffxparks/sets/72157690292000901