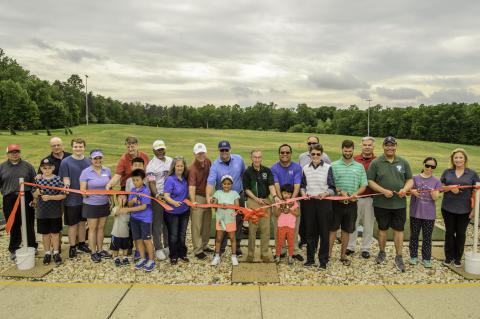 An open house and official ribbon cutting were just part of the fun last week at Oak Marr Golf Complex. Officials, golfers, site staff and project team members gathered to mark the official re-opening of the recently renovated driving range.
More than 20 years after first opening its doors in 1998, the Oak Marr Golf Complex received a well-deserved upgrade. The $2 million capital improvement project, funded via voter-approved park bonds, has significantly improved and updated the Oak Marr Golf Complex driving range. The new and improved double-decker driving range is fast becoming a destination for family fun and a social mecca with programs, clinics, and lessons, as well as casual events for golfers of all skill levels.
In 2012, the Park Authority hired the National Golf Foundation (NGF) to perform a financial and operational analysis of the Park Authority's seven golf courses. NGF recommended upgrading the Oak Marr driving range to include regrading for improved drainage and ball collection, replace the irrigation system, increase the number and quality of the target greens, improve lighting and switch to token-less dispensers. The project includes some unique elements: 11 acres of Bermuda grass sod was put down as part of this project. The driving range features LED lights with ball tracker technology—instant-on, no warming up required—that will result in reduced energy and maintenance costs.
Lots of folks gathered for the ribbon cutting photo including (left to right) golfers and site staff members, golf instructors, Roberta Korzen, Golf Marketing Specialist, Andy Elkins, Oak Marr Golf Complex Manager, Ken Quincy (center) Park Authority Board Representative, Providence District; Providence District Supervisor Linda Smyth, Fairfax County Board of Supervisors; David Bowden, Director, Park Planning and Development Division; Architect Brian Kington, Love & Kington Golf Course Design, Todd Johnson, Director, Golf Enterprises, and Chairman Bill Bouie, Fairfax County Park Authority Board.
Media Note: Click photo to download
See more photos at: https://www.flickr.com/photos/ffxparks/albums/72157680288890958