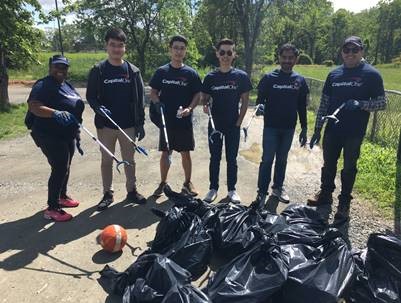 A dozen employees from Capital One in Tysons offered their services to the Fairfax County Park Authority (FPCA) on Tuesday, May 14, 2019, to do some cleanup work at Pine Ridge Park in Annandale, Virginia. The volunteers spent four hours gathering trash and filled 14 trash bags.
The group contacted the FCPA's Park Operations Division Community Support Specialist to volunteer through the agency's Cleanup Blitz Program. The program finds volunteer projects at county parks for groups, organizations and businesses that want to provide community service or engage in team-building activities. To learn more about the Cleanup Blitz Program, contact Julie Tahan at Julie.Tahan@fairfaxcounty.gov.
For more information about the Park Authority, visit online at Parks.
Media Note: Click photo to download