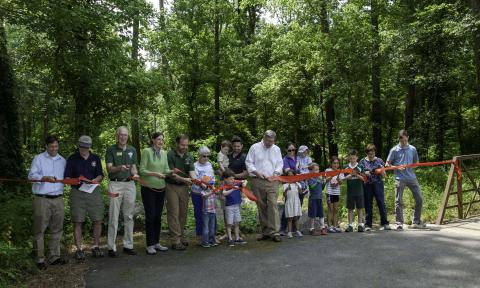 On, Saturday, June 1, 2019, leaders from the Fairfax County Park Authority and the Fairfax County Department of Public Works and Environmental Services (DPWES) joined community members to celebrate the completion of the Dead Run Stream Restoration in McLean, Virginia. The project restored 3,200 linear feet of stream within McLean Central Park and the Dead Run Stream Valley Park between Old Dominion and Churchill Roads. The existing degraded stream was improved using natural channel design and riparian corridor enhancements to stabilize the stream banks, protect private and county property, reduce erosion and tree loss and improve water quality and habitat. 
The project was dedicated to the memory of John Palmer, Landscape Architect for DPWES' Stormwater Planning Division, who worked tirelessly to make this restoration one of the best in Fairfax County. Members of his family were on hand to help cut the ribbon. 
Pictured in the photo, from left to right: Ed Monroe, Environment, Parks & Rec Committee Chair, McLean Citizens Association; Robert Vickers, Dranesville representative, Fairfax County Tree Commission; Tim Hackman, Dranesville representative, Park Authority Board; Merrily Pierce, Environment, Parks & Rec Committee Member, McLean Citizens Association; Matt Meyers, Watershed Project Implementation Branch Chief (North), DPWES; Bonny Palmer, wife of John Palmer; Owen Jensen, Rory Palmer and Otto Palmer, grandsons of John Palmer; Colton Palmer, son of John Palmer; John Foust, Dranesville representative, Fairfax County Board of Supervisors; Allison and Milton Jensen, daughter and grandson of John Palmer; Melanie Appel, neighbor; Finn McDermott, neighbor; Carmen Appel, neighbor; Kellan McDermott, neighbor; Elizabeth Costle, neighbor; and Joe Riley-Ryan, Stormwater Engineer, DPWES.   
Media Note: Click photo to download
See more photos at: https://www.flickr.com/photos/ffxparks/albums/72157708906585598