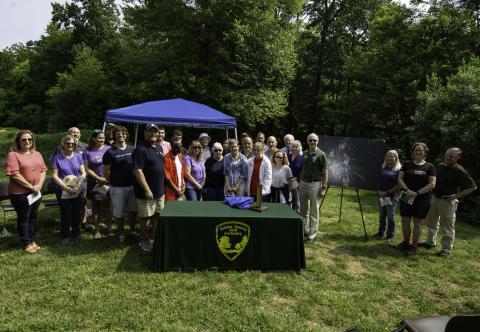 On, Saturday, June 1, 2019, members of the Fairfax County Park Authority Board, Hunter Mill District Supervisor Cathy Hudgins, members of MORE (Mid-Atlantic Off-road Enthusiasts and the friends and family of Marc Genberg, gathered at Lake Fairfax Park to officially dedicate a trail in honor of this outstanding trails volunteer, mentor and bicycling coach. Trail #8 is now officially named for Genberg who passed away in 2017. 
Marc Genberg's love of the outdoors developed early in life on family vacations, trips to local beaches, and bicycle rides with his siblings. Physical activity was a priority throughout his life, and he worked hard to help others experience the joys of movement. In addition to serving as a park trails volunteer, he was a USA Cycling certified coach. He helped clients hone their cycling skills with just the right tips and provided the encouragement they needed to climb the steepest hills.
In honor of the occasion a replica trail marker was presented to his wife, Toni Genberg.  Pictured from left to right are Deputy Director Sara Baldwin, Park Authority; members of MORE and Genberg family and friends, Chairman Bill Bouie, Park Authority Board (at corner of the table), Kiel Stone, Braddock District Park Authority Board Member (second row), Supervisor Cathy Hudgins, Laura Jahn, Toni Genberg and Tim Hackman, Park Authority Board Member, Dranesville District.  
American Hiking Society's National Trails Day is a celebration of America's magnificent trail system, occurring annually on the first Saturday in June.
Media Note: Click photo to download
See more photos at: https://www.flickr.com/photos/ffxparks/albums/72157708906730318