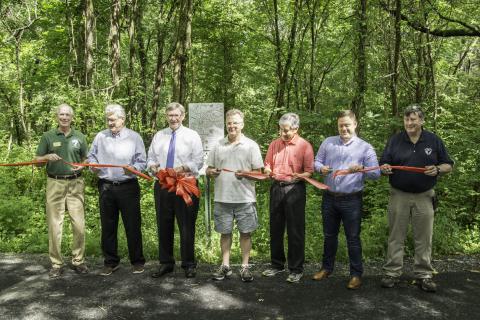 Dranesville District Supervisor John Foust was joined by members of the Park Authority Board, Park Authority staff and community members at a ribbon cutting at Sugarland Run Stream Valley Park in Herndon, VA. The event, held this past Thursday was an opportunity to celebrate completion of the trail maintenance and improvement project that addressed general wear and tear and trail damage due to stream flooding on the trail section south of Wiehle Avenue to Woodvale Court and north of Wiehle Avenue, following the Folly Lick Branch tributary of Sugarland Run, to Dranesville Road. The project provided for the milling and repaving of more than 12,000 linear feet of trail, replacement of the asphalt trail and gravel bases, new culverts and the addition of riprap where needed. The project costs were approximately $400,000.
Pictured from left to right are: Dranesville District Park Authority Board Member Tim Hackman, Park Authority Executive Director Kirk Kincannon, Dranesville District Supervisor John Foust, Ken Neuman, Vice President of the Kingstream HOA, Tyrone Yee, Kingstream HOA President, Park Authority Project Manager Eduardo Deleon and Park Authority Area Manager Wayne Brissey.
For more information contact the Public Information Office at 703-324-8662.
Media Note: Click photo to download
See more photos at: https://www.flickr.com/photos/ffxparks/albums/72157709124945148