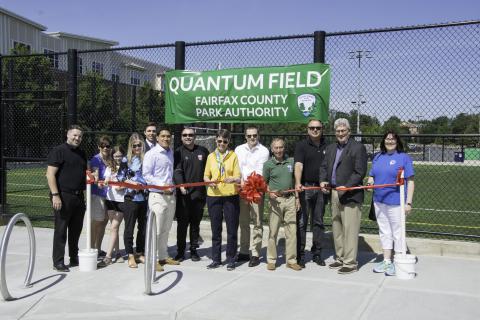 Quantum Field officially opened last weekend and players will soon get the chance to enjoy this lighted, state-of-the-art synthetic turf rectangular field. Quantum Field and the adjacent parking lot were the result of a proffer agreement between the Fairfax County Board of Supervisors, the Park Authority and The Meridian Group. Meridian designed and constructed the athletic field on a surface parking lot owned by Element Critical. The Fairfax Water Authority was a key player, assisting in the accommodation of nearby water mains. The field accommodates five sports on a 180' by 360' surface. The project also includes black vinyl perimeter chain link fencing, concrete walkways, bleacher pads, athletic field and parking lot lighting, sound containing walls and landscaping.
Pictured from left to right are: David Gill, Wire Gill LLP; Cathy Lewis, Fairfax County Planning Division; Nora Mallett; Stephanie Pankiewiecz, LandDesign; Jim Holben, Marketing Manager, Element Critical; David Gelfond, Managing Director, The Meridian Group; Roger Wimmer, Operations Director, Vienna Youth Soccer; Providence District Supervisor Linda Smyth; Russell James, Vice President, The Meridian Group; Providence District Park Authority Board Rep Ken Quincy; Dave Bowden, Director, Park Planning and Development Division; Park Authority Executive Director Kirk Kincannon; and Andi Dorlester, Planner, FCPA Park Planning Division.
For more information contact the Public Information Office at 703-324-8662.
Media Note: Click photo to download
See more photos at: https://www.flickr.com/photos/ffxparks/albums/72157709234432626