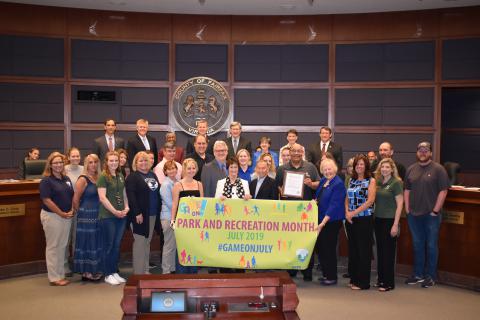 The Fairfax County Board of Supervisors proclaimed July Recreation and Parks Month in Fairfax County at their regular meeting held Tuesday, June 25, 2019. The designation encourages residents to get their "Game On" and enjoy more than 425 parks, hundreds of miles of trails, athletic fields and open spaces, to name just a few systemwide amenities. The correlation between robust, healthy park systems, and healthy communities was mentioned as a prime reason to support the Fairfax County Park Authority (FCPA). In fact, recent studies conducted by the National Recreation and Park Association (NRPA) found that local parks or picnic areas are among the favorite outdoor places Americans visit to experience the health benefits of nature — such as reduced stress and increased energy levels.
FCPA joined with the National Recreation and Park Association to celebrate the health benefits, the pleasure and the increased access to parkland and park amenities. Parks provide a connection to nature, which studies demonstrate relieves stress levels, tightens interpersonal relationships and improves overall mental health. Moreover, 26 percent of park and rec agencies nationwide offer nature centers where people of all ages can experience nature hands-on.
Members of the Fairfax County Board of Supervisors join with members of the Park Authority Board, Park Authority leadership and staff to mark the beginning of month-long activities, many of which are free. For a list of 31 things to do for free in area parks visit Game On.