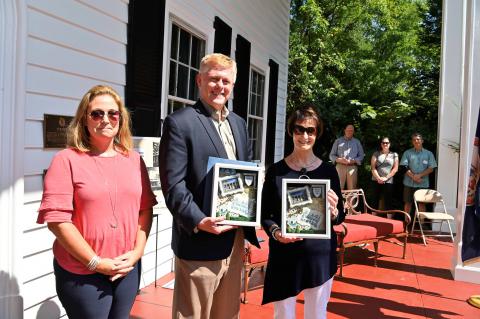 On, Saturday, September 21, 2019, Fairfax County Board of Supervisors Chairman Sharon Bulova and Braddock District Supervisor John Cook were honored by the Fairfax County Park Authority for their outstanding commitment to historic preservation in Fairfax County during the annual open house at Historic Oak Hill in Annandale. Bulova and Cook will both step down from the Board of Supervisors at the conclusion of their current term.
Oak Hill is an 18th-century Georgian-style mansion, and it is all that remains of the Ravensworth Tract that dates back to the 1670s and once totaled more than 22,000 acres. Chairman Bulova and Supervisor Cook have been champions on behalf of the historic home that was preserved in October 2004 when the Board of Supervisors, Park Authority Board, and Northern Virginia Conservation Trust negotiated purchase of an historic easement from Seville Homes in order to stop impending site development, and as part of that agreement, provided for annual public access to the site in perpetuity.
Left-Right: Park Authority Deputy Director Sara Baldwin presents resolutions and framed Oak Hill memory boxes to John Cook (Braddock Rep, Fairfax County Board of Supervisors) and Sharon Bulova, (Chairman, Fairfax County Board of Supervisors) while Alan Rowsome (Executive Director, Northern Virginia Conservation Trust) and Laura and Joe Braceland (current owners, Oak Hill) look on.
Media Note: Click photo to download
See more photos at: https://www.flickr.com/photos/ffxparks/albums/72157711092091298