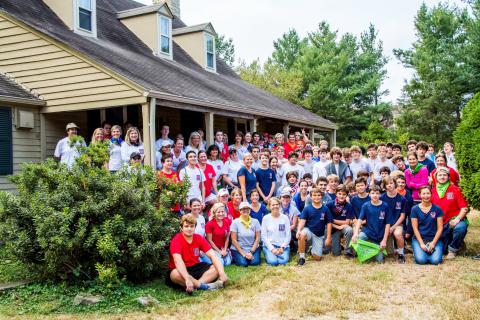 Young Men's Service League Cleans Up Historic Centreville Home
More than 80 people turned out for a Young Men's Service League volunteer day at Mount Gilead on Saturday, September 28, 2019. They cleaned the grounds, removed invasive plants, raked leaves, and revived the outside of the historic house. The YMSL is a volunteer organization for teenage sons and mothers to serve the community while developing leadership skills. Mount Gilead is part of Historic Centreville. The house is believed to have been built in 1785 and served as a tavern for a few years before its use as a home.
The workday was held on National Public Lands Day 2019, the largest single-day volunteer effort for America's public lands. Each year, hundreds of thousands of volunteers come together on the fourth Saturday in September to assist with various projects designed to restore and enhance public parks, forests, waterways and more. From trail maintenance to tree planting—volunteers of all ages and abilities roll up their sleeves and work side-by-side to care for public lands. The day also features a variety of hikes, bike rides, community festivals, paddling excursions, and other fun outdoor activities—all set on the backdrop of the country's public lands and waterways.
This year more than 150,000 volunteers turned out to work at more than 2,000 sites nationwide. Their service was valued at more than $15 million.
Media Note: Click photo to download
See more photos at: https://www.flickr.com/photos/ffxparks/albums/72157711163015972