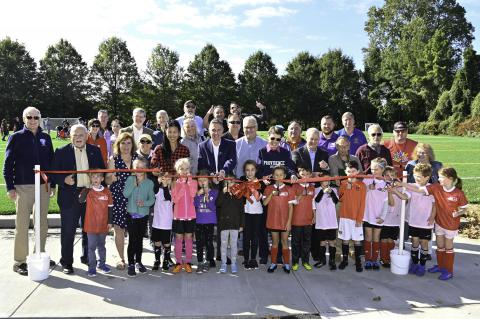 On Saturday, October 5, 2019, community leaders and local youth sports enthusiasts gathered to celebrate the opening of a new synthetic turf field at Larry Graves Park in the City of Falls Church.
Fairfax County Park Authority staff designed and managed installation of the field under a Synthetic Turf Field Agreement with the City of Falls Church. The new Field #1 includes striping for two U-10 and four U-8 soccer fields, as well as striping for a women's lacrosse field. The project also included installation of a storm drainage piping system, a concrete perimeter curb, sod and an enhanced landscape buffer between the field and residential developments.
The $1 million project was funded by the City of Falls Church. FieldTurf USA, Inc. served as the general contractor. The project is part of the ongoing efforts by Fairfax County to meet the growing need for rectangular fields and address the current field shortage in the region.
Pictured from left to right behind youth soccer players are Timothy Hackman, Dranesville Rep, Park Authority Board; Phil Duncan, council member, City of Falls Church; Marybeth Connelly, Vice Mayor, City of Falls Church; Charley O'Hara, Chair, City of Falls Church Recreation and Parks Advisory Board; Letty Hardi, Council member, City of Falls Church; P. David Tarter, Mayor, City of Falls Church; Dave Bowden, Director of Planning & Development, Park Authority; Kirk Kincannon, Executive Director, Park Authority; Linda Smyth, Providence Rep, Fairfax County Board of Supervisors; Danny Schlitt, Recreation & Parks Director, City of Falls Church; David Snyder, Council member, City of Falls Church; Ken Quincy, Providence rep, Park Authority Board; Paul Baldino, former director, Park Authority; and youth sports coaches and fans on hand to celebrate the opening.
For more information, contact the Public Information Office at 703-324-8662.
Media Note: Click photo to download
See more photos at: https://www.flickr.com/photos/ffxparks/albums/72157711252127723
Correction: Please note that CTL-021 distributed on October 2, 2019 incorrectly identified the person standing to the right of Supervisor Penny Gross in a photo of the Crossroads Interim Park ribbon-cutting. The person is Paul Mulligan, Board member, Bailey's Crossroads/Seven Corners Revitalization Corporation (BC7RC). We regret the mistake.