Hidden Oaks Nature Center, the county's first nature center, celebrated its 50th anniversary on Saturday, October 19, 2019, with the unveiling of a unique wood carving and a host of activities for visitors of all ages.
Chainsaw artist Andrew Mallon created the special work from the stump of a tulip poplar after it was struck by lightning. Located just outside the nature center, the chainsaw carving features woodland creatures that could call Hidden Oaks home.
Board of Supervisors Vice Chairman and Mason District Supervisor Penny Gross spoke at the presentation in honor of Hidden Oaks' 50th anniversary, and Alex Robbins from the office of Congressman Gerald Connolly presented a copy of the anniversary's entry into the Congressional Record. The day was marked with musical performances by Belvedere Elementary School's Fifth Grade Chorus, the Vienna School of Rock and the Fairfax Choral Children's Choir. There also were tree plantings, monarch butterfly tagging and reptile presentations.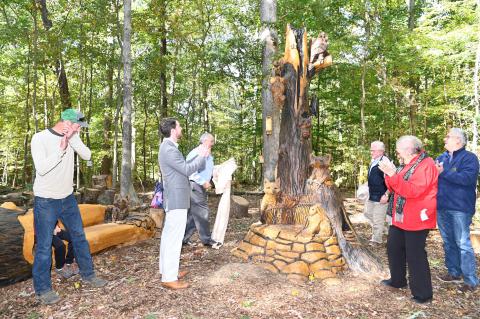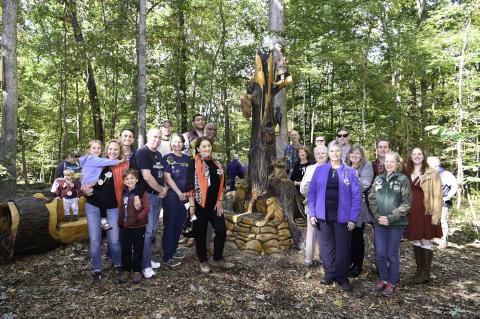 Media Note: Click photo to download
See more photos at: https://www.flickr.com/photos/ffxparks/albums/72157711437541448