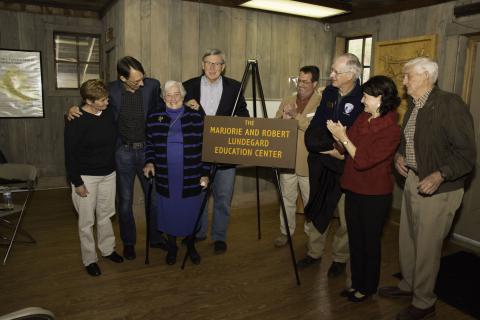 For nearly one hour, this past Saturday, friends and family joined with local officials and Park Authority staff members to share remembrances and honor the work of two site volunteers -- Marjorie and Robert Lundegard. The honors extended to renaming the Colvin Run Barn, now known as the Marjorie and Robert Lundegard Education Center.
The naming recognizes the couple's longtime advocacy for parks, education and history in Fairfax County, especially at Colvin Run Mill in Great Falls, VA. The Lundegards spent much of their retirement volunteering and spearheading preservation efforts at the mill. Following Mr. Lundegard's death this past May, he was hailed as a park icon and a dedicated and visionary leader. It was his wife, Marjorie, an acclaimed author and Fairfax County educator who first introduced Robert to the passion of mills. Over the years, the Lundegards traveled to other mills, bringing back their historic stories which were published with proceeds supporting Colvin Run Mill.
Pictured from left to right at the unveiling of the new sign are Cindy Walsh, director of the Park Services Division, Paul Lundegard, Marjorie Lundegard, Dranesville District Supervisor John Foust, Site Manager Mike Henry, Dranesville District Park Authority Board District Rep Tim Hackman, State Senator Barbara Favola and Gene Bachman, president of the Friends of Colvin Run Mill.
For more information about this unique historic site and operating mill, visit Colvin Run Mill.
Media Note: Click photo to download
See more photos at: https://www.flickr.com/photos/ffxparks/albums/72157711537864991