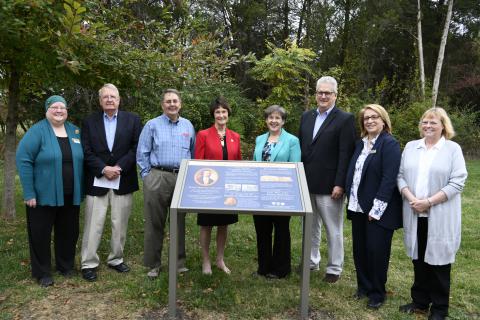 A new interpretive sign commemorating Richard Bland Lee's government achievement in the late 18th century was unveiled at Sully Historic Site on Wednesday, October 30, 2019. The sign was developed in a partnership between the Park Authority and the Richard Bland Lee Chapter of the National Society Daughters of the American Colonists (NSDAC). It is located close to a Civil War Trails sign that is near the gazebo at Sully. Members of the Daughters of American Colonists - Richard Bland Lee Chapter, Fairfax County Dignitaries, and Sully staff were on hand for the celebration.
The house at Sully, built in 1794, was the country home of Richard Bland and Elizabeth Collins Lee. The new sign highlights Lee's impact on early American life, including his time in the Federal Congress, as a commissioner supervising the reconstruction of buildings in Washington, D.C., after the War of 1812, and his service in the Virginia House of Delegates.
Pictured left to right: Noreen McCann, Retired Visitor Services Manager, Sully Historic Site; Lee Hubbard, Vice Chair, Sully Foundation, Ltd.; Michael Frey, Sully Foundation Board; Sharon Bulova, Chairman, Fairfax County Board of Supervisors; Kathy Smith, Sully District Representative, Fairfax County Board of Supervisors; Kirk Kincannon, Executive Director, Fairfax County Park Authority; Carol McDonnell, Sully Historic Site Manager, Fairfax County Park Authority; and Tammy Higgs, Sully Historic Site Historian, Fairfax County Park Authority.
Sully Historic Site, which is on the National Register of Historic Places, is located at 3650 Historic Sully Way in Chantilly, Va. For more information about the historic site, call 703-437-1794.
Media Note: Click photo to download
See more photos at: https://www.flickr.com/photos/ffxparks/albums/72157711660183458