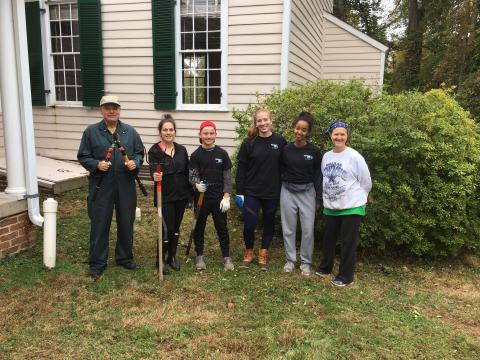 Volunteers pitched in on October 26, 2019, to help clean up around the historic Ash Grove house in the Tysons area. Their activities included trimming bushes, removing invasive plants, clearing vines from the building, and removing deadfall. The result was about 15 cubic yards of material removed from the property. Their efforts were part of the Volunteer Fairfax Volunteer Fest.
Ash Grove is one of the few 18th century Virginia houses built by the Fairfax family that are still standing today. In 1747, Thomas, sixth Lord Fairfax, moved from England to Virginia to manage the Northern Neck Proprietary, land he inherited from his mother Catherine Culpeper Fairfax. It included more than five million acres of land in northern Virginia.
The Ash Grove house is part of the Park Authority's Resident Curator Program. Under this program to preserve historic properties, qualified tenants live rent-free in exchange for rehabilitating and maintaining these historic resources in accordance with established preservation standards.
Pictured from left to right are: John Hopkins, Julie Herlands, Everett Herlands, Sophie Shayne, Kameela Lemma, Beth Barns.
For more information, visit Resident Curator Program: Ash Grove
Media Note: Click photo to download