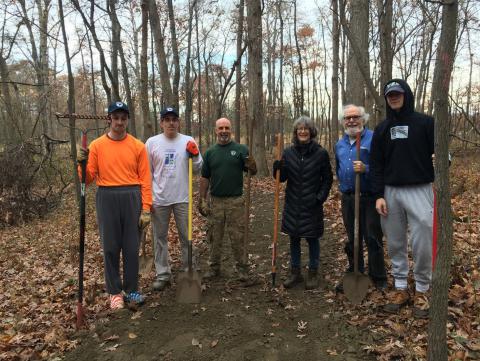 Ellanor C. Lawrence Park (ECLP) staff are thankful for the volunteers who turned out the day before Thanksgiving to work on trail improvements at the park.
Patricia Pearl Greenberg, ECLP Natural Resource Manager/Naturalist, said "a great group of six energetic volunteers" helped to spread a gravel mixture on the trails to cover shallow roots and fortify areas where erosion had occurred or where trails become unpassable during wet periods. Frying Pan Farm Park collaborated in the effort by lending an additional utility vehicle for the job. ECLP staff Gabby Hrycyshyn and Bruce Burke delivered loads of the gravel mixture to the volunteers who smoothed the materials on the pathways.
"This group did a tremendous job in just one morning. We are super grateful to our volunteers who came out on such short notice," said Greenberg.
For more information, visit online at Parks.
Media Note: Click photo to download