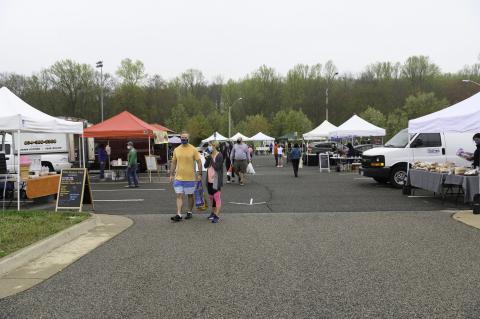 Despite the weather being less than ideal, more than 1,200 people made their way to Burke Farmers Market on its opening day, April 10, 2021. Market customers browsed a variety of fresh, unique products, including seasonal produce, breads, cheeses, pasta, microgreens, seafood, pre-pared meals, desserts and more. Vendors also offered beautiful flowers and vegetable seedlings that can be planted directly into your garden.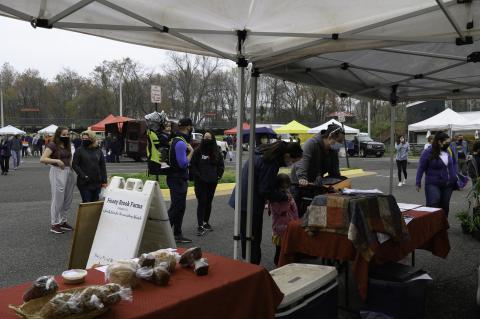 When you make purchases at Fairfax County Farmers Markets you are supporting local businesses. This is because our farmers and producers all come from within a 125-mile radius of Fairfax County and may only sell what they raise on their farms or make from scratch.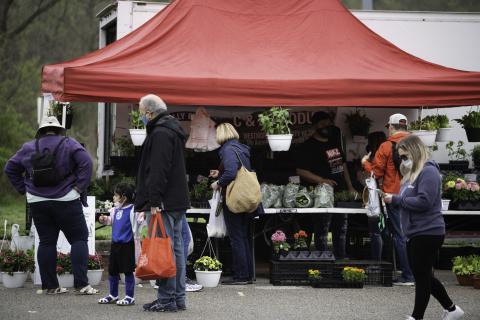 The Farmers Markets are operating with the safety of customers, market staff and volunteers in mind. Shoppers are asked to comply with Virginia Gov. Ralph Northam's safety guidelines, which includes wearing masks, social distancing and limiting groups to no more than four people. Vendors are asked to frequently disinfect tables/keypads, have access to alcohol-based hand sanitizer, offer touchless means of payment and are not allowed to provide samples.
McCutcheon/Mount Vernon Farmers Market opened on April 21 running from 8 a.m. until noon. Herndon Farmers Market opens April 22, running from 8 a.m. to 12:30 p.m. Another seven Fairfax County Park Authority-run markets will open in May.
For information, including locations and directions for each market, go to the Farmers Markets website; or contact the Community Horticulture Office at 703-642-0128. Follow us on Instagram @fairfaxfarmmarkets for updates.