Bicycling enthusiasts gathered June 12 to cut the ribbon and officially open the Brookfield Park Bicycle Skills Area located at 7417 Floyd Ave. in Springfield, Virginia.
Lee District Supervisor Rodney Lusk was joined by representatives from the Park Authority Board, sponsoring organization TrailsforYouth.org, the Springfield Civic Association, several bicycling organizations, representatives from two local business sponsors The Bike Lane and Advanced Auto Tech, as well as dozens of young riders and their families.
The project is the culmination of more than a year of planning, coordination and fundraising. This new installation surrounds an existing pump track and is suitable for bicyclists of all ages. It includes six professionally built, low-maintenance wood and steel features that provide new cycling challenges and opportunities.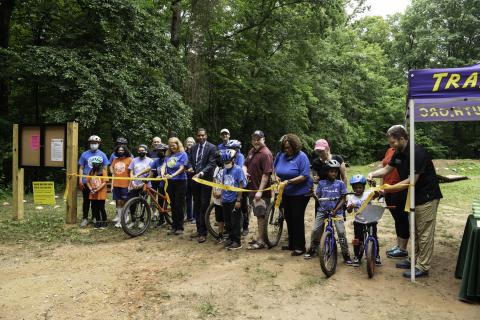 Pictured are Bruce Waggoner, Springfield Civic Association; Julie Childers, Executive Director, TrailsforYouth.Org; Julie Tahan, Park Authority; Rodney Lusk, Lee District Representative, Fairfax County Board of Supervisors; Charles Childers; Ernie Rodriquez, Mid-Atlantic Off-Road Enthusiasts (MORE); Dr. Cynthia Jacobs Carter; Lee District Representative, Fairfax County Park Authority Board; Peggy Flexmore, MORE. They were joined by additional MORE members, TrailsforYouth.org participants and neighborhood children.
Media Note: Click the photo above to download.
See all Brookfield Park Bicycle Skills Area photos at the Brookfield Park Bicycle Skills Area Flickr page.