Under sunny skies, residents, officials and staff members gathered to celebrate the completion and official opening of the Laurel Hill Central Green located in Lorton, Virginia. Four reservable shelters offer seating capacities of up to 213 people each and provide a great space to host family gatherings, staff meeting and parties. The $3 million project included construction of the four pavilions, an accessible asphalt loop road, parking, trails and supporting infrastructure, including storm water management facilities and related site work. The project was funded via voter-approved Park Bonds.
The event was livestreamed and can be found at youtu.be/qZBUWNhX8c8.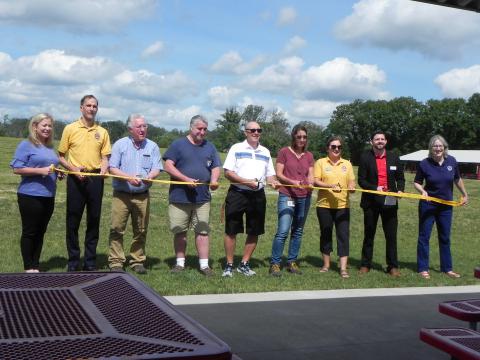 (From left to right): Sara Baldwin, Acting Director of the Park Authority, Mount Vernon Supervisor Dan Storck, Fairfax County Board of Supervisors; Linwood Gorham, Mount Vernon Representative, Fairfax County Park Authority Board; Ed Richardson, Area 4 Manager, Park Operations; Dale Rumberger, President South County Federation , Kelly Davis, Project Manager, Park Planning Division; Christine Morin, Chief of Staff, Mount Vernon District Supervisor's Office and Casey Whitmarsh, South Fairfax Chamber of Commerce; and Julie Tahan, Park Operations Division.
Media Note: Click the image above to download. 
See all Laurel Hill Central Green photos at the Park Authority's Flickr page.