Three international groups of teens sponsored by Mobility International USA made stops at the accessible carousel at Clemyjontri Park in August as part of their visit to the United States.
The disability-led nonprofit organization is dedicated to advancing disability rights and leadership around the world by using innovative programs to build bridges to give people with disabilities the opportunity to take their rightful place in the world community. This summer, one of those bridges led to the Fairfax County Park Authority's iconic playground in McLean that allows people of all abilities to play side-by-side on equipment, such as swings and a carousel.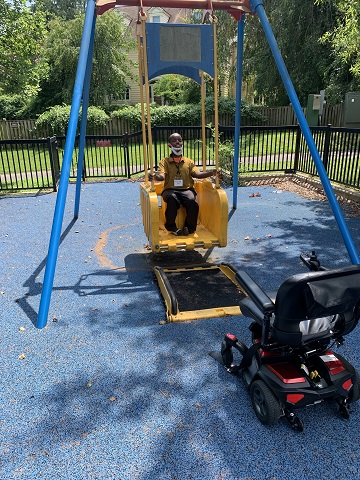 While the Americans with Disabilities Act (ADA) ensures civil rights protection for individuals with disabilities in the United States, Park Authority ADA Coordinator Gary Logue says the visiting teens have been from countries where their rights do not receive similar protection. No matter their age, Logue says, "Everyone is impressed with the sheer enormity of the playground and accessibility features." In particular, he notes, "the carousel has been a huge hit," as some of these visitors have never had the opportunity to take such a spin before.
Pictured is a young man from the continent of Africa enjoying his first experience on a swing. He has multiple sclerosis but was able to join in the adventure at Clemyjontri Park by using this unique swing that accommodates wheelchairs.
Media Note: Click the image to download.
For more information, contact the Public Information Office at 703-324-8662, or send an email to parkmail@fairfaxcounty.gov.