SIDEWALK SHOUT OUTS!
Grab some chalk and let your neighbors know that you are participating in the Healthy Strides Virtual 5k/10k, and they can too! Winners are drawn at random for prizes and notified via email.
Your chalk message should contain the following elements: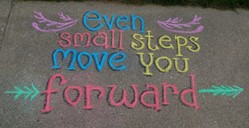 Name of the event: Healthy Strides Virtual 5k/10k and Kids' Dash
Live Zoom Date: Zoom Live Event on May 1st
OR
DIY Race Event: April 28th – May 7th
Register at Healthy Strides
Something motivational… that's up to you!