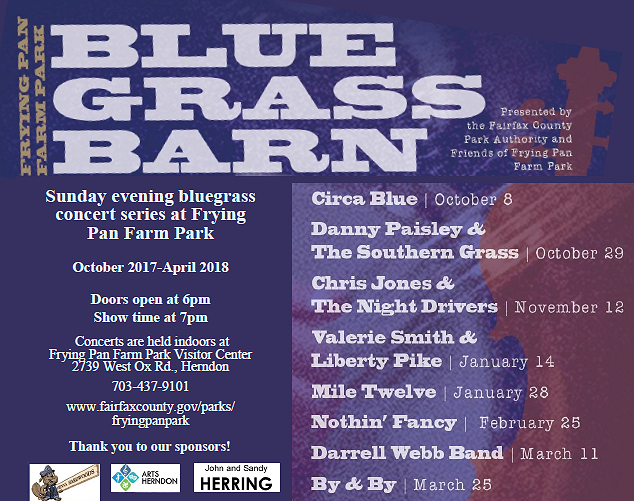 You can't get much more American than bluegrass music on a farm. Make plans to hitch up the team and head to Frying Pan Farm Park this season for Bluegrass Barn, a celebration of some of the best bluegrass music in the mid-Atlantic area.
Tighten up some vocal harmonies and mix them with a fiddle, banjo, mandolin, guitar and upright bass and you'll be tapping toes and slapping legs all through the evening with Darrell Webb Band, Nothin' Fancy and other talented performers.
The concerts are indoors on select Sunday evenings at Frying Pan Farm Park Visitor Center from January into March. Show dates are:
January 14: Valerie Smith & Liberty Pike
January 28: Mile Twelve (IBMAs Momentum Award winners)
February 25: Nothin' Fancy
March 11: Darrell Webb Band
March 25: local band By & By .
Tickets for all shows are $18 in advance, $20 at the door.
Register for Bluegrass Barn Concerts
Purchase tickets online or by phone at 703-222-4664 or 703-437-9101. Frying Pan Farm Park Visitor Center is at 2739 West Ox Road in Herndon, Va., not far off the Fairfax County Parkway.
Bluegrass Barn is made possible through the support of Vienna Hardwoods, John and Sandy Herring, and the Fairfax County Park Authority.