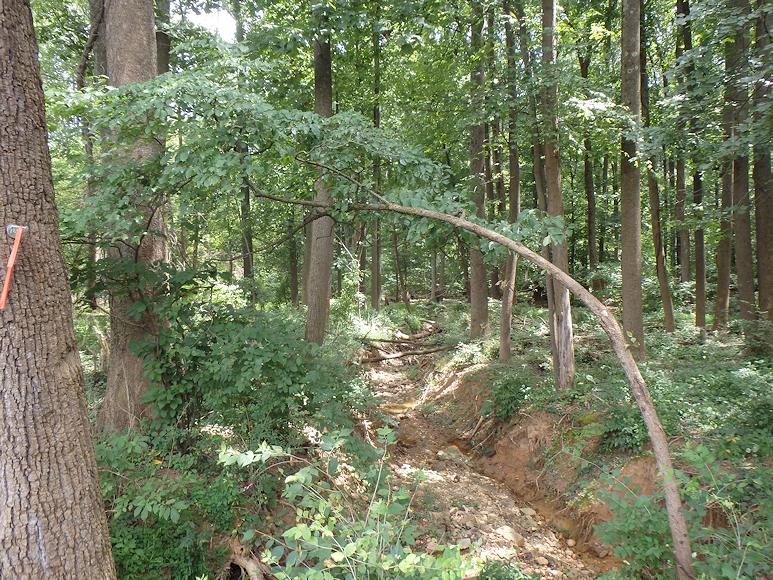 Restoration work on two stormwater outfalls at the northern end of Nottoway Park adjacent to Courthouse Road is set to begin immediately. Fairfax County Stormwater Planning Division and Utility Design and Construction Division have contracted with Environmental Quality Resources, LLC for the work which will start early this month. Nottoway Park, a Fairfax County Park Authority facility, is located at 9601 Courthouse Road in Fairfax, Virginia.   
The million dollar project involves stabilization of more than 450 linear feet of stream channel to reduce erosion, removal of invasive plants, and replanting of native trees, shrubs and herbaceous vegetation. The contractor will be mobilizing shortly and construction traffic will be entering and exiting the park via Courthouse Road. This project will impact a portion of the asphalt trail adjacent to Courthouse Road and will require temporary closure of this trail section to ensure the safety of park users and construction crew members. Active construction is anticipated to be complete by the end of February 2018.
Additional project details may be found by viewing Nottoway Park Stormwater and Water Quality Improvements Phases 1, 2, & 3 . For more information, contact Yudhie Brownson, Project Manager in the Park Authority Planning and Development Division, at 703-324-8511, or contact the Public Information Office at 703-324-8662.