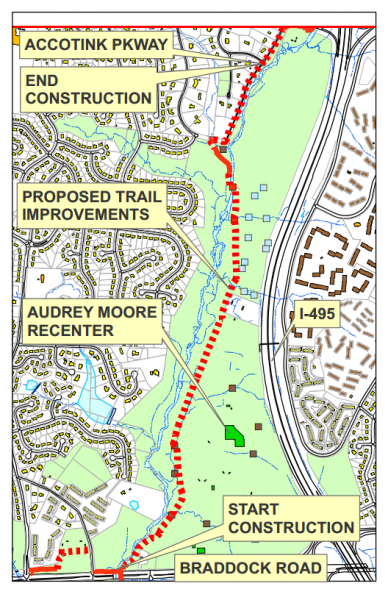 The Fairfax County Park Authority began improving the surface of the Gerry Connolly Cross County Trail last week. The trail will be paved between Braddock Road and Accotink Parkway.  The Fairfax County Department of Transportation (FCDOT) 2014 Transportation Bond will provide $200,000 for the construction phase of the project and a 2012 Park Bond will provide additional funding in the amount of $400,000 for the project.
The contractor, Accubid Construction Services, Inc., will be mobilizing on site during September 2017.  Contingent on the weather, this project will continue with completion anticipated at the end of May 2018. The construction includes paving the trail between Accotink Parkway and Braddock Road with asphalt and concrete and replacement of one bridge. Construction access to the site will be from the Wakefield Park entrances on Accotink Parkway, Mockingbird Drive and Braddock Road. The work will be phased and detour routes will be available as sections are closed for construction. Signs will be posted and trail users are encouraged to check the project progress online. In addition, patrons should be aware of construction equipment that will be present on the trail in Wakefield Park during construction. As a safety precaution, portions of the existing trail may be occasionally closed to users during the project.
For more information contact Project Manager Som Govender at 703-324-2464 or the Public Information Office at 703-324-8662.  Project information may be found online at Trails Information.