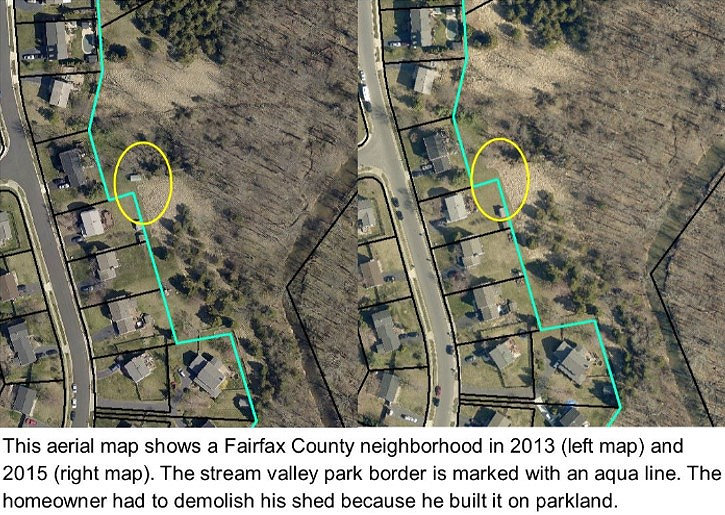 Fairfax County residents who live next to parkland now have an online tool that reveals their property borders. The new mapping application was introduced by the Fairfax County Park Authority this month. The app is part of the park system's effort to let residents know about the damage caused by encroachment, which is unauthorized private use of public parkland. 
The new app, Avoid Park Encroachment, can be used for free at Avoid the Crime of Encroachment. It shows a birds-eye view of any Fairfax County home and the boundaries of all 427 county parks. Citizens can discover whether a shed or swing set sits on private property, common area or parkland. The app's satellite imagery also indicates whether yard mowing has crossed into parkland. The app's borders are not precise, but they can suggest whether a professional survey might be needed.
Many homeowners are unaware that it is illegal to build a structure, mow to extend a yard past property lines, or leave yard waste in woodland or on parkland. These actions may seem inconsequential, but the unintended damages accumulate and affect neighboring homeowners and natural resources. They also threaten the safety of the region's drinking water supply.
The app was created to support the county's recent Parkland Encroachment Education Project.  Additional information about parkland encroachment is available at Stopping Encroachment Means Being A Good Park Neighbor or by emailing parkmail@fairfaxcounty.gov.