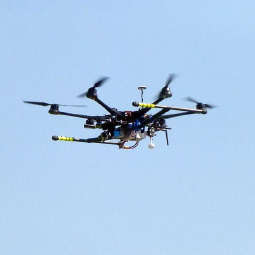 As unmanned aircraft systems or "drones" have surged in popularity, county parkland has become an in-demand location for this emerging technology. To address that interest, the Fairfax County Park Authority (FCPA) will hold a meeting on Monday, December 11, 2017 at 7 p.m. at Oak View Elementary School to gather public comment on expanding the use of drones on county parkland.
In the first half of 2017, the FCPA launched an internal study to determine how to respond to community desire to use drones in the parks while ensuring the safety of the public and balancing the needs of all park activities, such as scheduled sports and natural resource protection. The study recommended expanding drone opportunities at a limited number of sites designated for this purpose. Public input is a key consideration in this site selection process. 
Currently, drone pilots may take off and land only at Poplar Ford Park under a partnership with Northern Virginia Radio Control, a hobbyist model aircraft organization. The Park Authority is considering a limited expansion to other parks. The approaching meeting will focus on certain areas of Lake Fairfax and Popes Head parks.
The public meeting will include a brief presentation followed by a public comment period. Interested speakers may sign up in advance by contacting the FCPA Public Information Office. Individuals may speak for three minutes; groups or organizations may have one speaker for five minutes. Speakers may also sign up at the meeting at Oak View Elementary School, which is located at 5004 Sideburn Road in Fairfax, VA. To sign up as a speaker, to send your comments or for more information you can contact Public Information Officer Judy Pedersen at 703-324-8662 or via Parkmail@fairfaxcounty.gov. Public comments will be accepted through January 11, 2018. Find out more about opportunities to fly drones and model aircraft at Model Aircraft and Drones.
Reference ID
20171115-Z-IR157