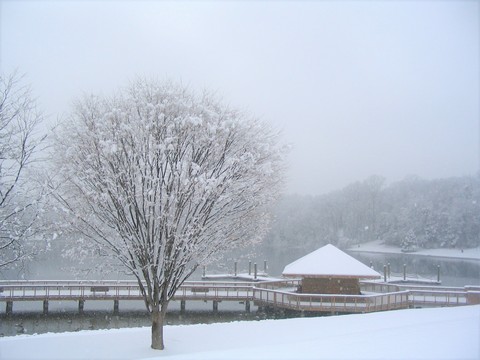 When snow falls, Fairfax parks offer the perfect play area for those wishing to explore the outdoors. The public is invited to make use of trails and parks when sufficient snow has fallen; however, skiers and sledders must furnish their own equipment and engage in these activities at their own risk. Ice skating on ponds and lakes is prohibited for safety reasons. Sledding and skiing are prohibited at all Fairfax County golf courses: Burke Lake in Fairfax Station, Greendale in Rose Hill, Jefferson District in Falls Church, Laurel Hill Golf Club in Lorton, Oak Marr in Oakton, Pinecrest in Alexandria and Twin Lakes in Clifton.
Some of the best trails for cross-country skiing are:
Accotink Stream Valley Trail (entrances at Rt. 50 south service road, approximately 3/4 mile east of Fairfax Circle; Eakin Community Park, 3400 Prosperity Avenue; and at 8509 Tobin Road, Annandale). This trail follows the Accotink Creek from Rt. 50 approximately 2.4 miles south to near King Arthur Road. Flat and wide, the trail provides an excellent area for beginners to practice.
Burke Lake Park (7315 Ox Road, Fairfax Station). This 4.5-mile hiking trail circumvents the lake along gently rolling terrain, with fine lake vistas and glimpses of wintering waterfowl. Or enjoy the park's Beaver Cove Nature trail, a 7/10-mile loop past the lake through woods and fields. NOTE: Burke Lake Golf Course is not open to skiers.
Huntley Meadows Park (entrances at 3701 Lockheed Boulevard, Hybla Valley and at 6901 South Kings Highway, Alexandria). The largest staffed park in Fairfax County, Huntley Meadows' 1,500 acres of suburban wilderness is a prime habitat for white-tailed deer, beaver and fox. Skiers of all levels will enjoy a variety of trails on gentle terrain. Trail information and updated wildlife sightings are available at the Visitor Center (703-768-2525).
Lake Fairfax Park (1400 Lake Fairfax Drive, Reston, just off Rt. 606). Skiers of all levels will find a variety of scenic terrains to explore at the 476-acre park. Wooded areas are flanked by open meadows with both steep and gentle hills.
Mason District Park (6621 Columbia Pike, Annandale, approximately two miles east of Little River Turnpike). The 121-acre park features a self-guided nature trail, offering the combined pleasures of skiing and wildlife discovery. The hilly one-quarter mile loop trail includes a stream valley, meadow, pond and woodlands. The park also has other trails and ample open space of varying topography.
Riverbend Park (Jeffery Road, Great Falls, north of Great Falls Park). View of the Potomac River, silent woodlands and animal tracks in the snow are all part of the skiing experience.
Wakefield-Accotink Trail (entrances at Wakefield Park, 8100 Braddock Road, Annandale, and at Lake Accotink Park, 7500 Accotink Park Rd. or 5660 Heming Avenue, Springfield). Skiers entering from Wakefield Park will find two miles of wide, level trail along Accotink Creek. The Lake Accotink entrance offers an elevated, hilly one-mile trail through the woods that border the picturesque lake.
For more information, call please call 703-324-8662 or email parkmail@fairfaxcounty.gov.